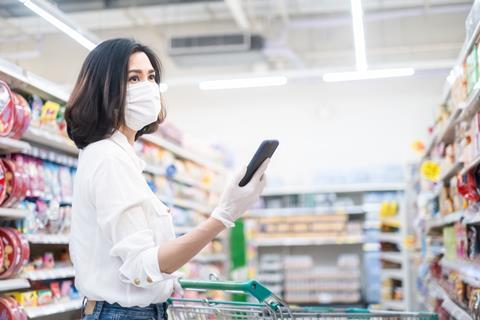 The government has come under fire for not including shop workers in changes to self-isolation guidelines.
Announced by the government earlier this week, the scheme is expected to allow 10,000 workers in the food industry to leave self-isolation to work, once they have been double-vaccinated more than two weeks prior to being contacted by the NHS app.
It outlined that priority testing sites have already been identified with industry for urgent implementation this week, including the largest supermarket distribution centres, with rollout to hundreds of sites planned to start next week, with up to 500 sites in scope.
Announcing the measures, Environment Secretary George Eustice said: "Food businesses across the country have been the hidden heroes of the pandemic. We are working closely with industry to allow staff to go about their essential work safely with daily testing. The last 18 months have demonstrated that we have a highly resilient food supply chain. There are sufficient food supplies in the system and people can and should shop as normal."
Retail staff
Association of Convenience Stores chief executive James Lowman said the scope needed to be widened to ensure the wholesale and retail supply chains could keep moving. "The problem is that the government is focusing entirely on a very small number of supermarket distribution centres for easing the rules and making it easier for people who have been notified to isolate to get back to work quicker," he said. "That must be extended to our supply chain as well so our members can get products into stores. As we saw in the first wave, it's incredibly important how critical it was to have that breadth of supply so consumers can get hold of product.
"But it's also important for hospitality businesses, for the public sector, for hospitals, prisons, schools and all the other places that get product through the wholesale supply chain. We need to have a much broader range of distribution businesses covered by these new rules to make it easier to get back to work after having received a notification to isolate."
Speaking to the BBC, environment secretary George Eustice said retail staff had not been included because it would have been a "really significant undertaking". Eustice also ruled out extending the list to retail staff and warned that the 16 August lifting of self-isolation rules for double-vaccinated people could also be delayed.