In a near-saturated market place, every retailer needs a point of difference to lure shoppers to their stores, and offering in-store services is one way to achieve it. According to the HIM CTP survey 2013, some 53% of PayPoint shoppers came to the store specifically for that reason - meaning you're likely to be losing out to a competitor if you're not offering it.

"You need services nowadays, whether you want them or not," says Worcestershire Costcutter retailer Chaz Chahal. "There's always something out there in convenience, so you have to keep your eyes open to new developments."

Not only do services increase footfall, but they also boost turnover - 34% of service shoppers top-up in a typical week (HIM convenience research). Cash machine, mobile top-up and bill payment shoppers spend and visit c-stores more than the average shopper, while 19% of services shoppers are 'retired greys' and 23% are at-home mums - both of which are high-visiting and high-spending customers, the same HIM research reveals.
Drive footfall with cash transfers
Bestway has added a new money transfer product aimed at driving footfall for retailers in high density ethnic areas.
The Omni service, from United Bank Ltd, offers the UK's Asian community reliable payment transfers to Pakistan and Bangladesh, where the money can be accessed through 1,200 UBL branches.
Paresh Jayantibhai, of Leyton News Centre in East London, is about to introduce the product in his store. "We have a lot of Pakistani customers. The rates are supposed to be very good and customers are very fussy about rates," he says. "We had to take it as someone else would have otherwise."
Paresh's store is also a Western Union agent. "It's one of the biggest parts of our business - we get 17% commission on 1,200-1,500 transactions a month," he says. "But it takes up time, so if you're not in an ethnic area it may not be worth it."
The merits of these traditional services are clear. PayPoint's annual survey of its independent retailers found that 87% of respondents said the service was 'good' or 'very good' for attracting footfall into their store. Retailers have complained about lack of margin, but Chris Ward of Eurospar, Milford Haven, Pembrokeshire, says: "People moan about PayPoint, but I just say give it to your competitor then and suffer the consequences."

Chaz believes that PayPoint is a good way of turning those who come in for the first time to use the service into regular customers. "You have a 30-second window to show off your store - so it has to be in good condition - and PayPoint can lead to other sales."

However, forward-thinking retailers such as Chaz and Chris are increasingly looking to more novel services to sharpen their points of difference. Last summer Chris introduced a dry-cleaning service in his store on the remote south west Welsh coast. "I had noticed a lot of advertising for a new dry-cleaning company, so I approached the owner," he says. "I asked him if he'd thought about a collection and drop-off point at another location and he agreed - he realised the benefits given it's so remote around here, and he's located a couple of miles out of town."

Chris receives a percentage of sales each month, which ends up between £150 and £600. "I make more on dry-cleaning than I do on milk," he laughs.

"It's another point of difference, another reason to visit the store," Chris adds. "The owner advertises our store as a collection point, too, so it brings people in from another area. It also prompts an increase in shop sales. Ultimately, we'll offer any extra service to get people into the store."

On the edge of Dartmoor, in the Devon market town of Tavistock, Spar retailer Ravi Jhangiani took in the local Tourist Information Centre last month after the council could no longer afford to fund it. The centre is self-service and housed in a 3sq m corner of the store, and all store staff have had training in local history to answer questions.

"I was approached by Tavistock BID [Business Improvement District] and was delighted to take this on. It would have been a pity for Tavistock to have lost this important service, and this is our way of giving something back to the town," he says. "It may well be the first time a convenience store has introduced a tourism centre."

The former tourism office was open only two-and-a-half days a week, but now tourists can access it seven days a week, from 7am-10pm, enabling Ravi to offer a more extensive service than before.

The service opened just a few weeks ago, so it's early days, but as Tavistock's Tourist Information Centre received 22,000 visitors last year, with a peak of 4,000 in August, the potential is clear to see. "People used to come here asking for tourist information anyway, so in many ways we are a natural home for the service," Ravi adds. "A point of difference is very important - there are two Co-ops, a Lidl and a Morrisons in Tavistock, and rumours of a Tesco coming, too. But as we have the Post Office we are the main meeting place."

In South East London Amit Patel provides another form of tourism service at his Belvedere Food and Wine store, where he works as an agent for Flyontime.co.uk. "I do bookings to Asia and Eastern Europe mainly," he says. "Some people don't want to book holidays on the internet and would rather someone else do it for them. They may have concerns over using their card or have a poor credit history."

Amit says he has done about 15 bookings over the past year, earning commission on each one, and the service is an important footfall driver. "Retailers need to offer services that customers won't get anywhere else," he says. "The more services I can offer that will bring people in, the better."

Another service Amit offers is the myHermes parcel collection and delivery service, which he says has been a big success. "I've been handling about 50 parcels a week, which is bringing additional customers in and boosted sales by about 5%. Word of mouth brings in new customers all the time."

Chaz is equally enthusiastic about the service, which operates in partnership with Payzone. "MyHermes offers good commission, about 40p per item, but it's negotiated," Chaz says. "You can make up to £200 a month. It just takes a couple of customers who use it as a business tool, or who use eBay a lot."

MyHermes was recently rolled out to 1,000 Payzone outlets, with stores chosen on a range of criteria including opening times, parking and population breakdown to maximise parcel volumes.

The equivalent parcel handling service for PayPoint retailers is Collect+, which grew a head-turning 87% in volume in the final three months of last year. Nisa retailer Punit Patel, in Andover, Hampshire, has noticed significant benefits since introducing the service three years ago. "Collect+ attracts more business for us; it brings in people who never usually visit and they realise we're cheaper than the nearby Tesco Express so come back," he says.

But Costcutter retailer Paul Cheema believes that parcel collection services sited just outside stores are the way forward. Paul and brother Pinda have introduced an InPost collection locker outside their Malcolm's Kwiksave store in Chelmsley Wood, near Birmingham. "Having it outside removes all the burden from the retailer," Paul asserts. "We just provide floorspace outside and receive the rent. There's no extra work for us, whereas inside it would take up space we couldn't afford." He has Collect+ at their Coventry store, but he thinks some people are a bit wary of dropping parcels off as they need reassurance that they'll be sent.

Another way to introduce a postal service is through the Post Office Local model. Donna and Bruce Morgan introduced the service in their Biggar store, near Edinburgh, after the local post office closed. "People weren't happy at first as it wasn't the same," she says. "But customers began to realise they didn't have to do everything between 9am and 5pm; they could use it as long as the shop's open. And they realised the community benefit - after all, there wouldn't be any post office service if it wasn't for us." The results speak for themselves: footfall and turnover are up 10%. "We see lots of customers we never saw before," Donna adds.

And that sums it up, really. In-store services need not take up space or finances, but the impact on sales, footfall and community recognition can be priceless.
App enables small shops to take card payments
PayPal now offers a Chip and PIN device that lets all independents offer credit and debit card transactions. The PayPal Here app means businesses can take debit card, credit card and PayPal payments wherever they want to do business. The app also allows businesses to send invoices and log cash and cheque payments. The app connects to a Chip and PIN card reader via Bluetooth, and payments are processed from the user's smartphone or tablet through wi-fi or a mobile signal.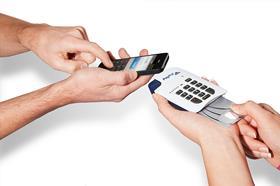 The cost of the PayPal Here card reader is £99, which includes VAT and free delivery. There are no monthly fees or contract commitments.
"Taking cash only is a problem that we estimate costs each small business more than £2,000 in lost sales a year. PayPal Here means retailers will never again have to turn away customers," says PayPal UK md Cameron McLean.