Keeping the next generation of shoppers happy and healthy makes sound business sense. Here C-Store looks at how stores are working with schools and kids' clubs to build awareness of nutrition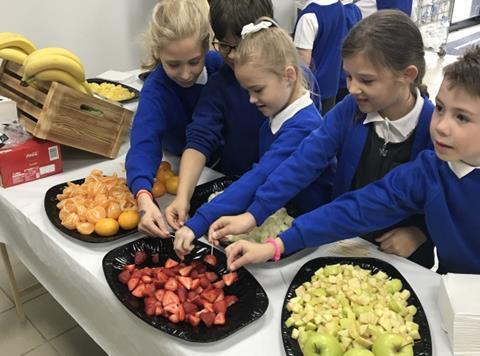 As businesspeople who strive to be seen as responsible community members, many c-stores owners work closely with local schools to help with fêtes and fundraising. But is there more they could be doing? With parents becoming increasingly concerned about giving their offspring a healthy diet, and with c-store retailers providing much of the evening meals, lunchbox fillers and school-run snacks, it makes sense for retailers to show they care about children's health, too.
One way that many retailers help to promote health and fitness is by sponsoring the school sports day.
Andrew Porter, group manager of three Creightons Spar stores in Northern Ireland, says the store has always joined in with the local primary school sports days, providing them with snacks and drinks to keep them going. But this year the teachers asked him to provide fruit pots, as opposed to crisps, for the children to enjoy after the races.
"This year they decided the children should be given something much more nutritious. A local supplier provided us with fruits at a good price so we could give the children a healthy snack.
"The pots went down really well with the children so I'm sure that's something we'll be doing again next year."
There are many different ways retailers can give local children healthy snacks. Sid Sidhu's Sukhi's Simply Fresh store in Kenilworth, Warwickshire, is opposite the local primary school so it makes sense for the store to work closely with the school. Sid has run a number of initiatives with the school over the years, but a more health-food focused initiative is its 'Free Fruit Fridays', whereby children can come into the store every Friday to collect a piece of fruit and learn a bit about the business.
Raising your profile
Explaining the importance of building close connections with local children, Sid says: "Not only are the children our future customers, we also want to help educate them where we can."
Sid has also hosted baking classes in store in which representatives from Warburton's come in and teach a class of children how bread is made.
The children watch the Warburton's team bake a fresh batch of bread and the children go home with goodie bags containing some of Warburton's "healthier" products such as its thins and wraps.
Someone else who knows a lot about working with the local community is Gregory Cochrane at Eurospar Greencastle, Kilkeel, winner of the Hendersons Retail Community Store of the Year award in the annual Henderson Retail Awards of Excellence 2017.
Explaining how he won the award, Gregory says: "The store sponsors the school's sports day and provides food and drink on the day as well as branded number bibs, banners, finishing tape and medals. Our Subway franchise manager Danielle has a very close relationship with the school and she arranges for healthy subs to be provided on the day for the children.
"The team continually make conscious efforts to become involved in different events and activities taking place in the local area. These efforts are greatly appreciated by our shoppers who view Eurospar Greencastle as much more than just a shop; it's a hub for the community. We're incredibly proud of the strong bonds that have been fostered and hope to continue to strengthen these bonds over time."
Budgens retailer Guy Warner, who is well-known for his community involvement at his six stores in the Cotswolds, has run a Sprouts for Scouts campaign at Christmas in a bid to encourage Scouts to get creative with the divisive festive vegetable. Scouts in Moreton-in-Marsh, Bidford-on-Avon and Broadway took part in a cookery competition to create a recipe that included sprouts and that could be enjoyed at the Christmas dinner table.
The winners and their recipes were posted on the Warner's Budgens website for all locals to enjoy.
This sort of positive community involvement can be as achieved as simply as raising funds for the local schools and clubs. Warner's community savings scheme has raised money for a number of initiatives to keep kids active. It recently donated £507.18 towards new outdoor play equipment at a local primary school, £453.13 for the Brownies to put towards a special day out, and £301.56 for the scouts to spend on new equipment.
Dougie Anderson, business development manager at Eros Retail, which operates five stores in Scotland, has organised several 'Eat Better Feel Better' days as part of the Scottish Grocers Federation's (SGF) government-sponsored Healthy Living Programme. He says getting involved has been a great way to boost awareness of the business, build positivity and increase footfall, especially when a store is new.
"Tillicoultry is our newest store – it opened at the beginning of March. We are trying to do more work in the local community to get more customers through the door and they will hopefully see and like what we are doing and come back," explains Dougie.
"When we first approached the local school saying we'd like to invite them in they were a bit sceptical, as schools often are, as they know we are a business and they worry it will just be PR for us. But when we explained exactly what we wanted to do they were very keen as it actually fits in with their curriculum quite well.
"Each class comes in for 20 minutes and in that time they are shown lots of exotic fruits and quizzed on their knowledge of the fruit and veg we have available. Things like sharon fruit and pomegranates can be interesting for them to see. We then give them a chance to sample a large selection of the fruits.
"We know that a lot of children don't get given fruit at home and so this is a way for them to discover what they like."
The children also go on a tour around the store with a representative from the SGF, who shows the children healthy alternatives available.
Natural Balance Foods also joined in on one of the 'Eat Better, Feel Better' days and provided samples of Nakd and Trek bars for the children and other customers.
The children all left the store with a goodie bag with a bottle of water, a fridge magnet with information on sugar, and a fruit and veg loyalty card.
The loyalty card was provided to remind the children to get a stamp every time they buy a piece of fruit from the store. Dougie says the idea is for children to buy a piece of fruit each day of the week and then get a free piece on Fridays. He says that once the school starts its new term after the summer holidays the teachers have discussed the possibility of giving the children prizes for filling in their stamped cards.
Positive publicity
Dougie posted the pictures of the recent activity at the Green's of Tillicoultry store on its Facebook page, and this raised a lot of awareness and positivity among the page's followers.
"People commented on the photos, saying "excellent work" and "great idea", he reports.
"I'm sure there are a lot of parents who were unaware the store even existed until they heard about this activity," he asserts.
Dougie has hosted this event in the Markinch store, too, also with great success.
"The teachers provided excellent feedback and enjoyed the experience so much that they have now scheduled another day for a healthy breakfast session for later in the year. We really wanted to do something in the community to make a difference and it is important that the children learn about healthy eating as it gives them a good start in life. By eating right it helps them to concentrate at school, too."
Case study
Bowl them over
Paul Cheema, of Malcolm's Stores in Coventry, enlisted the help of Nestlé Cereal Partners to provide a cereals van at one of his three stores on a Saturday morning. Paul says it was a great way to rally interest and allow children to try out some products that they might not have otherwise been able to.
"The van was at our store from about 9am until 1pm. It was a really good morning. We as a company have done a lot of work with Nestlé Cereal Partners in store around range reviews so it came off the back of that work. They are a really good company to work with."
Case study
Mini mid-week shoppers
After years of involvement with the local school's cookery classes, Sukhi's Simply Fresh in Kenilworth, Warwickshire, has now become an integral part of the lessons themselves.
Pupils start their cookery lessons with a trip to Sid's store to buy the ingredients they need for their recipes.
They use the special children's trolleys owner Sid Sidhu provides, choose all the food they need to create their meal, pay for it at the counter, then go to back to school to prepare the recipes.
The idea is that this provides the children with a much greater understanding of the whole process of preparing meals.
Sid says that helping children learn about nutrition is particularly important for him, because his customers are quite health-conscious.
"The parents in this area are very aware of healthy eating and we have been able to tell for quite a while that they are trying to cut down on the sugar in their children's diets and eat more healthy meals," says Sid. "I know that they are appreciative of any work I do to improve their children's understanding of what ingredients go into their food and how their food is made."