Growth in the UK vaping market is accelerating thanks to recent improvements to design, merchandising and communication.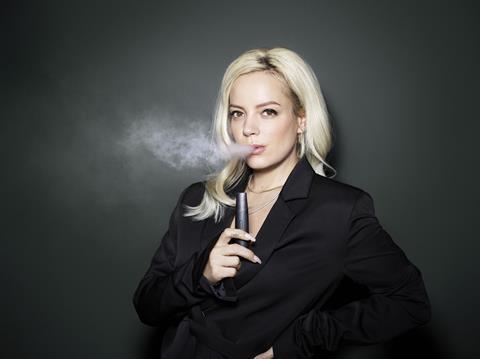 Growth in the UK's vaping category is nothing new. Sales of e-cigs and other vaping devices have been on the up for a number of years now. However, with an annual sales value of £1bn and sales in the first two weeks of January 2019 up almost 20% year on year, according to BAT, the vaping category appears to have turned a significant corner at the start of this year.
The first few months of the year have seen a sudden and noticeable ramping-up of investment in the category by leading convenience and supermarket players, with notable attention being paid to its siting and merchandising in store.
Just last month Sainsbury's made the bold decision to move vaping displays out from behind the counter and onto the shop floor in more than 250 of its supermarkets.
Supported by clear and concise POS information displays, the move will arguably go a long way towards helping the category become more accessible to new vapers and those looking to quit tobacco.
The very same month saw the Vapouriz Group, which operates the Vapestore division, unveil its first 'shop within a shop' format.
The 300sq ft store at Waterlooville BP Service Station, Hampshire, is the first of six ventures that sees Vapouriz join forces with the Rusdene Group, to bring Vapestores to forecourts across the Solent area.
Oli Lodge, owner of the Londis service station in Waterlooville, said that vape sales in the first week of the 300sq ft store opening had tripled to £3,000.
"We are really happy with the results so far," he told Convenience Store. "The hope is that sales will keep on rising and the Vapestore will drive people into the store and have a positive effect on sales in other categories.
"The plan is to create similar space for vaping across our four other sites in the Solent and Somerset. We want to make sure that the model we use suits the size of each of our stores. In Waterlooville, we now sell vaping product only through the vape store.
"Over the next few weeks we are looking to install a gantry and a small display cabinet at our Meon Hut service station, which will offer a smaller range with the same Vapestore branding.
"All the staff have been fully trained by Vapestore experts and they all spent a day with the trainers up at their head office."
Oli says the whole venture helps it stand out and means he can offer vaping customers the ultimate in convenience.
While Oli's store development is not possible for all, John Patterson, sales director of Juul UK, believes that most UK convenience stores could be thinking much harder about display.
"Most retailers have displays next to the cigarette gantry which limits their appeal," he says. "As devices become simpler and more convenient, increasing visibility and allowing switchers to 'feel' the product will greatly increase the propensity to purchase."
Where possible Patterson thinks that convenience store retailers should follow Sainsbury's example and look at secondary siting opportunities such as within nicotine replacement therapy (NRT) fixtures.
"NRT solutions such as patches, sprays and gums are in decline, while vaping is increasing and is the preferred method smokers go to to quit smoking, so inclusion on any NRT fixture would benefit category sales," he says.
However, changes are also afoot to backwall vaping displays. BAT says that a number of other convenience retailers are beginning to arrange their backwall fixtures differently, dividing up brands and instead merchandising products by their specific features such as their VG/PG ratios or sub-ohm.
"This could make a smoother shopping experience as adult consumers become better educated on the category, therefore providing easy navigation through product display," BAT general manager Gemma Webb says.
Dave Hiscutt, manager of Londis Westham Road in Weymouth, has taken a similar approach following the introduction of a new range of 50/50 e-liquids.
"Vaping is becoming an increasingly significant category for us and one I'm definitely looking to expand this year," he says.
"The Vapouriz products in particular do really well for us and we've recently introduced its new 50/50 range which is proving really popular as it's so much simpler for new vapers to understand.
"The liquids have a 50% vegetable glycerine (VG) and 50% propylene glycol (PV) ratio, which allows for an extremely versatile vaping experience, as each liquid can be used in both classic and sub-ohm devices.
"There's definitely still some confusion about the category and which e-liquids can be used in which devices, so products like this are really helpful. Over time I do think that consumer understanding will grow and retailers are becoming more knowledgeable, which of course is key," he adds.
E-liquid varieties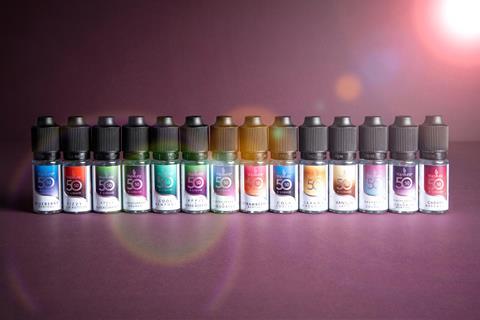 E-liquid is available in a number of different types, suitable for use with different devices. Each variety offers a different sensation.
Classic e-liquid
The term 'classic' refers to an e-liquid with a higher content of PG than VG and is best suited for use with low-wattage starter kits.
Sub-ohm e-liquid
Sub-ohm e-liquid has a higher ratio of VG to PG and is suited for the intermediate and advanced sub-ohm devices with high-wattage, designed to produce a lot of vapour and large clouds.
50/50 e-liquid
50/50 e-liquids contain an equal ratio of PG and VG, making them suitable for use in a wide range of low-power devices.
Nic salt e-liquid
Nicotine salt e-liquids simulate the strength and throat-hit sensation of the nicotine in a traditional tobacco cigarette. They are particularly appealing for smokers looking for a stop-smoking aid and are intended for use with low-power, high-resistance classic kits.
Dave says he has chosen to stay away from selling too much hardware as that's something that consumers need to be able to have detailed conversations with retailers about, and that's where the specialist vape stores or retailers with shops within shops are very strong.
He adds: "For us, an extremely busy town centre store, it's more important to focus on the consumables such as e-liquids and parts such as batteries or coils that people need on the go. We have a large range displayed in dedicated vaping gantry behind the counter, but we also have several counter-top display units where shoppers can get closer to the products."
Improvements to in-store display and siting will undoubtedly go a long way towards boosting consumer trust in the category and, most importantly, among existing smokers who are looking to quit with the help of a vape product.
Endorsements from trusted sources such as Public Health England and even well-known celebrities will certainly help. Just last month singer Lily Allen became the latest star to endorse vaping when she was unveiled as the new face of BAT's Vype ePen 3 collaboration with fashion house, House of Holland.
High-profile endorsements and prime in-store positioning will only go so far, though, if the products themselves don't live up to the hype. And that's why the start of the year has also seen a groundswell of manufacturer investments in product quality and design.
In February BAT launched Vype iSwitch and Vype iSwitch Maxx, which feature new 'Puretech' technology that replaces the need for a coil and a wick. Instead, Puretech incorporates an ultra-slim stainless steel blade that provides a far more precise way of heating the e-liquid to create vapour.
The development is not only designed to combat so-called 'dry wicking' (when the wicking systems dry out or overheat resulting in an unpleasant taste and the formation of potentially toxic compounds), but also to improve nicotine delivery, a key concern for former cigarette smokers entering the vaping market.
The Vype iSwitch Maxx version also comes with Bluetooth connectivity, so users can connect the device to the MyVype app and tailor their device's power setting, remotely lock the device, monitor puff count, battery level and device performance to track their usage, and also have access to tips and news.
Another manufacturer keen to combat common vaping gripes and ensure the best current experience possible for new and existing vapers is JTI.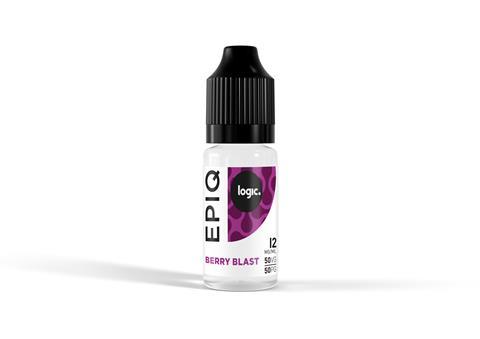 In addition to launching EPIQ, a value range of e-liquids with an rrp of £2.50 per bottle, the manufacturer recently updated its Logic portfolio with new e-liquid bottles for Logic LQD. The liquids are now housed in special 'squeezy' bottles with an extended nozzle to help vapers refill without spills.
And with customisation being another of the category's great draws, recent months have also seen increased availability of nicotine salts which appeal to adult consumers seeking a more intense nicotine sensation.
Blu launched Intense Liquidpods featuring nicotine salts alongside the launch of its myblu device late last year.
An increasing number of 'short-fill' products also allow vapers an even greater ability to create a bespoke vaping experience. Short-fill bottles typically contain 50ml of nicotine-free liquid, with extra space within the bottle to accommodate a vaper's nicotine shot of choice, allowing them to create a bespoke liquid with the precisely desired nicotine strength.
This ability to tailor and customise the vape experience looks set to become increasingly important as the category matures, and especially given that 'dual vaping' is becoming a widespread trend among established vapers who typically own multiple different devices for use at different times of the day and in varying social situations.
There has also been a rise in unique flavour combinations in recent months according to BAT.
Sales director of Juul UK John Patterson expects flavours to play an even more potent role in the category's success as the year progresses, particularly mint-based flavours, owing to the impending ban on menthol cigarettes in 2020 as part of the EU Tobacco Products Directive (EUTPD).
"Smokers who enjoy menthol will no longer have access to the flavour through combustible cigarettes and will therefore switch to alternatives that do deliver a menthol flavour," he says.
The Juul range currently available to UK convenience and symbol retailers includes five flavoured Juul pods refills: golden tobacco; glacier mint; mango nectar; royal creme; and apple orchard.
The market for CBD vape liquids also looks set to grow in the coming months. BAT estimates a value share of 3% of total retail for CBD vape product for 2018 and says that it has seen availability and distribution growing together with social acceptance of CBD.
Education, both of retailers and consumers, will be central to its future growth, as Vapouriz CEO Bret Horth explains. "Shaking the stigmas and stereotypes associated with cannabis-related products is the main hurdle the industry faces in the year ahead," he says.
"CBD is a non-psychoactive chemical compound, known as a cannabinoid, that can be found in a cannabis plant.
"The biggest misconception with CBD is that it has the same effect as the very well-known cannabinoid- THC, which is the element associated with giving consumers the feeling of being 'high'. This common fallacy is a stumbling block for retailers, with many potential customers naturally assuming that any cannabis related product will intoxicate them.
"It is important that retailers are as informed as possible and that they buy product from a reliable source."
Dave Hiscutt is certainly starting to get a sense of the sales highs that could be associated with the CBD category in the future. "We're trying to get ahead of the curve with CBD and just a couple of weeks ago I ordered a new range of e-liquids which I've already had to re-order as there's a real interest there.
"It's early days and I'm not sure if CBD will just be another trend that will come and go, but for now it's definitely worth getting in on.
"CBD oils are doing really well for specialist retailers such as Holland & Barrett, and given that we are open for much longer hours than them (7am till 10pm) I don't see why can't make just as much of a success out of it, if it's sold in the right way," he adds.
Heated Tobacco sales warming up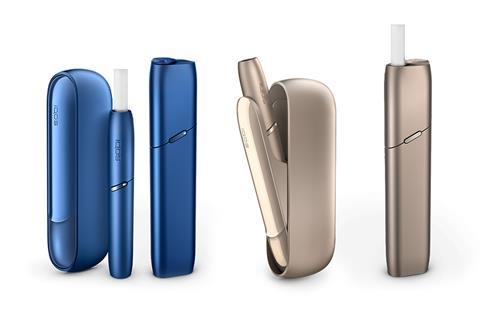 Key developments are also taking place in the UK's heated tobacco market, which is currently dominated by PMI.
With its IQOS 'Heets' now distributed in 10,000 stores and available through all major wholesalers, the brand is gaining traction in the UK.
IQOS heats small plugs of tobacco (called Heets) to produce a vapour, and with the launch of three new smoke-free devices earlier this month, PMI firmly believes that it has the solutions needed to help all UK smokers move away from cigarettes.
"More than six million people worldwide now use it and 70% of consumers who buy into heated tobacco stop smoking completely," PMI UK managing director Peter Nixon says. "This compares with only about 20-30% for vape products."
The company has just unveiled two new heated tobacco devices: the next generation IQOS 3 with a longer battery life, faster charging and a more ergonomic design; and the IQOS Multi, a more compact heated tobacco device which allows use of 10 back-to-back tobacco sticks before needing a charge.
Stocking the devices themselves (which retail for between £79 and £99) might be a stretch for many c-store owners, but there is most certainly an opportunity to be had by stocking the Heets themselves.
PMI isn't shying away from the lucrative vaping opportunity either, launching IQOS Mesh this month. This premium vaping product uses seven different flavoured pods of nicotine-containing liquid. The product uses a mesh rather than the traditional coil and wick to offer what PMI says is a more consistent vaping experience.
Tobacco
Vaping and flashy devices and celebrity endorsements might be grabbing headlines and stealing the spotlight, but it's still vital that the convenience industry doesn't lose sight of tobacco in the glare.
As Midlands convenience store retailer Rav Garcha says: "Tobacco sales in my store remain steady and are an important part of my business."
According to JTI, tobacco continues to be the biggest FMCG category, with the total UK tobacco market currently worth £14.5bn, and the cigarette market accounting for £11.6bn.
In terms of cigarettes, there are two clear trends: the growth of the capsule (also known as crushball) segment which is now responsible for 15.6% of total cigarette sales in the UK: and the growing value segment as consumers seek out value-for-money products, says JTI head of sales Ross Hennessy.
"We've seen the capsule segment grow significantly in recent years and expect that to continue into 2019. Since the introduction of EUTPD2, we've also seen brand loyalty and the trend towards value become even more engrained in the purchasing behaviours of adult smokers.
"Our activity in 2018 reflected this, as we launched a series of new value products across two of our most iconic brand houses: Sterling Dual Superkings 20 and Double Capsule King Size 20; and B&H Blue Dual Superkings 20," Hennessy adds.
In January JTI bolstered its capsule offering with Sterling Dual Triple Green – the first triple menthol cigarette in the UK tobacco market – and B&H Blue Dual Double Capsule, which it claims offers "a more intense flavour option" at the lowest price for a double capsule offering.
However, the growth of the capsule cigarette segment will be short lived, with new EUTPD2 regulations banning the production of menthol cigarettes (including capsule products) from next year.
The looming deadline, which will undoubtedly cause significant market disruption when it first hits, means that manufacturers are working hard to find ways of mitigating the mayhem. Imperial Tobacco may have found just a way with the recent launch of Rizla Polar Blast. The innovation is the UK's first Roll Your Own (RYO) filter tip to contain a crushball, and because it's a filter tip and doesn't contain tobacco it won't be covered by the legislation.
Polar Blast looks set to be the tip of the iceberg. "With the impending banning of traditional menthol flavour and crushball products in May 2020, Imperial is working to develop a range of alternatives in our portfolio that will appeal to adult smokers who favour flavours," Duncan Cunningham, head of corporate & legal affairs at Imperial Tobacco UK, says.
Imperial's tip innovation is also reflective of the increasingly innovative nature of the tobacco accessories market. According to Republic Technologies, new product development and an increased focus on merchandising is driving growth in the UK tobacco accessories market, now worth more than £276m in the UK (IRI Marketplace, 52 weeks to 2 December 2018).
"The market has seen year-on-year growth of 7.5%, with papers worth £96.1m and growing at 8.1%, and filters worth £83.1m and growing at 8.8%," Republic Technologies general sales manager Gavin Anderson says.
Tapping into consumer trends towards environmentally-friendly products and "smoother smokes", the company has launched a number of new products of late including Swan 'Eco' filters and OCB Virgin Slim and Slim & Tips, which provide a premium rolling experience and softer smoke thanks to unbleached, lightweight paper.
In 2018 the company also announced a major overhaul of its matches range, including new pack designs for its Swan, Bryant and May Extra Long, and Ship brands.
Cigars
With a current value of £199.6m and growing at 1.3% overall, according to new data from STG, the UK cigar market certainly still has plenty of life left in it. According to STG, the miniatures and medium/large cigar segments are reporting year-on-year growth of 5.2% and 5.6% respectively.
With value for money still very much front of mind for UK smokers, miniature cigars continue to dominate the market, accounting for an impressive 73.1% of the total cigar volume and £104.7m in value sales . STG country director Alastair Williams doesn't expect this to change anytime soon.
At the end of last year, STG announced a name change for its leading miniature cigar brand from Café Crème to Signature.
At the other end of the scale the medium to large cigar segment is also in growth at 5.6% year on year, thanks in part to the incredible summer weather we experienced in the UK last year, Williams adds.
"And with a seasonal rise in cigar sales over Christmas, this growth may well continue," he points out.
Growth within the medium/large segment could also be down to a trend towards premiumisation as consumers seek out products such as Henri Wintermans Half Corona "that give the perception of a luxurious lifestyle".
Regardless of whether your shoppers go for high-tech vaping or old-school smoking, what's clear is that retailers need to ensure they stay on top of the trends in a category that's far from running out of puff.
Know your PG from VG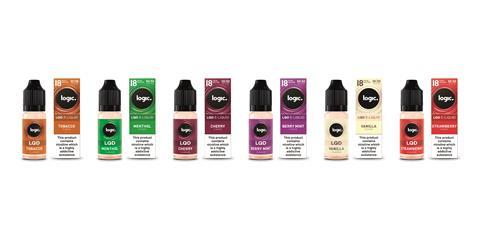 All legally marketed e-liquids are made of the same non-toxic base. VG (vegetable glycerine) and PG (propylene glycol) form the foundation of all e-liquids and are regularly used in pharmaceutical, food and cosmetic products.
PG
PG is an odourless, colourless liquid with a thin consistency and is used in e-liquid to provide the sensation in the throat which is similar to smoking a cigarette.
VG
VG derives from vegetable oil and is used as a thickening agent in e-liquid. VG is responsible for creating dense vapour clouds, which is why sub ohm e-liquids are described as 'high VG'.