Warburtons, the UK's number one wrapped bakery brand1, explains how to get more out of this key c-store category.
Every retailer knows that bread is the beating heart of any good c-store. It doesn't just signal freshness and reliability to shoppers every morning – it's a core footfall driver too. In fact, total wrapped bakery is one of the main categories driving footfall into c-stores right now2.
So how do you get this key category right? Warburtons, the UK's number one wrapped bakery brand1, was invited for a store takeover at a Premier store in Rochdale to refresh their wrapped bakery offer and put insight into action.
"Other wrapped bakery is key to driving future growth in the wrapped bakery category"

- Carl Pickett, category controller, Warburtons
The Warburtons team came in-store and transformed the fixture – expanding other wrapped bakery (OWB) and installing clear POS to re-engage consumers.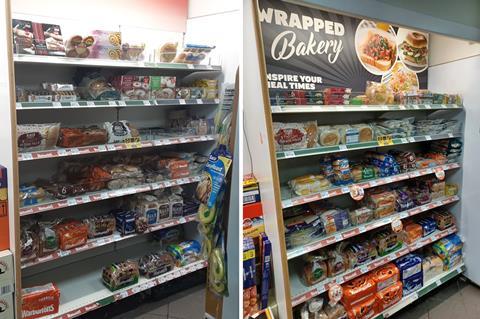 "Other wrapped bakery is key to driving future growth in the wrapped bakery category," says Carl Pickett, category controller at Warburtons. "There is significant opportunity for c-stores to maximise bakery sales in this area in line with the rest of the market, by adding range and giving more space to products such as bagels, crumpets and teacakes. This will help the channel appeal to a wider demographic, particularly the younger shoppers who have been exiting the channel post-Covid lockdowns."
"The takeover only took a couple of hours and it has really changed how the area looks," says the owner of the Rochdale Premier store. "It's good to see some new products in there, which customers have really liked. We've had some great feedback when people see it in the store."
Creating an impactful bakery fixture: six key steps
During their store takeover the team followed best merchandising guidance tailored to the store's key demographics. For category guidance covering a whole range of stores see our category management advice page provided by Warburtons.
1. Future-proof your wrapped bakery range to drive growth
Make room for other wrapped bakery (OWB). Wrapped bread will remain essential, particularly for the top-up mission seen in c-stores. However, when considering the future of the category, OWB plays an essential role – range and space is therefore important to attracting the younger and the future bakery shopper into your store. Getting this right is crucial as wrapped bakery is one of the biggest footfall drivers into your c-store3.
2. Help shoppers navigate bakery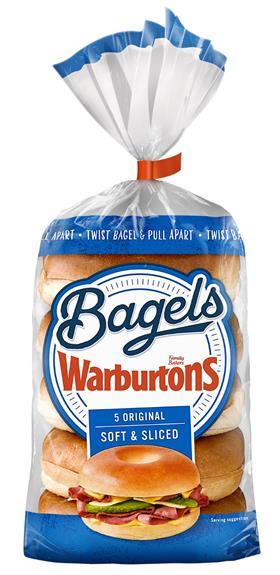 Today's bakery shoppers want much more than sliced white – they're seeking out inspiring lunch solutions alongside their toast. This chimes with the 34% of shoppers suffering from 'lunch fatigue'4. By merchandising sandwich alternatives like bagels, wraps and pittas together, you can help customers shop the fixture and increase interaction.
The team created a tidy fixture focused on helping shoppers get what they needed quickly and efficiently.
"We know that shoppers find clear navigation and layout equally as important in c-stores as they do in supermarkets5," says Pickett. This is where clear and compelling POS can help customers quickly and efficiently navigate the fixture while boosting basket spend.
3. Inspiring the shopper at fixture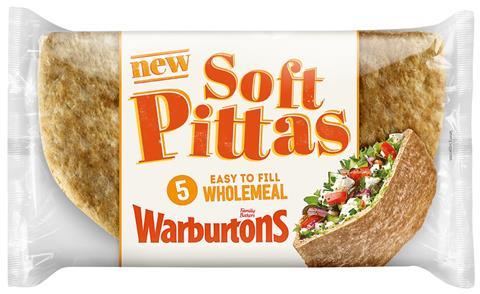 Throughout Covid, consumers have been making most meals at home, Wrapped bakery is very versatile with different sectors playing key roles across multiple occasions6. Inspiration is therefore key to engaging with our shoppers, encouraging them to use wrapped bakery across the many meal occasions. The right POS can encourage shoppers to channel incremental category spend into our more impulsive (and profitable) sectors – such as bagels and crumpets.
4. Invest in eye-level positioning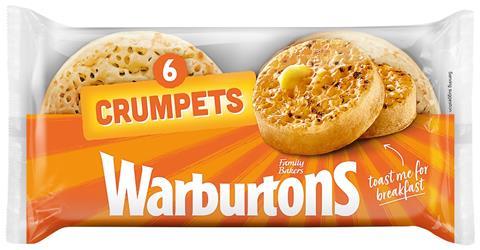 Eye-level is buy-level. So the team made sure that the right items stood out in-store.
"Impulsive products such as teacakes, crumpets, rolls and fruit loaf are now merchandised in the centre of the fixture at 'eye level positioning' to encourage shoppers to add to their bakery basket, adding extra spend to your bakery category5," says Pickett.
5. Availability and freshness is key
Freshness is the number one priority for c-store bakery shoppers2, it is therefore important to provide the freshest offering possible in your store. Warburtons consistently ranks highly for being seen as a brand that 'always provides the freshest products' and therefore meets these customer demands7.
It is important to ensure your best-sellers are available at all times, particularly at c-store peaks at the weekends, late in the morning and mid-afternoon2.
6. Inform shoppers they can order in gluten-free items
Free-from sales soared to £652m in 20208 ­– much of it in bakery. In fact 7% of c-store shoppers follow a gluten-free diet3. Yet limited shelf space can make it hard for retailers to invest properly into the category. Installing POS encouraging shoppers to order Warburtons' gluten-free range through your store can give you instant access to these valuable customers.
Expand your range, grow your profits
Stocking more other wrapped bakery (OWB) can unlock extra profits for your store with bagels, crumpets and more.
Statistics show that OWB fuels growth for the wrapped bakery category. Currently, OWB holds the most unit and value share in the market9 – Warburtons forecasts this gap to continue to grow over the next 6+ years3. Stats shows Warburtons is best set up for the future of wrapped bakery vs other national brands, with the highest share of OWB10.
"Opening up space with OWB is key to appeal to the wider market and retain the growth that c-stores experienced during Covid lockdowns," says Pickett. "Shoppers spend more time at the fixture browsing OWB sectors than wrapped bread5 – so it's important to make this area of bakery as engaging as possible."
Want to find out more?
Get more leading category management advice for your store and contact us here to boost your bakery sales with Warburtons.


Sources
1 Based on NielsenIQ RMS data for the Wrapped Bakery Category for the L52week period ending 06.11.21, Total Coverage inc Discounters, Unit & Value Sales (Copyright © 2020, NielsenIQ)
2 Lumina Intelligence 2020
3+4 Lumina Intelligence 2021
5 Shopper Intelligence 2020
6 Kantar Usage panel, Total Wrapped Bakery, 52w/e 08.08.21
7 Kantar Millward Brown, Brand Tracking, 52w/e 07.11.21
8 Mintel UK Free-from Foods Market Report 2021
9 Based on NielsenIQ RMS data for the Wrapped Bakery Category for the L52week period ending 06.11.21, Total Coverage inc Discounters, Unit & Value Sales (Copyright © 2020, NielsenIQ)
10 Based on NielsenIQ RMS data for the Wrapped Bakery Category for the L52week period ending 06.11.21, Total Coverage inc Discounters, Value Sales (Copyright © 2020, NielsenIQ)