Low- and no-sugar lines are making steady progress in convenience, but shoppers are still looking for choice when it comes to soft drinks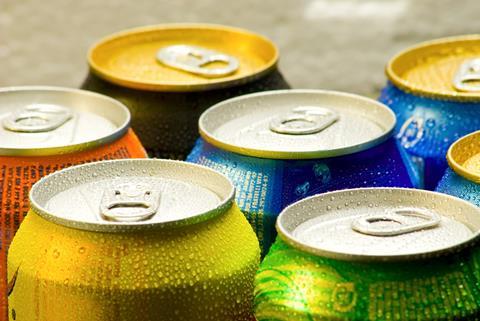 While the road to successful retailing is undoubtedly rocky, if there's one category you can rely on to perform, it's soft drinks.
"The UK's £2.6bn convenience soft drinks category (IRI Marketplace, Value Sales, MAT to 26 January 2020, GB Convenience) continues to be one of the most profitable for retailers," says Barr Soft Drinks marketing director Adrian Troy.
Budgens Broadstairs manager Adam Hogwood has no complaints about the success of soft drinks at his Kent store. "It's the most consistent category and outperforms a lot of others," he says. "It's a mainstay, sales always do well. We haven't had the weather we had last year so yearly comparisons are out the window, but it's picking up now."
It's certainly keeping the tills ringing at Londis Oaktree Road in Southampton. "Soft drinks is one of our best-selling categories," agrees manager Jodi Pritchard.
Time to shine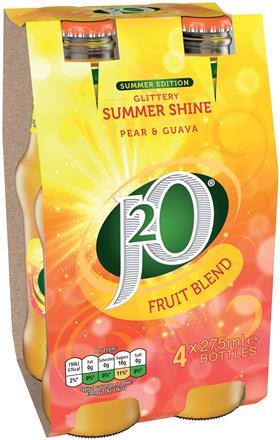 J2O is hoping to sparkle with three new lines: J2O Summer Limited Edition Pear & Guava (Summer Shine) and J2O Spritz Apple & Elderflower (4x275ml, rrp £4.39, singles rrp £2.24); and J2O Spritz cans in apple & watermelon and pear & raspberry (four-pack rrp £2).
Pop flies out of the door at Hockmeyer Motors in Sleaford, Lincolnshire. "We sell 500 soft drinks bottles a day, it's just ridiculous," says Rachael Hockmeyer. "And if you look at what we've got in the stockroom just to keep it full – staff usually fill it three times a day and they can get a whole trolley out every time."
Paul Hargreaves, chief executive at Cotswold Fayre, says soft drinks will always remain a buoyant and important category for retailers – "however, the SKU mix in five years' time is likely to look very different from five years ago," he adds.
He claims that everyday drinking trends are pointing towards more low-sugar, low-calorie drinks.
In fact, there has been a 29% reduction in the total amount of sugar sold in soft drinks in the UK between 2015 and 2018, despite an increase in sales of soft drinks by volume of 7%, according to recent research from Nuffield Department for Population Health – Oxford University.
Lead researcher Lauren Bandy and her colleagues looked at the nutritional information of a range of soft drinks in the UK, and combined this with sales data from 2015-2018.
Bandy says: "This study is not designed to evaluate specific effects of the Soft Drinks Industry Levy, but nonetheless shows that sustained pressure on business, including using fiscal measures, has led to a striking reduction in the sugar content of soft drinks in the UK."
Changing tastes
The research shows that individual soft drink companies in the UK are making a sizeable contribution to sugar reduction, with eight out of the top 10 companies reducing the sugar content of their products by 15% or more. The two biggest – Coca-Cola and Britvic – had reduced the total quantity of sugars they sold in drinks by 17% and 26% respectively, although the sugar content of flagship brands Coca-Cola and Pepsi remained unchanged.
There were increases in volume sales of sugars in drinks sold by Innocent and Red Bull – the sugar content of their products was largely unchanged – but the companies had seen increases in overall volume sales.
The analysis shows that 73% of the reduction seen in the amount of sugar sold in soft drinks was due to reformulation of existing products or the introduction of new, lower-sugar drinks, and 27% was due to changes in consumer purchasing behaviour.
Britvic supports the view that lighter lines are a key growth area. "Low- and no-sugar soft drinks continue to drive the category as health becomes more of a lifestyle choice than a 'trend' for consumers," says Britvic out-of-home commercial director Phil Sanders. The firm claims that Tango sugar-free, 7UP Free and Pepsi Max have all seen strong sales results as consumers make healthier choices.
Troy adds: "We know that the way people live is changing – health is becoming more important and, especially with younger shoppers, we're seeing an increase in demand for lower-calorie products." He states that Irn-Bru Xtra, which is sugar free, has delivered £19m of retail sales this year.
Highland Spring adds another eco bottle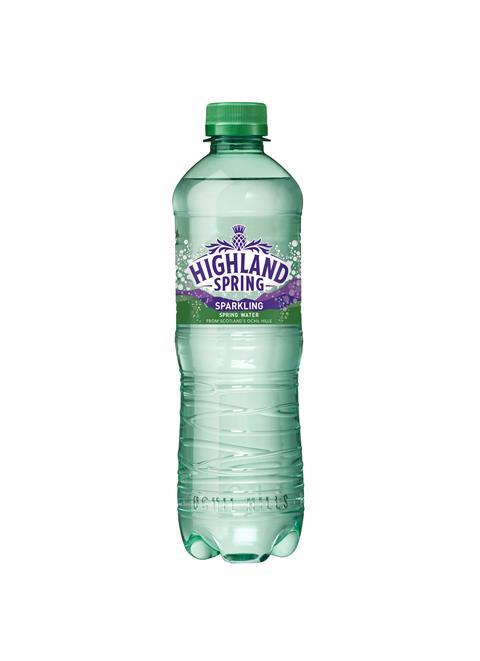 Highland Spring has extended its eco range with a sparkling water packaged in a bottle made from 100% recycled and recyclable plastic.
"Environmental sustainability will continue to underpin everything the brand does in 2020," says channel marketing manager Nichola Grant. "Highland Spring will be increasing the number of products available in recycled plastic as the material becomes available in the quality and quantity needed. The brand's target is 50% recycled content in its bottles by 2022."
The 2020 innovation follows on from the successful launch of a range of fully recycled and recyclable products in 2019, including the Highland Spring eco bottle and Wild-Life kids' eco bottle six-pack.
Last year also saw the relaunch of Highland Spring Sparkling, with its multi-channel 'Remarkabubble' campaign which was part of a £1m investment in the sub-category to demonstrate the opportunity to retailers.
Highland Spring Sparkling 500ml has enjoyed growth of 14.3% in value in the past year (Nielsen Total Coverage MAT 25 January 2020).
Coca-Cola European Partners (CCEP) also states that sugar-free and reduced sugar lines are performing well. "Consumers have a greater awareness of health and wellness than ever before (Nielsen Shopper Insights, December 2018), and this is impacting the way they shop," says senior trade communications manager Amy Burgess.
"As a result, we have seen an increasing demand for our low- and no-sugar products in their own right. Diet Coke remains the most popular light cola brand in GB (Weekly Nielsen Data MAT end 28 December 2019), with a value of more than £457m (Ibid), while Coca-Cola zero sugar is growing significantly, currently up 16.9% (Ibid) in value in GB.
"Our flavoured carbonates, which include zero-sugar variants across our portfolio, are also growing 4.8% in value (Ibid), highlighting the popularity of brands such as Fanta Zero and Sprite Zero among consumers. Meanwhile, in energy, our zero-sugar Monster Ultra range is now worth £64m in GB and in growth by 23% (AC Nielsen MAT Total Coverage w/e 2 November 2019)."
Lucozade Ribena Suntory (LRS) believes that consumers are actively seeking out better-for-you options. "Consumers are more interested in living healthier lifestyles, with 63% reporting to eat healthily all or most of the time (Mintel, October 2018)," says Matt Gouldsmith, LRS channel director, wholesale.
"Shoppers' spending on no- and low-sugar drinks has increased by 33% and 29% respectively (Take Home Soft Drinks – Spend – Value – 20 w/e August 2018 vs 20 w/e March 2018), showing just how important this segment of the market is. In fact, the value of zero- and low-sugar drinks has grown by 1% (EXT IRI, MarketPlace, GB, latest 52-week data ending 29 December 2019) since January 2019 and there is now a higher volume of zero sugar drinks bought than regular (Ibid)."
Having the right range available to shoppers will drive sales from those looking for healthier soft drink options, claims LRS. "This means retailers should ensure their chillers are stocked up on lower-sugar soft drinks such as Ribena Light and Lucozade Zero – now worth a combined £53.4m (EXT IRI, MarketPlace, GB, latest 52 week data ending 26 January 2020) – to capitalise on the ongoing trend towards lower-sugar choices."
So far, so good, but is this demand for lighter lines being reflected within the convenience channel?
"We know from case studies and projects we've worked on with retailers over the past 12 months that low- and no-sugar drinks have real sales impacts when introduced into convenience stores," says Gouldsmith. "In a study with an independent store in London, the sales increase following the introduction of a full range of low- and no-sugar soft drinks products was instant.
"Lucozade Energy Zero Orange sales went from zero to a full case in its first week. Crucially, other sales across the store's soft drinks range remained steady during the trial, as customers still had their favourite choice of soft drink easily at hand. By increasing the store's low-and no-sugar range, sales of other drinks didn't fall at all.
"We advise retailers to take advantage of the range of drinks available and to stock up on the various SKUs in order to offer shoppers their favourite drinks as well as new, healthier choices."
Rachael has seen sales of lighter lines pick up: "We keep selling out of Pepsi Max cherry – we can't get enough of it. It's £1 a bottle or two for £1.70."
She believes that sales of low- and no-sugar lines are largely driven by the sugar levy's impact on pricing. "We're selling a lot more of the lower-sugar variants because they are cheaper," she says.
Healthy sales
Meanwhile, Ancoats General Store in Manchester is seeing shoppers sway towards better-for-you soft drinks for health reasons. "Sugar-free is taking the lead. In general, people are more health conscious and everyone is pushing for zero drinks," says head of procurement Jay Patel.
"Everyone was really hyping it up when the sugar tax came in. We didn't make any changes to the fixture initially; there's no point in doing anything without data behind it. We let it ride, analysed the data and then displayed accordingly. It's not sugar tax related, but people's dietary needs are changing and people want different things."
Robinsons Berry squash blasts onto the scene

With one in every two households buying berry-flavoured squashes every year (Kantar Worldpanel data to 3 November 2019), Robinsons is hoping its new blackberry and blueberry Fruit Creations drink will go down a storm.
Berry flavours also typically over index with younger demographics, helping to recruit new shoppers into the category (Kantar Worldpanel, Take Home, Total Berry Index vs. Total Dilutes, 52 w/e 2 9 December 2019).
The firm claims that new 1ltr bottle (rrp £1.99) delivers a "premium" taste, designed to suit adult taste buds. It also delivers on people's desire for healthier products as it contains no added sugar and twice the fruit of the core range (when compared with Robinsons single concentrate squash).
Phil Sanders, out of home commercial director at Britvic, says: "As the latest addition to the Robinsons Fruit Creations portfolio, the blackberry and blueberry flavour will build on the great success of this range, which won Product of the Year 2019 in the UK's biggest consumer survey of product innovation for the soft drinks category (Kantar TNS).
"Some £29m is spent on berry flavoured dilutes alone within the squash category (Kantar Worldpanel data to 3 November 2019), making it a crucial segment.
"We recommend placing it alongside the core range which consumers have come to know, to take advantage of the established popularity of the Robinsons brand while encouraging c-store shoppers 
to trade up."
At Londis Oaktree Road in Southampton, Jodi has witnessed a gradual change in consumer behaviour. "I don't think they've really taken off as much as we thought they would when sugar tax came in," says Jodi. However, she has now relaid her soft drinks having reviewed her epos data. "Based on what's been selling we've remerchandised the whole fixture. We gave more space to healthy drinks and got in a bigger range of low- and no-sugar products and smoothies. "We've increased the original lines of Pepsi Max – we have a whole shelf of both Pepsi Max and Coke Zero cans, whereas we only had two or three facings of each before. Pepsi Max outsells Coke, it's our best-seller."
It is also a winning line for Adam in Broadstairs. "Pepsi Max is the strongest seller within the Pepsi range," he says. "We've delisted Pepsi. We sell twice as much Pepsi Max as Diet Pepsi."
He claims that the reason for the drink's success is down to strong branding. "Pepsi Max has nailed its advertising, it came out with skateboarders and extreme sport, it was exciting," he states.
But despite the popularity of Pepsi Max, Adam claims that most low- and no-sugar drinks have yet to make their mark on his customers. "Last November, I wrote a plan for the next year. In January I'd have notes about low- and no-sugar impulse drinks, but I thought it's not worth it to introduce more low sugar. It hasn't had the uptake we thought it would.
"We aren't seeing people switching, only where companies are changing their standard lines with new ingredients. That is slowly changing people's mindsets here."
He claims that on the whole, customers prefer their drinks to be full sugar. "We are unhealthy here! We've tried them (low- and no-sugar drinks) in the past and it was awful. The only ones we push are cans of energy drink with no- and low-sugar. Low-sugar Ribena – we can't sell that. With Dr Pepper, people will only buy the original and won't touch the light version. Fanta zero orange we can't sell either."
He has, however, seen success with other flavours of Fanta. "Bring it out with a different flavour and it sells all day long," he says. "The grape one did really well and the raspberry one is doing great."
Jodi is also feeling positive about the new Fanta variant. "I think the Fanta zero sugar raspberry might do okay because they haven't launched so many different variants."
fanta aims for raspberry ripple effect
Raspberry is the latest addition to the Fanta zero sugar range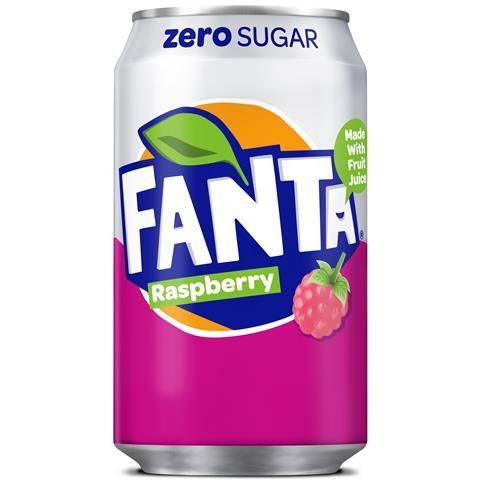 Made with natural flavours and exempt from the sugar tax, the product is available in a 330ml can and a 500ml PET bottle for on-the-go consumption occasions, with an 8x330ml can multipack and a 2ltr take-home PET bottle.
Raspberry was chosen as the latest Fanta zero sugar flavour in response to consumer demand, with raspberry-flavoured products in 11% volume growth in the past year (Nielsen Total Coverage MAT w/e 13 July 2019).
Supported by a £2m marketing investment, the launch will feature social media, radio, digital and out-of-home activations, as well as influencer engagement and in-store promotions.
The introduction of the new flavour follows the success of Fanta grape zero sugar. Launched in February 2019 after huge demand on social media, the grape-flavoured variant is now worth more than £10.6m (Nielsen Total Coverage MAT w/c 28 December 2019), demonstrating demand from Fanta drinkers for innovation.
The Fanta zero sugar range is now worth £66.3m and has recruited more than 1.2 millon new shoppers in the past 12 months (Kantar Worldpanel 52 weeks ending 8 September 2019).
Simon Harrison, vice-president of commercial development at CCEP GB, says: "Over the past year we've added £33m (Nielsen Total Coverage, MAT w/e 7 September 2019) to the value of the Fanta brand by responding to growing demand for flavoured carbonated soft drinks in zero sugar options and by investing in campaigns around key seasonal occasions such as Halloween. This year we'll build on the success of Fanta grape zero sugar with the raspberry flavour, presenting another opportunity for retailers to maximise sales to new and existing shoppers."
New approach
Jay is equally confident that Fanta will hit the mark where others have failed, but he urges retailers to proceed with caution where new flavours are concerned. "The new variants are driving sales, but the flavours won't be here for ever, it's to intrigue people. With the Fanta raspberry, I think that will work, but I couldn't associate Coke with other flavours. I looked at Raspberry Coke Zero and thought: 'Is it worth having a one-time seller? It's not'."
He claims that retailers need to think carefully about which lines to make room for to avoid being stuck with a slow mover. "In the summer everything sells, all the flavours – but you have to question everything. It might sell for one or two weeks, but then you get stuck with it."
Sugar reduction in numbers
29%
reduction in total sugar sold in soft drinks in the UK between 2015 and 2018.
27%
of the reduction in the amount of sugar sold in soft drinks was due to changes in purchasing behaviour.
73%
due to reformulation of existing lines or the introduction of new, lower sugar drinks.
Sukhi Khunkhun at Premier Woodcross in Wolverhampton has also been left uninspired by flavoured variants of light Coke. "We tried Diet Coke Twisted Strawberry when it was originally launched last year," she says. "For the first few weeks it went because people want to know what it's about, but then it died. We swapped it with Tango watermelon."
Nevertheless, Coca-Cola claims that the overall response to its light flavours has been positive.
"Consumers are becoming more adventurous and are looking to experiment with new and exciting variants of their favourite soft drinks," asserts Burgess. "More than a third of shoppers (35%) agree that they like trying new things when grocery shopping (HIM Convenience Tracking Programme 2018), so it is increasingly important for retailers to keep an eye out for the latest flavour innovations.
"To make the most of the growing demand for innovation, we evolved our flavoured carbonates portfolio in February 2020 with the launch of Fanta raspberry zero sugar. Elsewhere, our light cola flavours have also proven extremely popular. Last year we expanded our range with Diet Coke Twisted Strawberry, which is already worth £8m (AC Nielsen YTD Total Value Sales w/e 3 November 2019).
"In 2020 we have also introduced Diet Coke Sublime Lime, adding a zesty twist to our light colas portfolio to help retailers to tap into the growing flavoured cola segment, which is worth £213m (Nielsen, Cola exc Cola flavour. Total Coverage Inc Discounters w/e 15 June 2019)."
A selective approach
Jodi is less than enthusiastic about flavours. "Although they've brought out different flavours of Diet Coke, we've struggled to sell them, even though they're only available in diet," she says. "Because they've brought out so many flavours now it's getting a bit boring. Customers will pick up one bottle and then not repurchase. I haven't got expanding doors on my soft drinks chiller! You have to be rigid – if it hasn't performed in the past six weeks I cut it out.
"Soft drinks takes up four metres. If a line hasn't performed then I'll cut it and expand the facings of something that is selling well."
Jay agrees that retailers need to be extremely disciplined with what is fast becoming a saturated market. "It's getting to the stage where how many do you have in a fixture?" he says.
"You go into so many stores and you're overwhelmed by the range. We don't stock every single flavour – we're very particular. It's got to move or we won't stock it, and we give it six weeks. Space is money."
Go nutty for Yazoo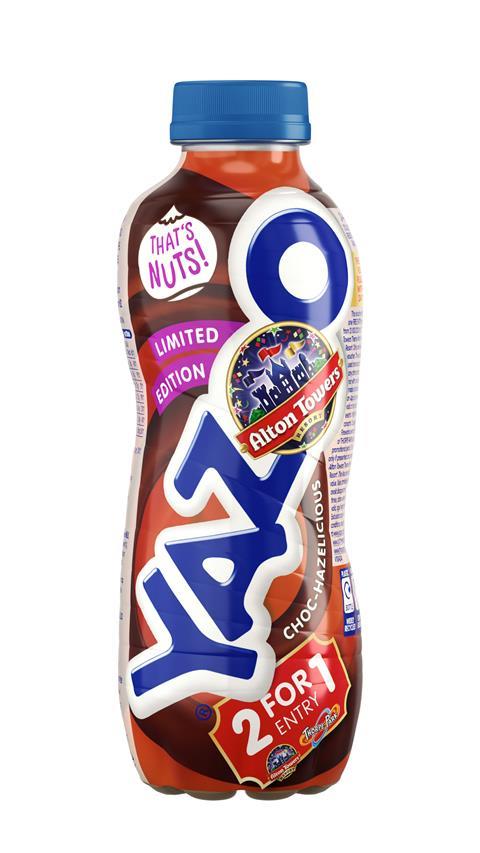 Yazoo has launched its third limited edition line in two years: Choco-Hazelicious.
Despite its name, the drink is suitable for nut allergy sufferers and is available in four different formats. The 400ml standard pack and matching £1 pricemarked pack will be accompanied by a 1ltr bottle (standard and PMP).
The launch follows on from Choc-Mint and Choc-Caramel variants, which respectively generated £1m and £1.2m of sales for the brand within just five months.
The firm claims that Yazoo's 1ltr milk drinks are growing ahead of the market rate at 31% year on year, giving retailers another reason to stock both sizes.
Wayne Thompson, business unit controller (OOH), says: "We know limited-edition products perform very well and we want to ensure that Choco-Hazelicious is so popular, people are coming into store actively seeking it out.
"We undertook extensive consumer research to help us reach a conclusion on the right flavour for this launch. As 48% of flavoured milk sales are chocolate based, we knew this should inform our choice. We surveyed 2,500 people on 32 different flavour options, and chocolate hazelnut came out as one of the top three."
Choco-Hazelicious is available in depot from Bestway, Batleys and Booker.
Adam concurs. "I go into stores all the time that if they have space for 80 facings, they have 80 different varieties," he says. "Less is more. It's all very well trying to be everything to everyone, but it can be detrimental.
"We've cut down our range by half in the past few years. When you have hundreds of customers through the door in the summer it's a full time job filling the chiller. So we've made life easy. We've multi-faced the top sellers, cut the deadwood. Generally, people will just grab something else if what they came in for isn't there."
Jay takes a similar tack. "With display, you've got to have a day and a bit's stock on the shelf for best-
sellers – enough facings to maximise on sales," he says.
Rachael has opted for open soft drinks fridges to make it easier to re-stock. "All the rest of the fridges in our store have doors on, except food to go and drinks, because it's too difficult to fill it up," she says. "You're just doing it all the time. Refilling soft drinks is like painting the Forth Bridge!"
In spite of the many different flavoured options available, a high proportion of Coca-Cola customers seem to be very loyal to the original beverage. "Normal Coke has not dropped in sales whatsoever – if you're a Coke drinker, you'll still buy it, even with the sugar tax," points out Jay.
Coca-Cola is a top seller for Jodi, too. "They've gone up in price because of the sugar tax, but people are still picking them up," she says.
Shoppers are willing to pay more for less on multipacks, too. "We had a multipack Coca-Cola deal after Christmas," says Rachael. "The lines with sugar in have all gone; they only had 15 cans. It's the same deal, but you get 18 with sugar-free. Demand [for lighter lines] isn't quite as much as you would think. We bought more of the 18s because we thought they would sell better as they are better value for money, but that hasn't been the case."
CCEP maintains that offering consumers a range of options is the best way to ensure all needs are met. "We continue to stand firm that people want choice and don't want their choices edited for them," says Burgess, noting that Coca-Cola original taste remains the biggest soft drink in GB (Weekly Nielsen Data MAT end 28 December 2019).
A healthy balance
Refresco UK has been keeping a close eye on proceedings. "Regular drinks make up 70% of volume sales of the soft drinks convenience category (excluding plain water), no- added sugar 20% and diet 10% of category volume," says commercial director James Logan. "This is a good indicator of the percentage of a soft drinks range which should be given to no-added sugar/low-sugar.
"No-added sugar is in growth, up 4% in 2019 on the previous year, driven by growth in cola, energy drinks and fruit carbonates, while regular was down 3% in volume sales, and diet declined by 10% in volume."
He claims that sales of diet drinks have been affected by consumer perceptions around sweeteners. "The overall trend is growth of no-added sugar in volume, but the element of negativity around sweeteners is impacting diet drink sales," he says. "Shoppers still want choice as taste remains the number one factor when it comes to purchasing soft drinks."
Adam believes that this is a sensitive area for many consumers. "I think later on it will become a taboo," he says. "To be honest, I think sugar is a better alternative to some sweeteners."
Cotswold Fayre has taken this on board. "It is very difficult to mask the taste of sweeteners, and even low-sugar varieties always taste far better," says Hargreaves. "Of equal importance is consumers' aversion. Many people would far rather have natural products even though the sugar content may be slightly higher."
Refresco has decided on a subtle strategy when reformulating drinks. "With the brands we work with, we've reduced the sugar on existing drinks without making a big fuss of it and customers haven't noticed. With new drinks we highlight when there is no added sugar."
Jodi continues to monitor soft drinks sales and expects low- and no-sugar to expand market share. "We're constantly changing it," she says. "There definitely is a market for low- and no-sugar soft drinks. It will take time, but it definitely will grow."
Jay urges his peers not to focus too heavily on trends and instead to concentrate on what customers are buying. "Data is key. We'll analyse before and after summer," he says. "You have to display your cabinet based on data – not on trends – and every demographic is different."