Outdoor markets in England can re-open from 1 June as part of the latest wave of relaxation of lockdown restrictions.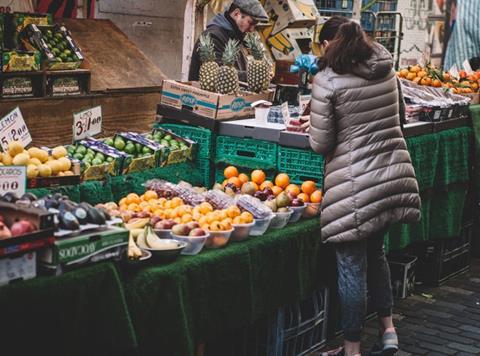 So-called non-essential retail units in high streets and shopping centres will also be allowed to re-open from 15 June. Prime Minister Boris Johnson made the announcement in his daily briefing yesterday (25 May), adding that the move is "contingent on progress in the fight against coronavirus", and that retailers will have to adhere to new guidelines to protect shoppers and workers.
These measures include store owners carrying out a coronavirus risk assessment, implementing strict cleaning, handwashing and hygiene regimes, enforcing two-metre social distancing and where possible devising a one-way customer flow and maintaining fixed store teams on common shifts to avoid cross-infection.
A number of local councils have allowed market stalls selling food to trade since early May, but yesterday's announcement marks the first widespread relaxation of general retailing in England since the lockdown began.
The British Independent Retailers Association (BIRA) said it was "disappointed" that shops will not be able to reopen until June 15, as many independent retailers are ready to reopen now, having already worked hard to put measures in place to keep both customers and staff safe.
BIRA ceo Andrew Goodacre said: "Independent retailers have been preparing to re-open since the idea of opening as of June 1 was first mentioned. Many retailers have measures in place that will keep both employees and customers safe.
"It is therefore a little disappointing for the smaller retailers not to be able to open until June 15, especially as they can make it safe to do so.
"We really hope that this extended closure period will be used to good effect by local authorities to ensure that the high streets and public spaces can be adjusted to allow for social distancing whilst shopping with the prospect of multiple queues."
The government's updated guidance about best practice in shops and workplaces is here.