Captain Tom Moore's local shop has been decorated in his honour to mark the legendary fundraiser's 100th birthday today.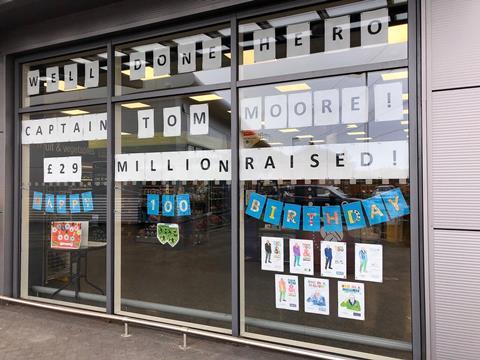 Central England Co-op's Marston Moretaine food store features special bunting and messages created by schoolchildren from nearby Marston Moreteyne VC School to wish the village's most famous resident a happy birthday and thank him for raising millions for the NHS. The Co-op society has also made a donation of £10,000 to his 100th Birthday Walk for the NHS campaign.
The Society has also designed special colouring sheets for children to download with over 500 circulated by the Marston Moretaine food store.
Luke Ficken, Central England Co-op Marston Moretaine store manager, said: "We are so proud to be part of a great community in Marston Moretaine and we have all been absolutely blown away by what Captain Tom Moore has done and the wonderful positivity it has brought to people during these uncertain times.
"Captain Tom's family are regular customers to the shop, so we have been able to convey to them directly our pride and appreciation for everything he has done but we were keen as a community retailer to join together with the village and local schoolchildren to put on a display to wish Tom a happy 100th birthday and thank him for his incredible efforts.
"I would like to thank the children from Marston Moretyne VC School for helping us with some great bunting and artwork. I am also delighted that we as a Society have been able to support Tom's fundraising campaign which has helped raise so many millions for our wonderful NHS."
Anyone who wishes to donate to Captain Tom Moore's 100th Birthday Walk for the NHS fundraiser for NHS Charities Together can still do so here.