Costcutter Supermarkets Group (CSG) has bolstered its range of coronavirus support materials and guidance for all retailers, to help them keep staff and shoppers safe in the continuing crisis.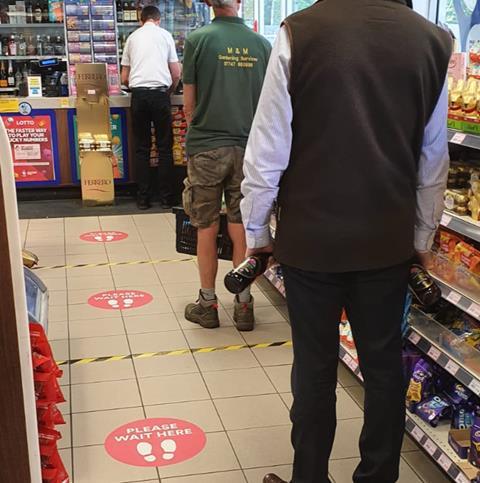 The online support package includes a comprehensive guide to implementing social distancing in store, vital point-of-sale materials and the stories of individual Costcutter retailers, sharing their experience of serving their local communities while meeting the current challenges.
The materials are available for all retailers to download from CSG's dedicated website for free.
Costcutter retailer Dave Wyatt, one of the retailers to have shared his social distancing advice on the website, said: "I'm keen to share our experience with my fellow retailers.
"Nothing is more important to us than the safety and health of our shoppers and staff and the feedback we're receiving to our in-store safety measures and social media guidance is amazing."
Dave's Costcutter and Shell forecourt store in Crawley Down, West Sussex, has implemented a range of leading social distancing measures which go above and beyond the Public Health England guidance the minimise the risks a shopper might encounter.
These include requiring all shoppers to wear gloves while on site and educating shoppers on how to safely pack shopping in their cars and unpack it at home. The store is also trialling a new shopper volume management system which automatically tracks and manages the numbers of people in store at any time.
"Not only do our shoppers tell us they feel safer, but we are also seeing new shoppers come to our store because they have heard about the enhanced safety measures we've put in place," Dave said.
"Our Facebook page keeps the local community up to date with when stock is arriving, as well as providing details about the in-store safety measures. Shoppers can also contact the store team to arrange delivery for vulnerable customers.
"We've worked hard to maintain high levels of stock to ensure our shoppers have access to the food they need throughout this crisis and have seen daily sales triple and largely from new customers.
"We've also ensured that outside our opening hours of 5am to 9pm, the store is open for NHS, care workers and emergency services to refuel throughout the night should they need to. Nothing my team has been experiencing compares to the tireless and selfless work that our NHS and emergency services are doing and I'm delighted to be able to give something back," he added.
CSG's business development director for new business Jamie Davison, said: "We're continuing to work closely with our independent retailers to help them support their local communities whilst keeping them, their shoppers and their store colleagues safe. Our BDMs have been adapting their ways of working to maintain high levels of support to retailers remotely."
"We continue to be inspired by our retailers, many of whom are going that extra mile to support their local communities with home delivery and call-and-collect services for their most vulnerable customers and key workers. Our role is to ensure that they have the resources and support they need to support their local communities during these challenging times.
"We also wanted to share some of the resources and support we have developed with the wider retailer community. At CSG our purpose is to help independent retailers thrive and the wide range of support we provide is central to this," Davison added.