With vodka the number one category in spirits1, retailers should seize every opportunity to provide the perfect offering to customers and now, more than ever, innovation is playing a key role.
Worth £517m and making up 44% of all spirit sales2, vodka is a renowned spirit that lends itself to countless occasions and moments – making the base for many simple and classic serves, that consumers are likely to re-create at home. Therefore, developing a broad vodka offering will provide many returns.
When planning your vodka range, it is important to take into account key drivers that affect decision making at the point of purchase. While price and promotions are key factors in the decision process, the brand is still the number one driver3. We know that consumers tend to go for brands they are familiar with and know they can trust, so Smirnoff, the world's number one vodka4 is a must-stock throughout the year.
In terms of sub-category development, brand owner Diageo has seen strong growth through premium (+20%) and super-premium vodka (+64%)5 making these sectors important components when re-stocking, particularly ahead of key calendar dates and gifting occasions. Within the Diageo portfolio, alongside Smirnoff, Cîroc and Ketel One offer a great way to encourage increased basket spend and make the most of the premium and gifting opportunity.
Innovation within the category
Within the spirits category, 87% of spirits volume over the last 10 years has come from flavours6. Consumers are keen to explore new flavours from the brands they know and trust and, to make the most of this, retailers should consistently offer new flavours and cater to consumers' exploratory purchasing habits.

Flavoured vodka in particular has experienced rapid growth, and is the fastest-growing sub-category within vodka. Having increased by 30% vs LY7, flavoured vodka now takes a 9% share of vodka sales8, so capitalising on this trend is a must for convenience retailers. Flavoured vodka is a trend that is likely to continue to grow but one that will also recruit new shoppers into the vodka category.
Smirnoff's recent innovations cater perfectly to this trend. Smirnoff 'Raspberry Crush' (37.5% ABV) and Smirnoff 'Mango & Passionfruit Twist' (37.5% ABV) not only tap into the growing popularity of flavoured spirits, but also provide consumers with the opportunity to create simple but delicious twists on classic serves at home. For instance, Smirnoff Raspberry Crush, offers a simple, fruity and light beverage for elevated mixed drink occasions, and is the number one value contributing SKU to the vodka category in the last 26 weeks9.
Flavoured vodka is also an effective way to provide consumers with an alternative to gin. While gin remains a popular and lucrative category, there are 5.5m vodka consumers who don't drink gin10. Flavoured vodka is not only helping to invigorate the vodka category but it is also recruiting new consumers through accessibility, great taste and ability to be enjoyed as part of many delicious, simple and diverse serves.
Ready to drinks & pre-mixes
The ready to drink (RTD) category is continuing to fuel spirits sales, growing slightly ahead of the current off-trade BWS market at 26.7%11, as convenience shoppers look to high-quality serves in convenient formats. The £156m category is dominated by flavoured alcoholic beverages (FABs), such as Smirnoff Ice, and pre-mix segments, with the latter growing by 15% vs YA12.
Stocking Smirnoff Ice (5% ABV) can enhance any convenience retailer's FABs range. When looking to expand their ranges, retailers should consider Diageo's recent addition to its portfolio, Smirnoff Ice Tropical or Smirnoff Ice Raspberry (4% ABV), both fruity editions to drinking occasions.
Both variants exist in 700ml and 275ml, making sure to cater for every type of occasion. Retailers may also want to consider stocking the Smirnoff Ice multipacks in the 4-pack, 10-pack or 24-pack, particularly as we approach upcoming sharing occasions throughout spring and summer.
Stocking big brands such as Smirnoff within your RTD range is a great way to help boost sales, particularly during the warmer months when consumers will be on the lookout for lighter options. Popular options include Smirnoff Lime & Soda 250ml (5% ABV) and Smirnoff Seltzer Orange & Grapefruit (4.7% ABV).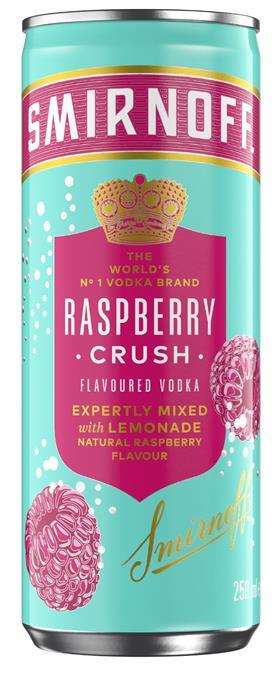 The latest RTD from Smirnoff, launched this March, is the Smirnoff Raspberry Crush and Lemonade premix can (4.5% ABV). The launch follows the success of Smirnoff Raspberry Crush vodka, which is the best-selling flavoured vodka of the last 6 months in the off trade13. Smirnoff Raspberry Crush and Lemonade premix RTD is perfectly placed to capitalise on the growth of RTD's. The new 250ml format is available nationwide across the off-trade and is available to purchase as a single slimline can or price-marked-pack.
Formats & PMPs
As consumers look for value in their purchases, price-marked packs (PMPs) present a unique opportunity for retailers to not only drive sales but also to help build trust. When it comes to formats, consider stocking a range of bottle sizes as a way to help consumers cater for every occasion, such as the 35cl Smirnoff Red Label PMP. Being the most important fractional format, accounting for 19% of spirits sales14, retailers are encouraged to stock these alongside standard bottles. In terms of merchandising, consider blocking 70cl and fractional bottles together to catch vodka shoppers' attention.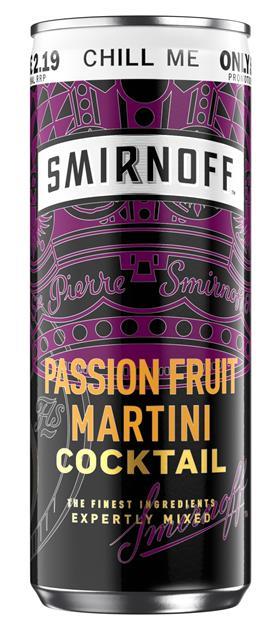 With PMP pre-mix sales accounting for 63% of total RTD sales and growing by 10% vs standard packs at +5%15, retailers in convenience should make sure to tap into their popularity, particularly when it comes to combining with dominant categories like vodka. Popular options include Smirnoff Passion Fruit Martini 250ml PMP can (4% ABV) the Smirnoff & Cola 250ml PMP can (5% ABV) and the most recent addition, the Smirnoff Raspberry Crush and Lemonade premix PMP can (4.5% ABV). All of these are suitable options as the warmer months approach and consumers look to products that lend themselves to celebratory occasions.
Sources
1-6 Nielsen Scantrack latest 52 & 26 weeks ending 6.11.21
7 Nielsen scantrack mat to 31.10.20
8-9 Nielsen Scantrack latest 52 & 26 weeks ending 6.11.21
10 Kantar Alcovision MAT to 30.09.20 total trade
11 Nielsen Scantrack 52 wks 27.03.21
12 Nielsen Scantrack latest 52 & 56 weeks ending 4.12.21
13 Nielsen CGA February 2022
14+15 Nielsen Scantrack latest 52 & 26 weeks ending 6.11.21