Year-on-year sales of plastic bags by the seven biggest supermarket groups in England fell by almost 50% in the 12 months to April, according to Defra.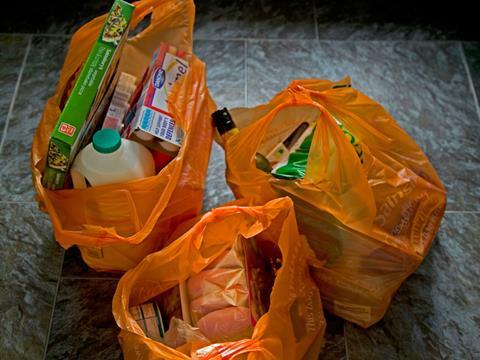 Asda, Marks and Spencer, Morrisons, Sainsbury's, The Co-op Group, Tesco and Waitrose sold 549 million single-use carrier bags in 2018/19 – a decline of 490 million on the previous year.
The average person in England now buys just 10 bags a year from the main supermarket retailers, compared with using 140 bags in 2014 before the 5p mandatory charge was introduced.
Environment secretary Theresa Villiers said: "Our comprehensive action to slash plastic waste and leave our environment in a better state continues to deliver results, with our 5p charge reducing plastic bag sales by 90% in the big supermarkets.
"No one wants to see the devastating impact plastic waste is having on our precious wildlife. Today's figures are a powerful demonstration that we are collectively calling time on being a throwaway society."
The total single-use carrier bag sales reported by all large retailers in 2018/2019 fell 37% to 1.11 billion.
Small retailers in England are currently exempt from the levy, but the government has proposed extending the legislation to all retailers. Many small retailers have introduced voluntary charges on plastic bags.
Association of Convenience Stores chief executive James Lowman said: "We have repeatedly called on the government to extend the plastic bag charge to small businesses.
"Many retailers have chosen to introduce a voluntary bag charge as a way of raising money for local charities and reducing the number of single-use bags being given out to customers, but to remove any confusion for customers and have consistency across the UK, we need a universal charge in England as soon as possible."
Wales, Scotland and Northern Ireland introduced plastic bag charges in 2011, 2014 and 2013 respectively.