Accounting for £698m of sales in the convenience sector in the last year1, energy drinks are important for retailers. The category is moving fast, with more than two decades of development when it comes to flavour innovation, no sugar products and variants with added functional benefits.
Despite a challenging year for on-the-go sales2, an additional £72.5m of energy drinks were sold in 2020 – equating to 12.2m litres more than the previous year3 – and Monster has been the driving force behind this.
As restrictions lift and more people go out and about, retailers can capitalise on a revival in on-the-go sales and continue to cater for new occasions that have emerged in the home. As one of the most innovative segments in soft drinks, energy drinks represent a big opportunity, and retailers must keep track of several important trends.
Trends for 2021
Big packs. With more consumption moving into the home, demand has grown for larger pack formats. 68% of energy drinks growth over the past year has come from sharing packs, two-fifths of which was driven by Monster4.
Performance performs. Energy drinks have been adopted as a functional beverage by many people during workouts. Even accounting for lockdown, the performance energy segment – home to brands like Reign Total Body Fuel – grew at a rate of 62.7% in Great Britain last year5.
Zero sugar. Health has become a bigger motivator for consumers looking to improve their diet in the wake of the pandemic6. This is driving demand for zero sugar options across all soft drinks sectors, including energy. Monster Ultra is number one in the zero sugar energy segment7.
PMPs. As consumers' finances have been affected by the pandemic, many are trying to save money by seeking good value items, especially when the price is on the pack. To help retailers tap into sustained demand, 500ml Monster energy drinks are all available in PMP formats.
Top products
Key numbers
72% of energy drink growth over the last year has come from new products8
68% of energy drink growth over the last year has come from sharing packs4
Plan your shelf
With energy drinks accounting for a third of on-the-go soft drinks sold in convenience9, it makes good business sense to give them generous chiller space.
The same logic applies to how the energy fixture is structured. Given that Monster is the driving force behind growth in the energy category10, it should take a prominent place on the shelf.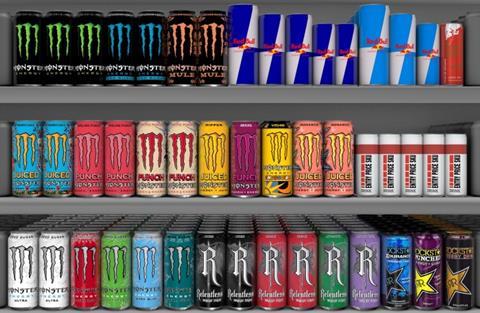 Top tips
Get your range right. Convenience retailers should stock new, exciting and exotic flavours to appeal to existing customers and entice new ones. Monster launched three great-tasting new variants already this year: Monster Mule, Monster Ultra Fiesta and Monster Juiced Monarch.
Keep things cool. Shoppers are more likely to buy an energy drink for immediate consumption if it's chilled11. Easy access to chilled cans – ideally in a branded chiller for maximum standout – is therefore vital.
Focus on location. As many energy drink sales are driven by impulse, it's vital to stock the category throughout your store. As well as appearing in the chilled section, energy drinks should appear in secondary sittings to disrupt the customer journey.
Signpost properly. Retailers should group brands and segments together, highlighting traditional energy drinks, as well as zero sugar, flavoured and performance products. We recommend placing performance in between energy and sports drinks for maximum impact.
Excite your shoppers: The energy drinks category can be brought to life in-store with exciting promotions. Monster is among the brands that regularly run competitions, often with exclusive prizes.
Sources:
1, 3 Nielsen Total Impulse, MAT VAL w/e 26.12.20
2, 10 Nielsen Scantrack, MAT w/e 05/09/20
4 Nielsen Total GB, MAT w/e 26.12.2020
5 Nielsen Home Total GB, 24 weeks to 8.8.2020
6 IGD Appetite for Change Report September 2020
7 Nielsen Home MAT Total Coverage including discounters w/e 05.09.20
8 Nielsen, Home MAT Total Coverage value MAT, w/e 03.10.20
9 Nielsen: IC Energy drinks, Units Sold in Symbols and Indies YTD w/e 03.10.20
11 Lumina Intelligence Convenience Tracking Programme, Q1 2020 to end of March