Although frozen pizza may have seen a slight decline since the easing of Covid-19 lockdowns, many consumers have been retained in the category, choosing it for their 'Big Nights In'. So retailers should look at ways to maximise the sector's potential.
The frozen pizza market is now worth over £464.5m1, a slight decrease (-3.4%) year on year, but a marked increase from 2019, fuelled in part by people staying home for long periods of time in 2020. Convenience stores saw the biggest percentage increase in sales last year as shoppers looked to buy locally so unsurprisingly, they're declining at a higher rate (-6%)2.
The challenge this year has been to retain customers, but encouragingly, new shoppers brought in during 2020 have remained in the category – there are about 500k more households buying frozen pizza than two years ago3.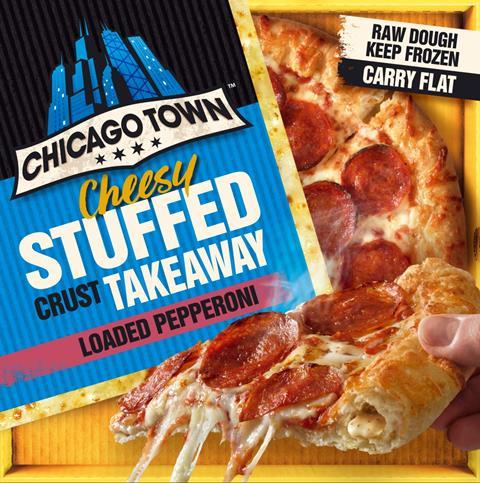 Chicago Town is still the UK's leading frozen pizza brand in both the total market and in symbols and independents (S&I), now worth £133m and £12.7m4 respectively. While Deep Dish continues to be a valuable Chicago Town format, a range that's seen particularly high performance is Chicago Town Takeaway, now worth over £61.1m, and £4.2m in S&I5.
Frozen has long been associated with good value, back-up and freezer store cupboard essentials and has been the centre of family meal planning for many years. New consumers are discovering great quality, new products and, in an era of heightened sustainability, are appreciating that frozen provides the opportunity for much less food waste.
Key trends
Delivering on health and permissibility is a focus area for Dr. Oetker in frozen pizza. The brand is making great progress in catering for all dietary choices with its expansion in vegan and gluten-free offerings, but there's still work to do make pizza a more permissible category, says the company.
Dietary and lifestyle (D&L) has been one of the fastest-growing sectors in frozen pizza with vegan pizza doing particularly well (£23.6m D&L growth +19.1%, vegan pizza +43%)6. Dr. Oetker has top-selling brands in vegan pizza with Ristorante & Chicago Town.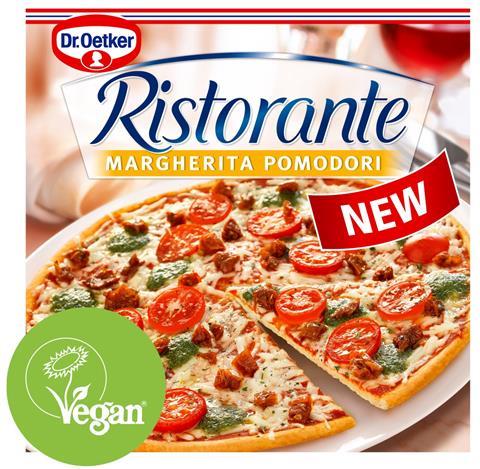 Earlier this year Dr. Oetker Ristorante launched its first vegan pizza, Ristorante Vegan Margherita Pomodori in response to UK consumer demand for plant-based frozen options that offer the same indulgence and taste as authentic Italian pizza. The Vegan Society-certified product, was the first mainstream Italian pizza to join the frozen category and features Ristorante's signature thin, crispy base, topped with a melted grated pizza topping, juicy sun-dried and cherry tomatoes, along with a basil 'pesto-style' garnish.
In addition, price marked packs play a key role when it comes to frozen pizza, with the total PMP frozen pizza market valued at £20.5m7. Chicago Town is also the biggest brand in the PMP frozen pizza market, with a total value of £12.3m8 making it extremely important to the category.
PMPs have played a key role in helping retailers to overcome the misconception that they are pricier than the multiple grocers, really standing out at the fixture and helping shoppers in convenience channel to grab a great deal.
Product spotlight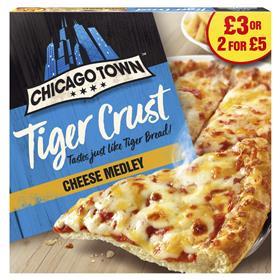 Packed with taste, Dr. Oetker's Chicago Town Tiger Crust range has seen excellent growth, up nearly 33% year-on-year9. This unique pizza choice can be shared with the whole family and guarantees clean plates and smiles all round at that midweek family mealtime – an occasion Dr. Oetker knows is the biggest for frozen pizza buyers, says the company.
Key numbers you need to know
£2.5m
Level of investment in new Chicago Town Masterbrand campaign, delivering high reach including TV
41%
Chicago Town's share of the total frozen pizza market in S&I10
500k
More households are buying frozen pizza than 2 years ago3
Top tips on planning your freezer
● Range right: Retailers should make sure that their range in-store delivers on taste, variety and quality so that consumers can continue to trust frozen pizza to deliver a great pizza night for them.
● 'Pizza joy': For retailers, stocking frozen pizza such as Chicago Town's Takeaway range that delivers on what we call 'pizza joy' will help them stay competitive, especially as summer comes to a close, and British consumers spend more time at home and look for that in-home treat.
● Cross-merchandising: It's important that retailers consider popular shopper missions or trends, such as Big Night In, and then merchandise these items together in-store in order to make shopping for these occasions as easy as possible. Using POS to signpost this to shoppers is one way of achieving this.
Sources
1-10 IRI Frozen Pizza, Total Market & Symbols and Independents, 52 w/e 11.09.21