Independent retailer Bobby Singh from BB Nevison Superstore & Post Office in Pontefract, West Yorkshire, is boosting community morale with a "wall of smiles" created by local children in his store window.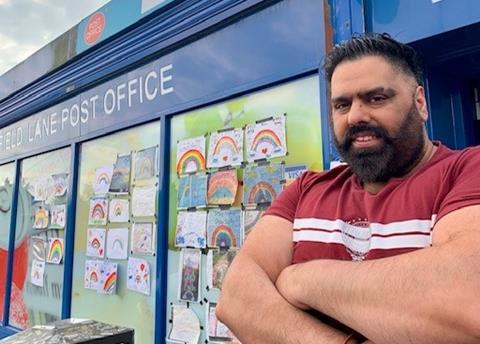 Dozens of rainbow pictures drawn and painted by local children now adorn the store's window, with new ones arriving each day.
"The idea came to me after I decided to put up a picture that my own little one had painted. It just made me smile every time I saw it and I thought that it would do the same for other people so we decided to take it further," he said,
"Obviously in keeping with the message to 'Stay at Home, Save Lives and Protect the NHS' we needed a safe way to source the pictures, so rather than asking parents to bring them in, local parents post them on our Facebook page. We then print them off and display them proudly."
Bobby said the "wall of smiles" had been hailed by the local community.
"In these incredibly tough times, simple beautiful things such as children's paintings really do help to lift people's spirits. We all need to smile as much as possible right now," Bobby added.
Bobby and the store team are also offering a successful home delivery service for the elderly and vulnerable in his local community. Orders are placed over the phone before 2pm each day and the team pack and deliver the goods themselves each afternoon.