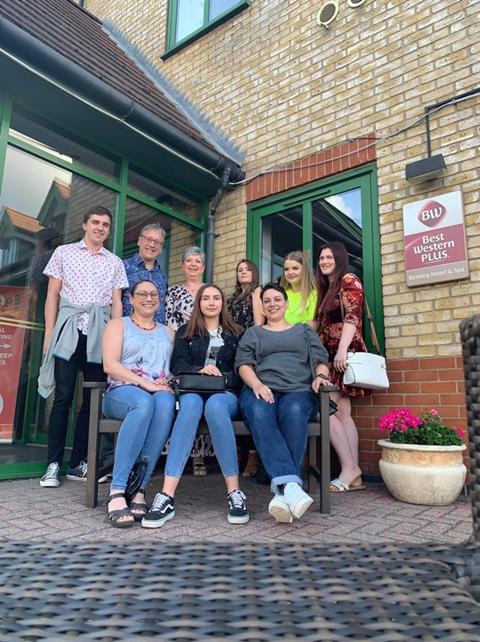 Greens of Bassingham was announced as one of the winners of KP Snacks' Local Legends competition in partnership with C-Store.
Each of the 'Local Legends' demonstrated an unwavering commitment to their local communities through lockdown and beyond. Here's what co-founder Tracy Raybould had to say about their win and how they kept up a high level of service throughout the Covid-19 lockdown.
Matt Collins (Matt): Congratulations - you and your team are our Local Legends. For us at KP Snacks, we just wanted to do our part for the industry and give something back. We were looking to reward retailers who had shown such resilience and strength in these tough times, and what you guys did was very compelling. You coordinated 140 volunteers, delivered 790 grocery orders and donated 9 boxes of groceries to food banks. Tell us a bit more about what it was like and how you did this.
Tracy Raybould (Tracy): Initially we thought footfall was going to drop for obvious reasons, so we felt that we had to just do whatever we could for the community. Our local community is mainly older and falls into the category of shielders, so we wanted to do our part in helping them keep safe. It was really hard in the first couple of weeks as we had to evolve really quickly and adapt.
We quickly realised that we needed to invest in more technology and software so we could process the increased home delivery orders, while serving our customers in-person at the till. We were also having to replenish and shop for essential items every day, which we weren't doing before, and then package them up differently to meet customer demand.
For instance, we bought big bags of flour and then weighed it up and split it into smaller bags ourselves so we could keep supplies going for our customers.
Matt: Wow, that just shows how creative and entrepreneurial you guys were. During that time of implementing these new processes, how were you coordinating the deliveries and the donations?
Tracy: We have a really great community, and had lots of people come into the shop, give their contact details and volunteer their time if we needed any help. We then grouped these individuals, who were from all different backgrounds and jobs, loosely based on skillset and availability, and created four different WhatsApp groups. These were then used to communicate and effectively allocate different tasks - whether this was picking up medication for people or dropping off packages to a homeless shelter.
Matt: It's amazing to see people like you in this industry with your leadership and ability to bring people together in such unprecedented times. At the end of the day, what you were doing was not profit-led and was just about doing the right thing. I'd be interested to know, how is the CSN category performing?
Tracy: Really well. We've managed to sell things that we struggled to before. For example, the big sharing packs were often slower to move, given that we're a smaller community with lots of single people, but I can't believe how much snacking food people have bought and consumed during this period. We found that bigger households which couldn't get a slot at the bigger supermarkets were coming to us, so we started stocking the bigger sharing packs of nuts and crisps.
Matt: That's interesting to know. When you look forward to the next six months, what sort of learnings and precautions are you taking?
Tracy: Well we're firstly looking at the calendar and are deciding on the things we will or won't be focusing on. For instance, in the village, we've decided we won't be doing Halloween in a big way, but then we are bringing forward Christmas as we have already committed to our suppliers for those seasonal product lines so we need to get them out on the shelves.
We're now also backed up with secondary suppliers for things like milk and bread, and we're giving ourselves this stop-gap which we wouldn't have done before.
Matt: It certainly sounds like you've got well thought out contingency plans. So on that, a huge thank you Tracy on behalf of KP Snacks. For us, it was really about recognising those people who have gone the extra mile and that truly is you guys.