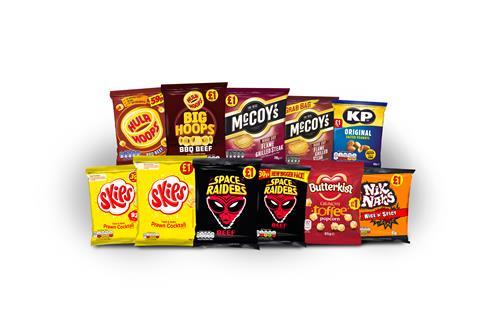 KP Snacks' nationwide competition to reward 'Local Legends', run exclusively in partnership with ConvenienceStore.co.uk, has crowned five worthy winners, recognising retailers and their teams for the resilience and versatility shown through the national lockdown.
The winners include the teams at Billingtons of Lenzie Glasgow, Woosnam and Davies News in Llanidloes, Spar Pennings Road in Tidworth, Greens of Bassingham and Josh Wilkinson at Londis in Lancaster.
Entries were judged by Matt Collins, tading director at KP Snacks; Aidan Fortune, editor of ConvenienceStore.co.uk and Steve Barnes the chief executive at GroceryAid, a charity that provides emotional and financial support to retailers and their staff.
On behalf of the judging panel, Matt Collins, trading director of KP Snacks said: "The quantity & quality of entries we received and then reviewed were phenomenal. The Convenience sector has gone above and beyond to offer support, showing a passion and resilience not only for retail but also the positive role that retailers can play in the local community and beyond. While dealing with unprecedented pressures and demands, we've witnessed a group of hardworking and dedicated people and their teams deliver something truly amazing".
Each winner receives a prize package containing £500 donation to a Registered Charity of their choice; £250 free 'super 7' product stock (Hula Hoops Big Hoops BBQ, Skips, Nik Naks Nice 'n' Spicy, McCoy's Flame Grilled Steak, Space Raiders Beef, Butterkist Toffee Popcorn and KP Nuts); a pair of tickets to GroceryAid's Barcode Festival 2021; £250 of Love2Shop vouchers and a 'Local Legends' plaque to display in store.
The winners:
Billingtons of Lenzie Glasgow, which is described as the hub of the town, voluntarily delivered soup to the elderly and vulnerable in the area and created care boxes filled with everyday essentials for delivery to community members who were shielding. Filling the gaps where supermarkets couldn't provide, they also diversified, stocking more much needed everyday items.
Woosnam and Davies News delivered produce, papers, cakes, bread and essentials for free around Llanidloes, while acknowledging the vital role of key workers, by giving away free and much needed treats. Supporting charities, they created neonatal baby hats for hospitals all over the country whist also making cards for the deaf and hard of hearing. Trudy Davies, the owner and manager of the team said of the achievement: "I am so proud and delighted for my team that they have got the recognition they deserve. They have really come together over the last few months and this will be a great motivation to keep going through what is still tough times".
The next winners are the team from Spar Pennings Road in Tidworth. At the height of the pandemic they worked tirelessly, seven days a week. They introduced home deliveries and food parcels and even weighed out big bags of flour so customers could each have some. As well as working hard and despite the challenging situation, the team created some fantastic memories along the way.
A rising star of the convenience sector is another worthy recipient. Josh Wilkinson who works at Londis, Slyne with Hest, spent his 18th birthday working to ensure the smooth running of the shop during the height of the pandemic. He introduced home deliveries and worked closely with parish council and voluntary support groups to ensure that food and services got to the elderly and vulnerable and ensuring that villagers had more than adequate essential supplies.
Providing an amazing service to the local community, the team at Greens of Bassingham coordinated the support of 140 active volunteers with prescription collections, warm meals and personal contact throughout. They delivered 780 grocery orders, introduced a newspaper delivery service to keep people informed, worked alongside the local GP surgery to collect prescriptions and delivered medications to the entire ward. They haven't taken a day off in five months and kept the Post Office Service for the community going despite others around the area having to close or reduce their hours. They also collected for and donated nine boxes of groceries to food banks.
Five runners-up including Amrit Kaur who works at Maan News in Halesowen, Premier Store St Just, Londis Chesham, Brenda Thomas who owns Brenda's store in Norwell, and the team at Pasture Lane stores, will each receive prizes of £200 of KP Snacks stock.