Wrapped bakery is the top destination category driving footfall in convenience stores1, with over £358m spent on wrapped bakery in the channel over the last year2. It is therefore vital for convenience stores to provide the best bakery range alongside an impactful fixture to meet the needs of shoppers and keep them coming back.
This can be achieved by getting the right mix of high quality fresh wrapped bread and other wrapped bakery.
As the UK's number one bakery brand3, Warburtons offer a wide range of these high-quality, fresh bakery products, with a range of over 70 products. The company continues to consistently drive growth in the category through innovation in key growth areas.
Wrapped bread is a staple product and essential for the top-up mission within convenience1. Everyday loaves such as Toastie and Wholemeal have an important role to play in this mission, but opportunities for future growth lie in premiumisation and seeded loaves4 such as Seeded Batch and Baker's Bloomer.
Despite the significant overtrade that the impulse channel sees in wrapped bread, the main source of growth comes from other wrapped bakery such as rolls, crumpets, and teacakes2, all of which are highly impulsive and drive incremental category sales5.
These growth areas are currently underrepresented in convenience4 and are key to retaining younger shoppers that entered the channel during the pandemic6. Put simply, both wrapped bread and other wrapped bakery are essential for driving convenience sales.
Top 5 Products
Key Figures
1st – Bakery is the number one category driving footfall to stores1
16% – Value growth for other wrapped bakery in impulse versus two years ago2
32% and 15% – Warburtons' wrapped bread and other wrapped bakery's value share of the impulse market2
Stocking the category
Sector flow. Ensure there is a logical flow in line with how shoppers navigate the store, for example by merchandising by product type and size to create a clear visual layout.
Navigation and layout. Use signposting, inspirational imagery and clear brand blocking to aid navigation. Place impulsive products such as crumpets and teacakes in the centre of the fixture to encourage incremental sales5.
Good, better, best tiering. Consider tiering products on fixture by price, from everyday up to premium branded products, to increase trade within the category.
Top tips
Range and variety. Keep your bakery fixture fresh and relevant to current and future trends by ensuring you have the right mix of wrapped bread and other wrapped bakery: ideally half and half.
Price-marked packs (PMPs). Use the highly effective, competitive pricing of PMPs to drive impulse sales. These packs are especially effective for wrapped bakery.
Availability. Ensure your bestsellers and key stock-keeping units (SKUs) are available for different eating occasions. It is essential to satisfy the mid-morning and early afternoon peak trade, especially at the weekend1.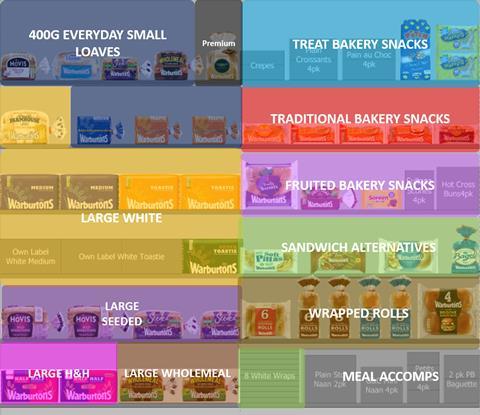 Trends

The growth of other wrapped bakery
Other wrapped bakery (OWB) continues to fuel growth in the impulse channel2. To retain growth, it is important for retailers to focus on this growth area appealing to the younger shoppers6, who were key contributors to the growth of convenience during the pandemic9.
As lockdown eases further, it is these shoppers that are leaving the channel to return to larger stores9. As other wrapped bakery appeals to a wide demographic, including younger shoppers, it is key to retaining that growth, while being a highly impulsive sector which drives incremental category growth.
The move to premiumisation
Wrapped bread remains essential to convenience stores, being at the centre of the top up mission1. Everyday loaves, such as white and wholemeal, all have an important role to play, but the key growth opportunities lie in premiumisation and seeded loaves.
Premium loaves drive the highest percentage of growth in the channel2, with growth forecasted to continue over the next five or more years10. Premiumisation encourages impulse purchases and therefore incremental category spending, with visibility and display being key to encouraging trade up5.
Different meal occasions
More of us have been working from home over the past 18 months, which has consequently affected our eating behaviours11. During the pandemic, in-home meal occasions became the norm, with lunch being a clear winner and wrapped bakery being key to this occasion.
A third of in-home lunches over the last year included wrapped bread, resulting in an extra 3 million lunches with bread per day12. Flexible working is set to continue11, so the right offering of wrapped bread and other wrapped bakery products will enable retailers to meet the changing needs of all consumers.
* The new PMP range is coming in September 2021. As with all Warburtons products, it is for the retailer to decide pricing for any PMP product. The retailer can vary from the price marked by taking the appropriate steps to confirm the price to the consumer. Non-PMP versions are available if preferred.
Sources:
1 Lumina Convenience Tracking Programme November 2020 to March 2021
2 Based on NielsenIQ RMS data for the Wrapped Bakery Category for the L52 week period ending 19.06.21 for Total Impulse, Value Sales
3 Based on NielsenIQ RMS data for the Wrapped Bakery Category for the L52 week period ending 19.06.21 for Total Coverage inc discounters, Value Sales
4 Based on NielsenIQ RMS data for the Wrapped Bakery Category for the L52 week period ending 19.06.21 for Total Impulse & Total Coverage inc Discounters, Value Sales
5 Shopper Intelligence 2020
6 Kantar Purchase Panel, Total Wrapped Bakery, Total Market, Demographic Spend, 52 w/e 13.06.21
7 Kantar Purchase Panel, Wrapped Wholemeal Bread, Total Market, Demographic % of Buyers, 52 w/e 13.06.21
8 Kantar Usage panel, Half & Half Wrapped Bread, 52 w/e 13.06.21
9 IGD 2021- ShopperVista: Main Convenience Store Shoppers Jan-Mar 2021
10 Warburtons Wrapped Bakery Market Forecasts 2021
11 Mintel Attitudes towards Lunch at Home UK 2021
12 Kantar Consumption Panel, Total Wrapped Bread Occasions vs Total Food Occasions, 52 w/e 29.11.20