Tea is a planned purchase, a staple buy for Britain, and with the cost-of-living crisis consumers are not compromising on this expense. Find out how to unlock the value of tea and boost your sales.
Tea remains the nation's favourite hot beverage and there are an estimated 20bn in-home tea occasions per year, averaging 10 cups per person per week1. Of these, 180m occasions are with a biscuit2.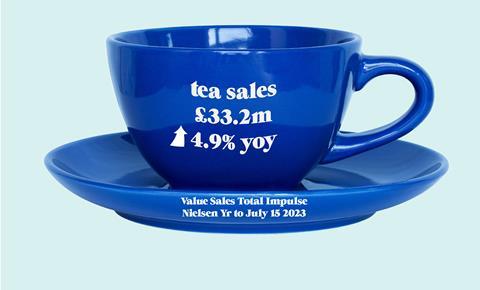 As the high cost of living keeps hold, tea – along with other food and drinks – faces strong competition for sales. But tea is holding its own against other categories; it is now worth £25.3m in impulse and symbols, up 1.6% year on year3.
Tea is a planned purchase, a staple buy which people don't like to compromise on. Indeed, tea lovers favour brands, with the top three brands accounting for 68% of all tea sales in convenience4. Although a temporary dip to private label might be sought for cost reasons, shoppers quickly return to their favoured brand if taste disappoints.
Getting the basics right
Everyday black teas account for almost half of sales5, so focusing on a core range with a mix of pack sizes in the most shopped sectors will attract regular top-up shoppers and those making small changes to how they shop to make the most of their budgets.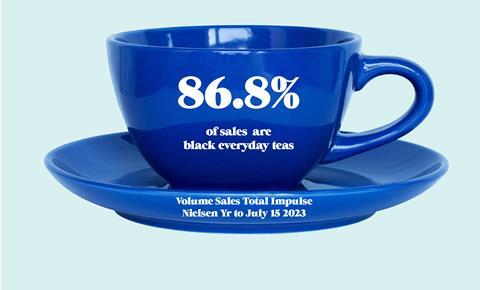 In terms of pack sizes, 40s and 80s are important for both original and decaf teas. It's important here for retailers to consider their customers, as a pack of 80s would last a family of four less than a month, so if your store has a larger proportion of regular shoppers, go large with a 240s pack.
Decaf is also important; whether for health or wind-down times it's a key opportunity for convenience which is under-trading in this popular area. With decaf what you stock matters, so get your choice right.
Show you offer value
For shoppers value is often judged by price, so demonstrate your offer with price-marked packs. Buying better and passing on the benefit of consistent price deals and promotional offers can do a lot to earn shopper trust and loyalty.
For little more than 4p a cup, tea offers great value – so why not shout this out?
Discover Tetley's range and performance
Stepping up the value
For the cost-conscious, it's important to continue to offer value, but gently expand their tea repertoire.
Start with the growth segment of fruit & herbal – opt for familiar flavours through an affordable gateway to the segment.
Consider your customer profile, do you have a mix or more affluent taste explorers? If so, a more premium offering could satisfy their need for affordable 'treat for me' indulgence.
Green teas are returning to popularity and lemons and gingers or mint teas are always popular choices. A broader range of tea brings incremental sales. Close to 60% of shoppers buy both black and non-black teas6, they tend to spend almost double on tea have typically have larger basket spends overall.
At fixture
● Don't overstretch your offering, keep it neat and easy to navigate – tea explorers often shop at fixture;
● When it comes to tea, key to layout at shelf is clarity and logic, but a few simple twists can help leverage sales of higher-value teas and bring greater attention to the extent of your tea offering.
● Siting tea close to complementary categories like biscuits, cakes or breakfast items can benefit sales of both and, if you have the space, multi-siting tea among other categories can be beneficial.
● There are 180 million companion snacking opportunities out there – so, make sure you get your bite!
● Alternatively, utilising shelf talkers to prompt cross-category sales is worth a try – check it out.
Check out Tetley's recommended planograms for tea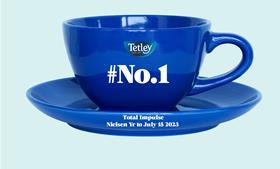 ● Stock well-known, loved brands, group them together and in a logical order: original, decaf, higher value
● Brand block, using pence per serve
● Include a decaf in your mix, match additional teas outside the core to customers' tastes
● Demonstrate value
● Prompt cross-category sales using simple shelf-talk mechanics if space does not allow multi-siting.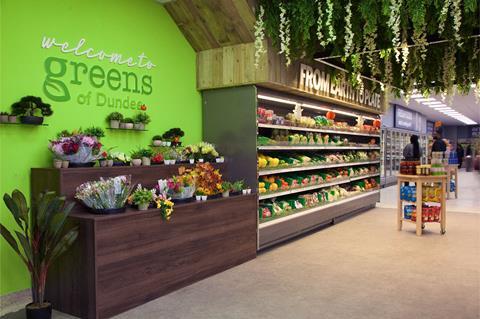 Award-winning independent convenience group Green's Retail says:
"We're all about creating destination stores and community. With our drive to innovate, adding value and sales, the choice of product is key. With tea, having a familiar brand that customers know will deliver a quality cuppa is important. Having Royal Warranted bakers in-store means tea is a top complementary buy, too, so variety is important to us.
"The 4th P of our core values is the planet, which means the environmental credentials of our brand choices is important. Tetley's move to plant-based tea bags and the introduction of new carton packaging for original and decaf, which will be available to us in the autumn, is an important development which fits well with our values and will matter to our customers."
For more information visit: Tetley.co.uk or call 0208 338 4000
Source
1+2 Kantar 2020
3-5 Nielsen Data 52 w/e 15.07.23
6 Kantar/Nielsen data, Summer 2021

For over 180 years, Tetley has been working on perfecting tea flavours to create the perfect cuppa. As a much-loved brand, more households buy Tetley than any other tea brand (Kantar); from everyday and decaf black teas, through to great tasting Herbals and Fruit infusions Tetley offers something special at great value for every tea occasion.
View full Profile