With the decline of shopping on-the-go over the last year, there is a need for fmcg suppliers to differentiate, innovate and excite consumers to stimulate growth in the £1.22bn1 sugar confectionery category, says Perfetti Van Melle (PVM).
The government's HFSS ban will have a major impact on the confectionery industry, forcing suppliers and retailers to adapt. Brands have been innovating for a long time to ensure their products taste great and account for shoppers' increasing focus on health.
At the heart of the impulse occasion, confectionery remains in the top purchases within the independent channel. Positioning of stock to ensure visibility is key to driving sales. Shoppers respond well to cross merchandised fixtures and clearly signposted sections that target specific occasions.
PVM top 5 sugar confectionery products
Key numbers you need to know
101% – The percentage of growth in Mentos gum sales after the global number three candy brand extended its Pure Fresh Gum range with a new format2.
25% – The market share for fruit gum in the total gum market3.
Trends for 2021/22
Sharing. Within traditional confectionery, sharing has continued to grow in the market by 0.3%4. PVM's Fruittella sharing bags, for example, are growing 6.1%5, driven by its core range of Juicy Chews and Duo Stix bags, while its Chupa Chups Mini lollipop bag – the second best-selling lollipop bags on the market – is growing 13.5% year on year6.
This increase is likely due to individually wrapped and portionable sizes, which are two purchase drivers that grew exponentially last year. People seeking new ways to enjoy their evenings indoors, especially during key festivals like Easter or Halloween, are also likely to look to their favourite treats or snacks for familiar comforts at home.
Flavour. Flavour is key when it comes to refreshment, being a strong selling point for Mentos Pure Fresh Gum, which is shaking up the category by going beyond the traditional spearmint and peppermint flavours. Fruit flavours are new and unconventional. They introduce alternative occasions for existing gum shoppers, as well as attracting teenage and young adult shoppers by making refreshment novel and indulgent.
Better for you. As the UK's leading manufacturer in the £28.5m better for you confectionery market7, PVM has a broad range of relevant products across its brands, offering reduced-sugar, sugar-free, and gelatine-free products. High in Vitamin C, its Fruittella Sugar Free Fruit Drops and Chupa Chups Good for You lollipops cater to the growing demand for vitamin-rich confectionery.
Top tips for merchandising confectionery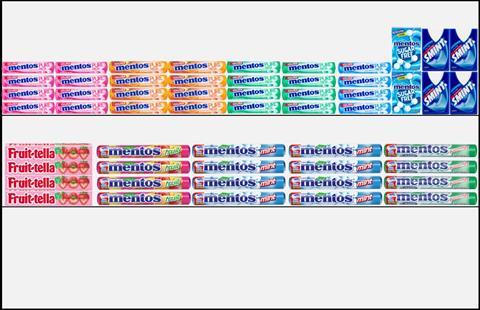 Create a dedicated fixture for low- and no-sugar confectionery products. Branded POS terminals target shoppers looking for a healthier version of what they are already eating.
Pair complementary categories together, such as Smint and coffee. Cross-merchandising provides opportunities to upsell shoppers on their objectives such as being on-the-go or having fresh breath.
Capitalise on sharing and gifting. As people seek new ways to enjoy their evenings with their favourite treats and snacks, retailers should clearly signpost in-store sections targeting specific occasions like a big night in or Halloween.
Visibility is key. Counter-top units should sit at arm's reach from the main till point, while front-of-store POS sited at eye level can capture attention and hijack purchases to increase basket spend.
Sources:
1 IRI, 52 w/e 30.01.21
2-6 IRI, 52 w/e 02.01.21
7 IRI, 52 w/e 07.11.20