The soft drinks category is now worth more than £2.4bn in convenience [1], making it the second-most valuable category for c-stores [2]. The biggest sectors within convenience are cola, energy and flavoured carbonates, with smaller emerging segments like ready-to-drink (RTD) coffee delivering the most value growth of over 40% year on year [1].
Within cola, almost 70% of sales come from the Coca-Cola range, including Original Taste, Zero Sugar and Diet Coke [1].
And within energy, Monster is delivering the most value growth for the c-store channel [1]. Fanta continues to be the number one flavoured carbonate brand and, less than a year after launch, Costa Coffee RTD is the second-biggest ready-to-drink cold coffee in the impulse channel [1].
In recent years the demand for low- and zero-sugar options across all sectors has grown, while increasingly adventurous shoppers like to experiment with new and exciting flavours of their favourite soft drinks.
So, retailers need to find a balance between stocking core best-sellers, while flexing ranges to include the latest NPD, bringing excitement to the fixture.
Source: 1 AC Nielsen Total Impulse MAT end Q2 2020. 2 AC Nielsen Total Store Read Total Impulse MAT WE 13.06.20.
The top products that really should fill your shelves
Coca-Cola
Monster Ultra
Fanta
Costa Coffee RTD
Schweppes
Key numbers you need to know
60% - The percentage of total soft drink sales accounted for by PMPs in independent and symbol convenience stores. Source: [AC Nielsen MAT Total Soft drinks independents and symbols WE 21.03.20]
11% - Value growth of large bottles and multipack cans as shoppers seek volume and value for money when buying soft drinks to enjoy at home. Source: [Nielsen indies & symbols MAT WE 27.06.20]
Trends for 2020/21
Affordability and value. Research shows shoppers are planning to focus more on saving money in the next 12 months [1], which is understandable considering 75% of households report their income has reduced since the coronavirus outbreak started [1]. Price-marked packs (PMPs) can help independent retailers create a point of difference, as more than one in four consumers say they are more likely to shop in a convenience store that stocks them [2].
Healthier choices. Consumers continue to make positive changes to their lifestyles, with 63% of consumers saying they are trying to be healthier [3]. There has been an increase in demand for low- and zero-sugar soft drinks, as well as soft drinks with functional benefits. In fact, two-thirds of the volume of soft drinks we produce in GB are low- or no-sugar variants. However, it's not just about sugar reduction; trends including caffeine-free and dairy-free are on the rise and products with additional benefits like Reign, which includes BCAAs [branched-chain amino acids] to help fuel workouts, are also becoming more popular.
Sustainability. As consumer awareness around the environmental impact of plastic packaging continues to increase [4], dedicating space on-shelf to those products with the strongest sustainability credentials is becoming more important. We recently moved our entire GLACÉAU Smartwater range into bottles made from 100% recycled plastic (rPET) and, later this summer, the rest of our bottles will move from 25% rPET to 50%, as well as being 100% recyclable.
Source: 1 IGD ShopperVista; Base: 532 shoppers, 1–14 March, 377 shoppers 15–21 March, 147 shoppers 22–28 March 2020, 247 shoppers 29 March–4 April 2020, 285 shoppers 5– 11 April 2020. 2 HIM Focus on price-marked packs, November 2019. 3 IGB Health Consciousness 2019. 4 IGD ShopperVista, February and May 2018.
Plan your shelf the right way to increase sales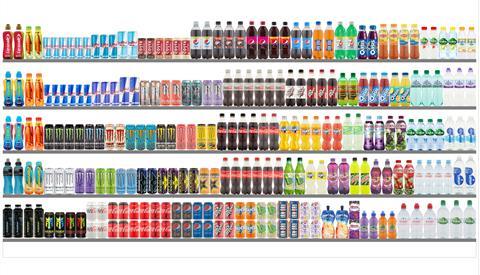 Group soft drink sectors together and give double facings to best-sellers to avoid out of stocks at key times throughout the day.
As 41% of soft drinks shoppers are on a food-to-go mission [1], place soft drinks alongside complementary categories like snacks or sandwiches to drive linked purchases.
Ensure a balance of at-home and on-the-go pack formats to suit different occasions.
Source: 1 HIM MCA CTP 2019.
Your top tips and takeaways from Coca-Cola European Partners
Allocate the most space to core best-sellers in key segments like cola, energy and flavoured carbonates – including double facings as needed – to avoid running out of stock at peak times of day.
Stock a wide range of low- and no-sugar variants. Position these alongside great-tasting original alternatives, so it's easy for shoppers to choose.
Remove slower-selling lines to make room for well supported new products that excite shoppers, e.g. Monster Juice Pacific Punch or Diet Coke Twisted Strawberry.

Coca-Cola Europacific Partners is one of the world's leading consumer goods companies. In GB, it manufactures and distributes some of the leading soft drinks brands, including Coca-ColaTM, Fanta, Monster, Schweppes, GLACÉAU Smartwater, and Costa Coffee RTD. It is committed to being a responsible supplier, supporting healthier lifestyles and a healthier planet. Its sugar reduction journey has seen it reduce sugar across its portfolio and now two-thirds of its volume sales come from low or no sugar soft drinks. This means that 86% of CCEP soft drinks will be HFSS compliant come October 2022[2]. CCEP has also pledged to reach net zero by 2040, all its bottles are 100% recyclable and its 500ml bottles are made with 100% rPET (excluding caps and labels). For more info: My.CCEP.com