For the convenience sector, milk is a hugely important category and one that is seeing growth, with 60% of milk shoppers saying milk is the main reason for visiting the store [1]. Almost half of baskets in the convenience shop contain milk [2] and performance is still seeing positive growth, at over 6% [3].
However, understanding shopper missions and what consumers are looking for is key to unlocking category growth. In milk, 70% of shoppers are on top-up missions [4], with planned top-up becoming more important this year as a result of the pandemic. During lockdown, the frequency of the 'big shop' has been reduced, meaning shoppers have been looking into products like filtered milk and UHT because they last longer, resulting in them having to shop less frequently.
Penetration of fresh filtered milk has been growing with almost one in three shoppers buying into the filtered milk category within the last 52 weeks [5]. Arla Cravendale, which is fresh filtered British milk and the number one fresh milk brand [6], has grown enormously throughout Covid-19. In the convenience sector, the brand is seeing growth in sales of +75.1% [7] and has attracted an additional 781,000 shoppers in the last 24 weeks [8].
The top products that really should fill your shelves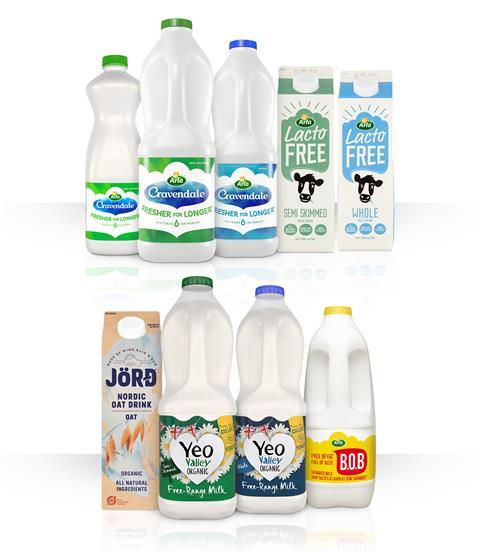 Arla Cravendale 2L Semi-skimmed & whole
Arla Lactofree 1L Semi skimmed
Oatly Barista 1L
Arla BOB 2L
Alpro 1L Almond
Key numbers you need to know
37% of fresh milk volume growth will be contributed by filtered milk in 2021 [9]
29% of fresh milk sales growth in 2021 will come from free from milk [10]
Plan your shelf the right way to increase sales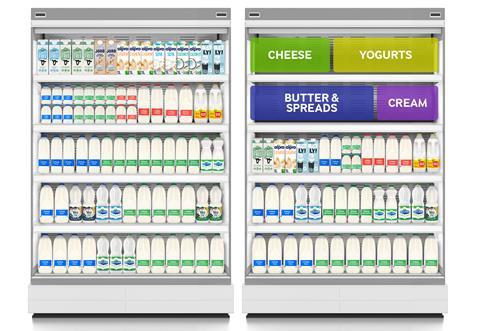 Merchandise by fat type and bottle size, including brands among standard fresh to encourage trade up
Milk shopper buys milk from their local convenience store 9.4 times per month, therefore availability is key to prevent shoppers moving elsewhere [11]
Branded milk shoppers are highly loyal, with many not willing to switch brand in store, so ensure you have a branded range offering
Your top tips and takeaways from Arla
1. Just 7% of shoppers will switch fat type, so ensure all fat types are ranged and always available [12]
2. Forty-four percent of average convenience baskets contain milk, and it's a key driver to store, so signpost the milk category in store and make sure it's visible and easy to shop [13]
3. A third of shoppers are looking for added-value milks, so ensure you have an offering across filtered, organic and free from [14]
Trends for 2020/21
As shoppers look for specific products to meet their needs, the category is no longer just about 'green top milk' anymore. Consumption shift from OOH to in-home, free from and sustainability highlight where shopper needs are heading towards.
We can assume, these trends are going to continue for the foreseeable future, therefore milk should remain a primary focus for convenience.
Consumption movement from OOH to in-home. With many people working from home this year, this has led to an increase in usage occasions in the home, with more cups of tea and breakfast that have all contributed to the growth of milk consumption this year. Over the lockdown, there have been additional 804 million tea occasions [15]. When it comes to breakfast, milk usually features at 76% of all breakfast occasions and during lockdown we saw an additional 349 million milk occasions at breakfast. [16]
Free from. The free-from milk category is worth £471m and is growing +27% in value [17], driven by both plant-based & lactose-free products. The popularity of the free-from trend is evident, with total free from milk penetration increasing by 21.7% [18]. Free-from milk is bringing more value to the category as we see shoppers in this category spend +140% more per litre than those buying standard fresh [19]. We know free-from milk isn't just consumed by vegans but mainly flexitarians. In the upcoming years, clean deck free from products without artificial ingredients will grow in popularity [20]. In September 2020, Arla has launched into plant-based oat drinks with JÖRĐ range, made with all-natural ingredients and without preservatives.
Sustainability. Sustainability has been growing in importance for consumers and that is true of the dairy category as well. In the next few years, there will be more focus on recyclable packaging, biodiversity and animal welfare. Organic milk will play a key role in this trend. Yeo Valley is the number one organic milk brand [21]. Yeo Valley milk bottles are made from up to 50% recycled content and are fully recyclable. Total Organic Dairy shoppers spend +14.4% more (+£49.97) a year than average total dairy shoppers [22]. At Arla Foods we aim to have 100% recyclable packaging by 2025.
SOURCES
[1] Lumina Intelligence CTP 2020
[2] Visuality, 2020 Shopper Research (n.1870)
[3] Nielsen Scantrack, Total Impulse, 52WE, 03.10.2020
[4] Lumina Intelligence CTP 2020
[5] Kantar FMCG Purchase Panel, Total Milk, 52 weeks to 4th Oct 2020
[6] Nielsen Scantrack, Total Coverage inc Discounters, 52WE, 31.10.2020
[7] Nielsen Scantrack, Total Impulse, 52WE, 03.10.2020
[8] Kantar FMCG Purchase Panel, Total Milk, 24 weeks to 4th Oct 2020
[9] Arla Research based on Nielsen Scantrack 03.10.2020, Total Market inc Discounters, 52WE, Fresh milk growth of 2.1%
[10] Arla Research based on Nielsen Scantrack 03.10.2020, Total Market inc Discounters, 52WE, Fresh milk growth of 2.1%
[11] Lumina Intelligence, Convenience Category factsheets, 2019
[12] Visuality, 2020 Shopper Research (n.1870)
[13] Visuality, 2020 Shopper Research (n.1870)
[14] Visuality, (2020) Shopper Research (n.1870)
[15] Kantar FMCG Usage panel, Total Tea, 24w/e 6th Sep '20 vs. 24w/e average 52w/e 22nd Mar '20
[16] Kantar FMCG Usage panel, Total Milk, 52 we 4th Oct 2020, 24w/e 6th Sep '20 vs. 24w/e average 52w/e 22nd Mar '20)
[17] Nielsen Scantrack, Total Coverage inc Discounters, 52WE, 03.10.2020
[18] Kantar FMCG Panel, Total Milk, 52 weeks to 4th Oct 2020
[19] Nielsen Scantrack, Total Coverage inc Discounters, 52WE, 03.10.2020
[20] Euromonitor International, The Unstoppable Rise of Plant-Based Alternatives, 2020
[21] Nielsen Scantrack, Total Coverage inc Discounters, 52WE, 31.10.2020
[22] Kantar FMCG Purchase Panel, Total Dairy, 52 weeks to 4th Oct 2020