As the New Year closes in, savvy store owners stand to increase profits by planning ahead and making room for healthy low-sugar alternatives at the till, with health-conscious consumers set to trim down following the festive period.
With the number one priority for consumers being to lower their sugar intake [1] (before New Year diet trends even come into play), sports nutrition brand, Grenade, have an ideal, indulgent solution for shopkeepers in their low sugar, high protein Carb Killa range. Comprising just 2g of sugar and over 20g of satiating protein, proven to keep people fuller for longer, Carb Killa is also proven to keep till bells ringing.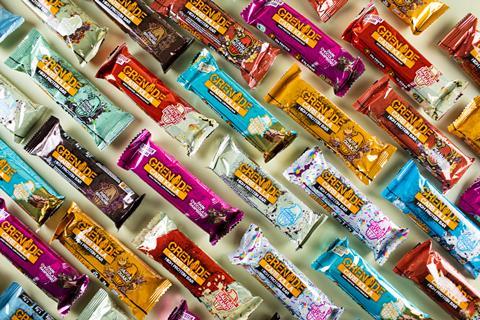 With 40% of adults consuming protein bars weekly [2], 10 of the top 10 best selling protein bars for value sales in the UK are Carb Killa bars [3], spelling surefire profits for retailers in January if placed in easy-to-find impulse locations.
The top products that really should fill your shelves
Carb Killa Chocolate Chip Salted Caramel Bar (60g)
Carb Killa White Chocolate Salted Peanut Bar (60g)
Carb Killa Cookie Dough Bar (60g)
Carb Killa White Chocolate Cookie Bar (60g)
Carb Killa Peanut Nutter (60g)
Carb Killa Dark Chocolate Raspberry (60g)
Key numbers you need to know
54% - Grenade's Carb Killa has the largest share of the protein bar market [4]
10 of the top 10 protein bars sold for value sales are all Grenade Carb Killa [5]
40% of adults consume protein bars weekly [6]
Trends for 2020/21
Health - Reducing sugar consumption is the number one priority for consumers looking for healthy options, however it's hugely important that products don't compromise on taste [7]. Providing an ideal, indulgent solution, Grenade's Carb Killa bar comprises just 2g sugar and 20g protein, while also being perceived as the best brand at delivering a combination of taste and function [8]. Sales of Carb Killa are booming, offering a higher cash rate of sale than many chocolate singles [9], equaling more profits for retailers.
Diet goals - While the importance of diet and overall fitness has grown hugely in the past five years, sentiment surrounding the importance of healthy living has reached fever pitch in the wake of Covid-19. At the same time, health-conscious consumers are busier than ever and looking to find more convenient ways to satisfy their hunger and satisfy their nutritional needs [10]. Protein-packed products offer an ideal helping hand in that they keep people fuller for longer, and less likely to make unhealthy snacking decisions. With awareness of this having filtered down to the masses, ensuring that healthy protein goodies are visible at front-of-store impulse locations is paramount – consumers no longer expect to find these products in far-flung aisles.
Plan your shelf the right way to increase sales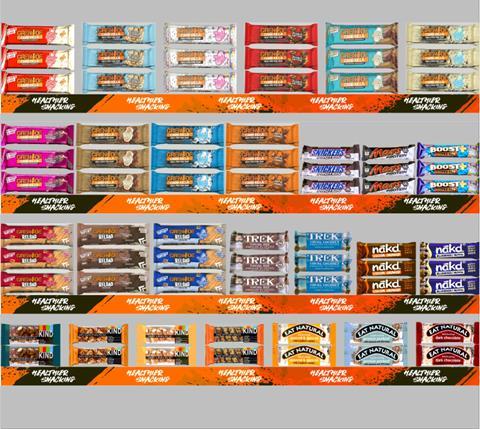 Stock up on the best range - Maximise returns by choosing the best-selling low sugar, protein-rich products you can source, selecting from popular existing ranges that are proven to resonate with consumers. Be bold and dedicate as much space to this as you can; the demand is there and the returns are bigger compared to many chocolate singles.
Merchandise the range by shopper mission - Time-poor shoppers want to grab and go. Make their life easy for them by grouping low sugar, chocolate confectionery alternatives like Carb Killa on the most visible shelves. Accordingly, group energy-boost products like Grenade's low sugar, high protein Reload bar – made with wholegrain oats to provide slow energy release – on the shelf below, amongst other natural nutritional products.
Make your fixture visible - Locate your range in impulse locations where consumers are used to picking up treats, making the most of point of sale to make products grab attention. Customers reported that locating Carb Killa was their biggest barrier to purchase, so make sure they can find the range easily to turn more profit [11].
Your top tips and takeaways from Grenade
1. Carb Killa means more protein and more profit. With a higher profit on return and cash rate of sale, retailers can expect more cash through the till per flavour than any other 'healthier snacking' bar and many leading impulse confectionery singles [12].
2. With half of all Carb Killa customers becoming regular customers [13], make sure that you're stocking our most famous flavours. White Chocolate Salted Peanut was the best-selling new product of 2019 [14], whilst Salted Caramel is the fastest-growing healthier snack in the last quarter [15].
3. Healthier snacks are impulse purchases so locate your range where customers are looking for their on-the-go fix. Ideally, this should be towards the front of the store.
SOURCES
[1] MCA & HIM Healthier Eating survey, November 2018
[2] Market Measures Online Consumer Survey, July 2020
[3] IRI Marketplace Total UK Convenience, Protein Bars, Value £sales 12wks to 01/11/20
[4] IRI Marketplace, Total Convenience, Protein Bars £Value Sales, Value Share 12we 01/11/20
[5] IRI Marketplace Total UK Convenience, Protein Bars, Value £sales 12wks to 01/11/20
[6] Market Measures Online Consumer Survey, July 2020
[7] MCA & HIM Healthier Eating survey, November 2018
[8] Market Measures Online Consumer Survey, July 2020
[9] IRI Marketplace, Convenience, Total Protein Bars and Chocolate Singles, SKU Level, £ROS, 12we 01/11/20
[10] HRC Food Trends, March 2020
[11] Market Measures Online Consumer Survey, July 2020
[12] IRI Marketplace, Convenience, Defined Impulse "Healthier Snacking", Chocolate Singles, £Sales, £ROS 12wks 01/11/20
[13] Market Measures Online Consumer Survey, July 2020
[14] IRI Marketplace, Total Market, Actual £Value Sales Growth, Protein Bars and Single Chocolate Bars at SKU level 104 we 29/12/19
[15] IRI Marketplace, Total UK, Defined Impulse "Healthier Snacking", £Actual Growth Ltst Quarter, Data to 01/11/20