Ice cream has recently seen 9.1% annual growth, with a sales increase of £112m1. Luxury tubs are worth £3.6m2, accounting for 35% of take-home ice cream growth in convenience. This made Häagen-Dazs the fastest growing luxury tub brand in convenience last summer3.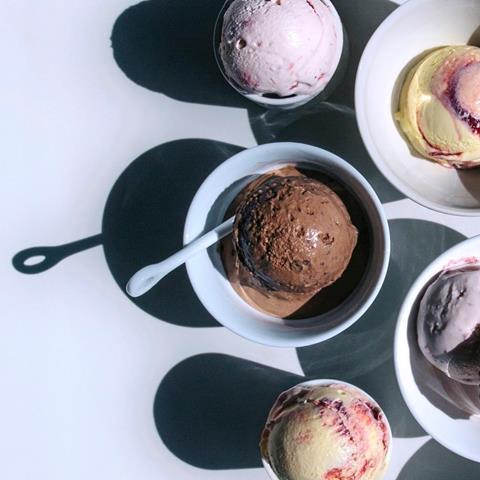 Luxury pints, handheld variants and mini pots – three convenience store staples – have been the biggest contributors, growing by 13%, 117% and 51% respectively4. Indulgent flavours, a space that Häagen-Dazs is famed for, like salted caramel, cookie, chocolate, and dessert flavours performed exceptionally well.
Interestingly, the value growth of convenience outpaced the total market for the 26-week summer period last year, growing by 31%5. We know that in the summer this was driven by favourable weather, as well as lockdown.
This growth continued well into the atypical ice cream season. During winter specifically, we saw retailers grow their share of ice cream space as they looked to drive frozen conversion via ice cream.
Key trends
Snackification is a new trend that we're seeing within ice cream, with suppliers taking alternative routes and expanding into new formats across the category. We've seen this so far take the form of cookie dough bites, mochi and ice cream sandwiches. As ice cream is introduced into compatible snacking formats, the result is a more versatile snack.
Wellness has expanded and evolved over recent years. We've seen a more holistic shift to 'better for you' products, which starts with a demand for clean ingredients.
Häagen-Dazs' core range answers the mindful indulgence trend with high quality, premium ingredients, namely fresh real cream and no artificial colours, flavours, palm oil or emulsifiers. This means shoppers look to the brand as a trusted treat.
Sugar is another key trend. We know that more than a third of category consumers have reduced their ice cream intake in the last year due to worries about sugar6. Of those concerned, half of shoppers agree that having greater control over portion size is a good alternative to abstaining7.
Häagen-Dazs' differing portion sizes, from tubs to mini cups, support consumer choice and allow them to control their level of indulgence – a big purchase driver.
Product spotlight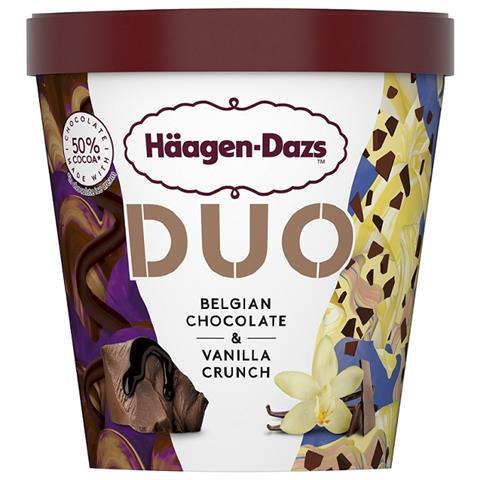 Our latest DUO range is a first-to-market two-in-one ice cream format in three flavours: Belgian Chocolate & Vanilla Crunch, Dark Chocolate & Salted Caramel Crunch, and Belgian Chocolate & Strawberry. The hybrid format brings together two contrasting yet complementary flavours and answers a consumer need for new and exciting consumption experiences.
Key numbers
53% share of luxury ice cream shoppers seeking innovation8
51% growth of mini cup formats, driven largely by Häagen-Dazs9
£4.3m the amount by which luxury ice cream is driving growth in total impulse10
Top tips and shelf planning
Pair complementary categories together in store. Cross merchandising ice cream with alcohol or other sharing size snacks can interrupt purchase occasions. This creates an opportunity to upsell occasions such as the 'big night in'.
Uncouple your ice cream fixture from the season. We know that shelf space remains at a premium, so allocate space to year-round growth drivers such as pint or mini cup formats, which have a higher share of sales in winter months11.
Support your ice cream offering with a high visibility location. Visibility is key for ice cream so ensure shoppers know where your freezer is and display brands at point-of-sale (POS). Luxury ice cream is the fourth most impulsive category in store, compared to 42nd for total ice cream.
Sources:
1 Nielsen Total Market Incl Discounters 52 W/E 29/5/21
2, 4, 9, 10 Nielsen Total Impulse 52 w/e 29/5/21
3, 5 Nielsen Scantrack – Total UK & Total Impulse (non-grocery multiples led convenience, mostly symbol groups and independent stores) – 26w/e 22-aug-2020
6, 7 Food Village UK/FR / Mintel 2019
8 Nielsen Panel Asda & Grocery Mults, MAT 09 Sept 20
11 Nielsen value sales % share summer 26 wks to 5.9.20, winter 26 wks to 7.3.20