When you're up to your eyeballs in deliveries, promotional cycles and seemingly endless holiday requests, then trying to stay on top of your categories can feel like you're running up a downward escalator. As soon as you have fine-tuned one area, it's time to move on to the next. And once you've done them all, the first is ready for another review. But the sheer speed at which shopper trends are changing means that good category management is central to your store's success.
"With consumers now shopping at an average of 11 stores a month, their loyalty is harder to win, but it is more crucial than ever to retailers' success," says Gary Elliott, head of category and shopper marketing at Danone Early Life Nutrition UK. He claims that retailers must tailor their stores to their customers' needs.
"This has led to retailers providing a more personalised experience in-store by offering the right products at the right time, alongside friendly customer service. "For true effectiveness, category management needs to evolve to take shifting shopper habits into account. The increasingly busy nature of shoppers' lives is also impacting convenience stores, but they are wellplaced to cater to the growing need for speed and efficiency. This means there's an increased focus on offering the right packaging and case sizes for shoppers on the move, and ensuring that they stock a wide variety of products to cater to multiple needs."
Harj Gill, who owns The Windmill Select & Save in Birmingham agrees that consumers' needs are constantly evolving. "Convenience is changing all the time and shopper habits change," he says.
"Obviously, category management is important, to get the right range." Within household cleaning, one significant change in recent years has been the move towards more convenient and compact washing products, he notes. "The traditional washing powder has slowed down – it's all liquids and tablets now. Trends change so it's important to keep on top of these."
UK consumers' desire to live healthier lifestyles is also influencing what they want to buy. Faraz Iqbal of Linktown Local in Kirkaldy, Fife, has rearranged his confectionery category so that it now incorporates cereal and snack bars.
"Two weeks ago I spent a whole day on confectionery. Cereal bars used to be on a different shelf, but we've added them to confectionery. I wanted more space, so we added in two 1m shelves, which meant we have room for the Oreo twin pack, Cadbury Snack and Belvita on a two for £1 mix-and match deal."
Keeping ahead of trends
Spar Holmer Green in High Wycombe, Buckinghamshire, has also been experimenting with adding healthier products to traditionally more indulgent categories. "Walkers had us try out a new healthier range and that's working brilliantly," says manager Jason Sichel. Good category management not only enables retailers to keep abreast of trends, though. It also means that stores can give the right number of facings to top-selling lines in order to achieve optimum efficiency and avoid staff constantly having to replenish shelves.
"Category management allows retailers to plan consistently to make the most of the space they have, given space is often at a premium," says Elliot. "We advise retailers to use sales analytics to inform their plans for the best range and merchandising options for them. It's also important for retailers to account for and track the product life cycle of stock to minimise stock-outs or excess stock situations. These measures can help to boost customer spending, reduce lost sales and improve stockholding, which ultimately increases cash fl ow." Faraz agrees that it is vital for retailers to get to grips with their sales fi gures in order to manage each category properly. "There are lots or retailers that do not use the [epos] information – they just use it as a basic till. It's important to look at your categories as a whole and regularly review them. I do this three times a week, working on orders," he says.
"Category management allows retailers to plan consistently to make the most of the space they have, given space is often at a premium"
"Epos re-orders automatically so it runs a report telling me what stock I have left and what needs to be ordered. If anything is a slow seller I'll take it off straight away. The use of epos has been phenomenal. It's not hard once you know how to do it." He explains that margins play a key role in his category management decisions.
"Margin is critical, 20% is my absolute minimum," he says. "Pedigree Dentasticks sticks were relatively poor compared with Happy Shopper, but it's a core line. We removed it and nobody said anything." Elliott says that category management has become even more critical as retailers are having to focus increasingly on margins.
"Margins are increasingly in the spotlight as operating costs continue to rise," he says. "Category management has therefore become even more crucial as convenience stores are looking for additional ways to maximise their return on product sales."
Harj thinks that top-selling brands need shelf space, regardless of margins. "At the end of the day, you have to stock the wellknown brands, even if they do decrease margins," he says. "If they're in the top fi ve or 10 bestsellers you're up against a wall. But you can swap other things around and keep some higher margin products."
Case study
The Windmill Select & Save, Birmingham Harj Gill has seen great results after cultivating a strong relationship with KP Snacks. As a member of its Snackpartners Ambassadors' Forum, Harj regularly meets with KP Snacks to o­ er his views on the category.
"We get together three or four times a year," he says.
"It works both ways – they get a lot of insight from us." In return, KP supports Harj, such as relaying his snacks category. "It's important to take advice on board, but it's also important to know when suppliers are trying to impress their brands on you," he says.
"That was the good thing about KP – they still gave Walkers a good amount of space." The review also added in new skus, including McCoy's Chips chip shop curry sauce and Big Hoops spicy chilli. "They worked well and we've kept them on," says Harj.
Overall, the changes resulted in a 28% uplift in category sales.
Analysing margins
Jason encourages retailers to analyse their margins thoroughly. "If you've got data to look back on you can see that sales can be good, but the margins are getting lower. Margin is the number one focus for me. Sometimes you have to take a hit, but you have to balance it right. It's diffi cult, but that's what I have to do as store manager."
Of course, it's all very well talking about processing planograms and mulling over margins, but at some stage you need to actually take the bull by the horns and commit to reviewing and re-laying a category.
"The biggest problem is letting it carry on, rather than making an area work harder – putting in the time," admits Jason. But thankfully many suppliers are taking a more hands on approach to category management. "While retailers are looking to be more disciplined when it comes to category management, it is particularly challenging for convenience stores to manage all the categories in their store due to limited resource and data," says Elliott.
Danone Nutricia has worked with a number of convenience retailers, analysing their sales and relaying their categories, and some have witnessed sales increases of more than 80%. Faraz has reaped the benefi ts of working with suppliers.
"Red Bull did my whole fridge with me a couple of years ago," he says. "It worked out very well for me. Red Bull sales went up and I've kept it pretty much the same. We made more room for faster selling lines – it's improved our way of working."
Help from suppliers
Supplier reps are regular visitors to One Stop Woodcross Convenience Store in Bilston, Wolverhampton. "We have a lot of interaction with suppliers," says owner Sukhi Khunkhun.
"Nestlé come in and make sure we've got their range, and Pladis come in and shift a few things around and give us POS material. They put up their strips and make it look good. When a customer comes in they see the POS and they can't miss it. There's an uplift in sales."
Jason also engages with suppliers, although he concedes that sometimes he feels reluctant to carry out their recommendations. "It's difficult because my initial reaction is to say 'no, don't touch it, it's fine as it is', but you have to be fluid, give and take." Despite his reservations, he generally welcomes supplier input.
"We're quite an open shop," he claims. "While I had the BAT rep working on heated tobacco sales we did brilliantly with them. It's important to have good reps around you. It's easy to have tunnel vision as a retailer. You need someone who's a specialist in that area. You need someone there to show you other alternatives.
"They have to understand that you know the business better than them, but they know the category better than you"
"I'll follow guidelines, but not exactly, because I know my store and what sells. They have to understand that you know the business better than them, but they know the category better than you." He claims that having the support of a supplier can give retailers the motivation that they need to carry out a full category review.
"It does take a lot of time. I wouldn't have had the confidence to do it on my own," he admits.
"We have a good relationship with Cadbury. If it's just me and I look at confectionery I think it's a big category to do. They have the figures, so you just have to say 'let's get to it' and you're excited to see the results." Faraz urges retailers to get on board with category management.
"It's a moving challenge – constantly evolving," he says. "You have to get into a routine of doing it. Your symbol can advise you and suppliers are willing to help, too.
"Ask 'What is the aim of this? Have you got core lines and bestsellers? Is there anything you need to take out? What margins is everything making?'." Jason believes that taking ownership of a category is worthwhile, however daunting.
"It can feel like an endless process," he says. "But it's just a case of psyching yourself up to do it." And when you get the results you want, the task is all the more rewarding. "It really makes you feel good that you're doing something really well."
Top tips from Danone on how to deliver growth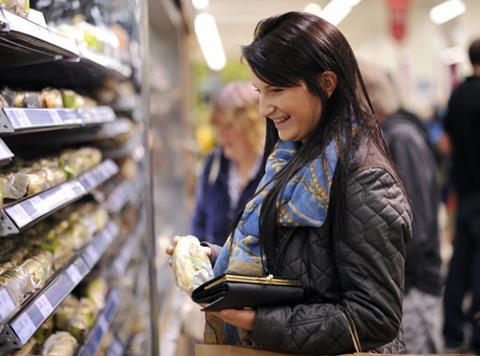 Ensure your shop is a one-stop shop for people on the go. This means catering for every meal, to every age, and stocking the most common everyday products in your store.
Prioritise the most popular products in each category, making sure to include a wide selection of price options.
The Association of Convenience Store's 2018 Local Shop Report found that the main reason that Gen Z and millennial shoppers visit convenience stores is to purchase food to go. Your choice of product packaging size should reflect the fact that shoppers are usually buying while on the move.
Place products in a logical order to simplify shoppers' buying experience. This provides an opportunity to maximise shelf space, display a wider variety of products and encourage more frequent small basket purchases.
Understand your demographic and tailor your o­ering to their habits. This could mean shifting products around throughout the week to reflect your customers' lifestyles. For example, while convenient lunchtime deals may be more popular during weekdays, consider which products are most sought after during the weekends and position these in prime spots.