With consumers focused on health and wellbeing following the recent Covid-19 pandemic and new HFSS legislation on the horizon, retailers need to be ahead of the curve to maximise the opportunity for healthy snacks.
Stepping out of a pandemic, it's no surprise that shoppers are more motivated by health than ever1. The global healthy snacks market is forecast to reach £71bn by 2025, with a CAGR of 5.8% between 2020 and 2025. This is in comparison to traditional confectionery, which is only projected to have a CAGR of +1% during the same period2.
With the majority of global consumers expecting snacks to offer a nutritional boost, it's a prime time to become an early adopter of healthy snacking3. In fact, research shows that shoppers are willing to pay up to 30% more for products with perceived health & functional benefits4. For many reasons, this is a huge opportunity to grow basket spend and inspire shoppers to make healthier choices.
Beyond category growth and sales opportunity, healthy snacking will become even more critical due to promotional limitations on other snack categories. Government legislation restricting the ability to promote products high in fat, salt and sugar (HFSS) will shift healthier snacks to the forefront5. Retailers ahead of healthy snacking curve will find themselves best-placed, as both legislation and consumer mindsets shift.
Top products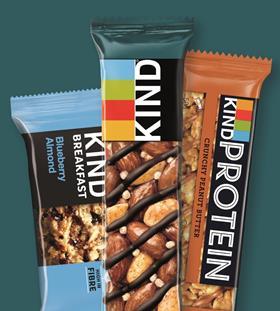 1. KIND Dark Chocolate Nuts & Sea Salt
2. Eat Natural Protein Packed with Peanuts & Chocolate
3. Eat Natural Almond & Apricot
4. KIND Caramel Almond & Sea Salt
5. KIND Protein Crunchy Peanut Butter



Trends to watch
Protein. Coming out of the Covid-19 pandemic, sales of protein-focused bars have recovered faster than the rest of the snacking category7. This helps to explain why protein-based nutrition sub-segment accounts for 82% of the total value sales of the entire sports health & nutrition market8. With 66% of shoppers actively looking for protein-heavy snacks, it's key to make distinctions between performance, lifestyle and natural protein SKUs (see planogram below for more information).
Sustainability. Clean-label, sustainability and functional ingredient claims are driving snack food sales9. A growing awareness of climate change drives a shift towards plant-based diets, with 50% of the UK following flexitarian diets and actively looking for more sustainable alternatives10. Consumers are also becoming increasingly concerned with a company's corporate social responsibility, resulting in loyalty to specific brands or retailers1.
At-home snacking. With 40% of white-collar workers still to hear about their offices reopening, a hybrid model of office/remote working becomes the new reality for most11. However, with online shopping maintaining its size12 and convenience becoming a top-up shop channel1, snacking in the 'next normal' is said to be focused at-home13. Consider widening your range to include multipacks or offering multi-buy promotions to capitalise on this trend.
Plan your shelf to maximise sales
● Give healthy snacking the space it deserves in-store, segmenting it by the different consumer needs. Educational POS (as shown by the planogram above) aids the consumer in finding the right product.
● Where possible, create secondary space for healthy snacking. As with other categories, the more times the shopper sees healthy snacking products, the higher the chance they will buy-in. Consider a second siting as part of a link deal with water, juice or coffee.
● Make a clear distinction between different consumer protein needs. Our research shows there are three clear protein sub-segments: a) performance – highest protein content for the gym-goer; b) lifestyle – everyday consumers looking to increase their protein intake; c) natural – consumers seeking a plant-based protein boost.
Top tips
1. Carve out dedicated space in store for healthy snacking; do not mix it in with traditional confectionery. Healthy snacking products demand a premium and the value sales impact can be lost when sited alongside cheaper, less healthy alternatives.
2. Locations such as the checkouts and food-to-go section are great places to site healthy snacking and drive incremental basket spend
3. Where possible, make the most of powerful POS (point-of-sale) from manufacturers – this is an emerging category so special emphasis is required to ensure its presence is felt in-store
Sources
1 IGD, 29 July 2021, COVID-19: how is health and wellness evolving? One year on
2 Euromonitor Passport, Health & Wellness Savoury Snacks, Sweet Biscuits, Snack Bars & Fruit Snacks, accessed March 2021
3 FMCG Gurus, Top Trends for 2020, January 2020
4 Nielsen, Global Health & Wellness Survey 2015
5 https://assets.publishing.service.gov.uk/government/uploads/system/uploads/attachment_data/file/770704/consultation-on-restricting-price-promotions-of-HFSS-products.pdf
6 Nielsen Scantrack UK Total Snack Bars 52 wks. to 14/08/2021
7 Kantar, SOTN 2019
8 IRI Market Place, Total UK, Sports & Health nutrition, MAT 3/10/17
9 Mintel, Global New Product Database, March 2021
10 https://www.foodbev.com/news/five-major-trends-driving-the-plant-based-food-market/
11 https://www.standard.co.uk/escapist/london-return-office-vs-wfh-debate-hybrid-working-b949951.html
12 https://www.weforum.org/agenda/2021/07/global-consumer-behaviour-trends-online-shopping/
13 Mintel, The Future of Snack Bars 2021