With 85% of UK shoppers actively trying to improve their diet in some way [1], it won't come as a surprise that healthy snacking is set to boom. Over the past five years the category has grown at +5% CAGR, and this is predicted to accelerate to +6% CAGR until 2025 [2]. To give a sense of perspective, traditional confectionery is only estimated to grow at +1% CAGR during the same period.
And if growth predictions alone aren't enough to convince you to lean in and become an early adopter of the future of snacking, then the increased sales values will. Research shows that shoppers are willing to pay up to 30% more for products with perceived benefits [3]. This thriving category, therefore, represents a great opportunity to grow the basket spend of your shoppers.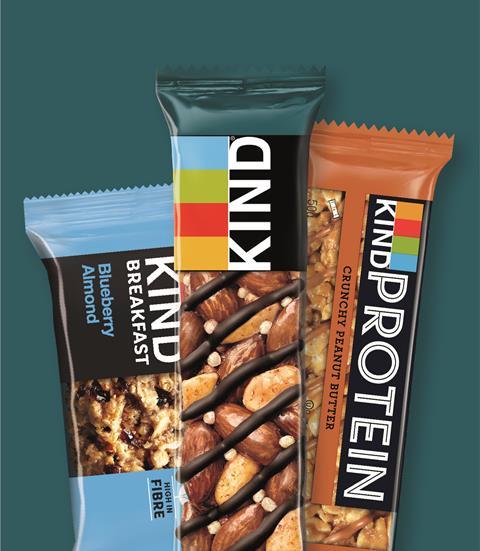 Finally, healthy snacking may soon represent the only option for promotional flexibility in snacking. The global health crisis has sharpened minds and nudged us all to eat more healthily, but this is likely to soon be reinforced by government legislation restricting the ability to promote products high in fat, salt and sugar [4]. Retailers who weather this shift best will be those who have prepared by diversifying their in-store offerings and given healthy snacking the dedicated space it deserves.
The top products that really should fill your shelves
KIND Dark Chocolate Nuts & Sea Salt
Eat Natural Protein Packed with Peanuts & Chocolate
Eat Natural Almond & Apricot
KIND Caramel Almond & Sea Salt
KIND Protein Crunchy Peanut Butter
Key numbers you need to know
85% - Proportion of UK consumers who are looking to eat more healthily [5]
6% - Predicted CAGR of healthy snacking for the next five years (in comparison, confectionery is only predicted to grow at 1%) [6]
1 – KIND is the UK's number one snack bar singles brand [7]
Trends for 2020/21
Protein. Research shows that 66% of shoppers are actively looking for products with added protein [8]. This explains why the protein-based nutrition sub-segment accounts for 82% of the total value sales of the entire sports health & nutrition market [9]. Key distinctions and thereby consumer offerings should be made between performance, lifestyle and natural protein SKUs (see planogram for more information).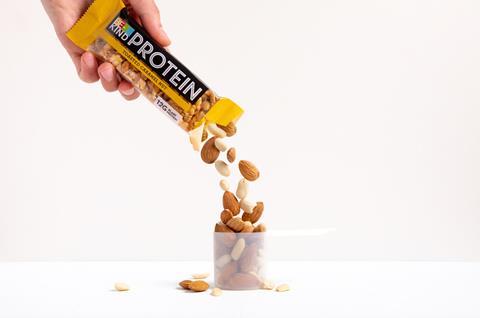 Plant-based products. A growing awareness of climate change and the impact of the meat industry on water consumption has resulted in a consumer shift towards plant-based alternatives. Reportedly 50% of consumers in the UK are already following a flexitarian diet [10] and the snacking category is diversifying to meet these needs. Consider stocking a small selection of plant-based products to engage with this growing shopper segment.
Take-home snacking. Lockdown in the UK saw the majority of consumers confined to their homes for a substantial part of 2020. Even now, over 66% of white-collar workers are still working remotely [11], and this has had a huge impact on consumption habits. With more consumers shopping online, and less frequent visits to stores, consumers are looking for take-home friendly pack formats to consume products at a later date. Consider widening your range to include multipacks or offering multi-buy shopper incentives.
Plan your shelf the right way to increase sales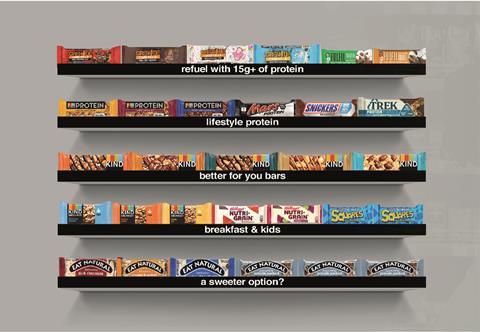 Give healthy snacking the space it deserves in-store, segmenting it by the different consumer needs. Educational POS (as shown by the planogram) aids the consumer in finding the right product.
Where possible create secondary space for healthy snacking. As with other categories, the more times the shopper sees healthy snacking products, the higher the chance they will buy-in. Consider a second siting as part of a link deal with water, juice or coffee.
Make a clear distinction between different consumer protein needs. Our research shows that there are three clear protein sub-segments: (1) performance – highest protein content for the gym-goer; (2) lifestyle – everyday consumers looking to increase their protein intake; (3) natural – consumers seeking a plant-based protein boost.
Your top tips and takeaways from KIND Snacks
1. Carve out dedicated space in store for healthy snacking, do not mix it in with traditional confectionery. Healthy snacking products demand a premium and the value sales impact can be lost when sited alongside cheaper, less healthy alternatives.
2. Locations such as the checkouts and food-to-go section are great places to site healthy snacking and drive incremental basket spend
3. Where possible make the most of powerful POS (point-of-sale) from manufacturers – this is an emerging category so special emphasis is required to ensure it's presence is felt in-store
SOURCES
[1] IGD, ShopperVista: Health in Focus, British Shoppers Snapshot April 2019, Lightspeed/Mintel
[2] Businesswire Report 2018, Future of Global Healthy Snack Market to 2025 - Growth Opportunities, Competition, Outlook of Healthy Snacks by Product Types Across Regions
[3] Nielsen, Global Health & Wellness Survey 2015
[4] https://assets.publishing.service.gov.uk/government/uploads/system/uploads/attachment_data/file/770704/consultation-on-restricting-price-promotions-of-HFSS-products.pdf
[5] IGD, ShopperVista: Health in Focus, British Shoppers Snapshot April 2019, Lightspeed/Mintel
[6] Businesswire Report 2018, Future of Global Healthy Snack Market to 2025 - Growth Opportunities, Competition, Outlook of Healthy Snacks by Product Types Across Regions
[7] Nielsen, Total Market Snack Bars, MAT 08/08/20
[8] Kantar, SOTN 2019
[9] IRI Market Place, Total UK, Sports & Health nutrition, MAT 3/10/17
[10] https://www.foodbev.com/news/five-major-trends-driving-the-plant-based-food-market/
[11] Alphawise report, Morgan Stanley Research, 2