2020 saw a number of major changes to how people shop in convenience, with many of these shifts impacting crisps and snacks. Walkers has partnered with Convenience Store to help retailers maximise their sales and adapt to changing shopper demands.
The crisps, snacks and nuts segment grew by 5.3% in symbols and independents in 20201, and while shoppers are continuing to spend more time at home, it is important to focus on the right pack formats with £1 RRP PMP, bigger bag sharing and multipacks becoming more relevant.
To help retailers adapt to changing shopper habits, Walkers has updated its crisps and snacks ranging strategy, encouraging retailers to stock the right packs in the right segments.
Trends for 2021
Breadth of choice. Shoppers are demanding a greater selection of products2 with 54% of shoppers now using a convenience store every week3. It's crucial for retailers to offer a greater variety of savoury snacks to cater to shoppers' needs and maximise sales. Walkers' flexible range, DRIVE 25, offers the right choice and breadth to retailers and shoppers via NPD and different pack types.
Value. Value for money is becoming increasingly important for shoppers as the financial impacts of Covid-19 continue, with 62% of shoppers acting more carefully with their money4. RRP PMPs were the No.1 contributor to crisps and snacks growth last year, growing by 16.3%5, so retailers should ensure they are offering RRP PMP formats across their savoury snack range to take advantage.
Take-home. With people spending more time at home, take-home missions have become far more important. Top-up and stock-up shops have become more frequent, as seen through the growth of multipack formats, up 15.6%6. Retailers should adapt their range and place greater focus on larger formats, such as sharing bags and multipacks.
Flavour. 'Flavour choice' is important to shoppers, with 95% of shoppers in the extruded snacks segment buying more than one flavour each year7. Over the last year, spicy has become the fastest-growing flavour in the UK, rising by 13%8, while demand for retro flavours (such as Quavers Prawn Cocktail and Salt & Vinegar) has also been noticeable.
The top products that should really fill your shelves
Key numbers you need to know
● +46% – the amount per week that Walkers' new category strategy can help retailers grow their savoury snack sales by (Nielsen Indies & Symbols data 12wks to 17.10.20)
● No.1 – sharing RRP PMPs were the no.1 contributor to crisps and snacks segment growth last year (Nielsen Indies and Symbols data 2020 we 26.12.2020)
● Top 2% – the SKUs that deliver 50% of savoury snack category sales (Nielsen Indies & Symbols data 12wks to 17.10.20)
Plan your shelf the right way to increase sales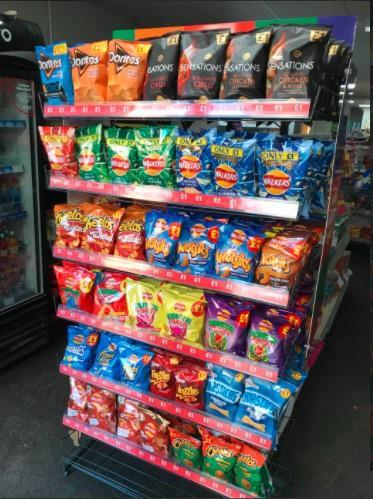 Merchandising principles:
● Within pack formats, group your crisps together and your snacks together
● Place best sellers at eye level, with value brands on the lower shelves
● Aid standout and navigation with clear brand blocking
● Ensure you're prioritising space for brand and bestselling SKUs, based on the sales they generate
Your top tips and takeaways from Walkers
1. Focus on ranging the bestsellers and right breadth to deliver growth. Both the Walkers Hero 25 and Drive 25 ranges include bestsellers that make up 35% of crisp and snacks segment sales in Symbols and Independents (Nielsen 17.10.20)
2. Adapt your savoury snacks category range to meet needs of shoppers. Stock a greater number of £1 RRP PMP sharing packs and multipacks to tap into the rise in take-home occasions
3. Offer breadth to give shoppers choice. Our DRIVE 25 range means retailers can tailor their CSN needs either by offering new news through innovation or by offering additional packs in the best performing segments like £1 RRP PMP
Sources
1 Nielsen, Value Sales Symbols and Indies YTD, w/e 26.12.20
2-4 Lumina Intelligence, Channel Pulse Survey 2020
5+6 Nielsen, Indies & Symbols data 2020, w/e 26.12.2020
7 Kantar, WPO, Number of Flavours Purchased annually within Extruded Snacks, 2020
8 Nielsen Data, Total Coverage, L2YR % chg, w/e 26.12.20, Spicy Flavour Bucket