The coffee category is a lucrative one for convenience retailers, with the average coffee shopper spending twice as much as the average customer. So it's important to ensure you are managing the category in a way that will maximise profit. Convenience Store has partnered with Jacobs Douwe Egberts to show you how.
For convenience stores, coffee is the cornerstone for customer purchase. With over 24 million [1] households in the UK buying coffee, the category has a clear significance, with an ever-growing demand for great taste and a diverse range of coffee styles. So much so that 63% of total Hot Beverage sales come exclusively from the coffee category [2].
Moreover, the average coffee shopper will spend twice as much as the average shopper in convenience – with an average basket spend of £13.09 [3], has a higher frequency of store visits and typically remains in-store longer, creating an opportunity to promote natural pairing offers [4].
Encourage customers to your store by providing a familiar range of great-tasting coffee brands, from Jacob Douwe Egberts. With instant coffee remaining as the largest segment within the convenience market (87.9% MAT [5]), Kenco is perfectly positioned to appeal to current and prospective customers, with over 2.5 million cups drunk at home every day [6].
Source: 1 Kantar WPO – Total Market Buyers w/e 14.06.20. 2Nielsen – Total Market Value Sales Data, 52WE 13.06.20. 3HIM CTP 2018. 4HIM and JDE 2019 – Coffee in Convenience, Bespoke Research. 5Nielsen Data, Convenience MAT, WE 13.06.20. 6Kantar WPO – Total Market, Total Kenco Buyers (000s), 52WE 14.06.20.
The top products that really should fill your shelves
Kenco Smooth 100g
L'OR Classique 100g
Tassimo Costa Latte
Kenco Decaf 100g
Douwe Egberts Pure Gold 95
Key numbers you need to know
+5.3% - Total coffee value sales growth in the total impulse channel, compared to the previous year [1]
£13m+ - Total Kenco value sales in the total impulse channel MAT, and continues to see growth compared to last year [2]
38% - Premium Instant Coffee of all coffee sales in the total impulse channel [3]
Source: 1 Nielsen Total Impulse Data, MAT W/E 13.06.20. 2 Nielsen Total Impulse Data MAT W/E 13.06.20.
Trends for 2020/21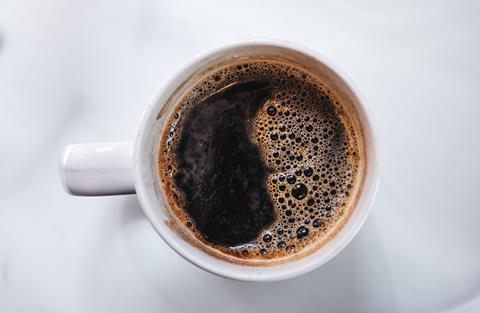 Bringing the coffee shop home. Over 45% of coffee shop consumers look for their favourite café blends to drink at home [1]. This trend makes the perfect opportunity to stock frothy coffee sachets and machine pods, for a variety of coffee shop-style tastes to be made conveniently by consumers. These products also sit within higher pence-per-cup segments compared to traditional instant coffee [2], providing a strong variety of choice within your coffee display and encouraging customer trade-up.
Tracking the premium trend. As consumers are now shifting their attention to higher-quality coffee segments, such as whole bean instant, core coffee segments, such as mainstream, are in decline [3]. This is due to the fact that coffee demands have attracted a younger and more affluent shopper in convenience [4], so it is important to ensure a good range of higher-quality coffee products are stocked to meet new, premium tastes and styles.
Tap into seasonality. Out of home, seasonal beverage lines have become staples for branded operators, with 23% of coffee shops believing them to be among the fastest-growing beverages in the UK [5]. Furthermore, consumer excitement around the arrival of seasonal flavours on menus is built through the harnessing of social media. We have seen with the rise of cold and iced that coffee can now be enjoyed across the year and consumption is no longer confined to the colder months. Therefore, as a retailer it's key that you not only provide the traditional coffee options but also the on-trend iced varieties all year round to keep up with consumer shopping habits.
Source: 1 Allegra Report, 2017. 2Nielsen – Total Market Price per Cup data, 52WE 13.06.20. 3Nielsen – Total Impulse Value Sales Data, 52WE 13.06.20. 4JDE and HIM 2019 Bespoke Research. 5Allegra World Coffee Portal Research and Analysis, 2019.
Plan your shelf the right way to increase sales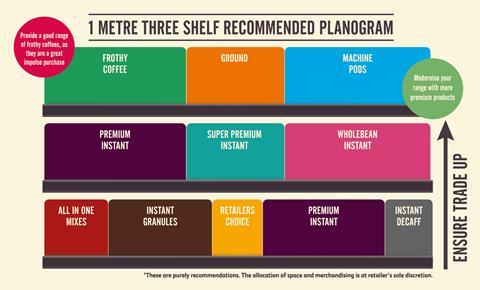 Stock a diverse range of products from different coffee sub-categories to meet a range of shopper tastes.
Provide a good selection of frothy coffees, as they make a great impulse purchase.
Modernise your range by also stocking more premium products, such as ground coffee and machine pods.
Highlight top sellers. Stock popular and recognisable brands, like Kenco, to make your display noticeable.
Your top tips and takeaways from Jacobs Douwe Egberts
Coffee generates 62% of hot beverage sales [1], so allow good shelf space for display to increase visibility for customers.
Offer a wide choice of brands, with two facings per SKU, as 80% of c-store shoppers say brand is the most important factor when choosing coffee [2].
Sixty per cent of coffee shoppers make their purchase decision in-store, so use eye-catching signage and POS to create intrigue [3].
Source: 1 Nielsen – Total Market Value Sales Data, 52WE 13.06.20. 2 HIM CTP 2018. 3JDE and HIM 2019 – Coffee in Convenience Bespoke Research.