With confectionery hugely important in convenience, Mondelēz International offer some guidance on maximising the best locations in-store and reveals key trends impacting the category.
Confectionery is a key category in any independent and symbol store. Chocolate is growing at 2.7%1 and Mondelēz International is the number one confectionery and chocolate supplier in the category2.
Confectionery is also one of the most impulsive categories, meaning there's a great opportunity to influence shoppers' buying habits in the retail environment. There are two key questions to consider:
1. Is it easy for shoppers to find and select what they are looking for in your store?
2. Does your store inspire purchase if the shopper has come in for another primary mission?
The most important confectionery display is the main fixture, as 45%3 of confectionery products are picked up from here. Shoppers need to be able to find the main fixture easily, so site it in a high-traffic, visible area of your store and follow some key principles highlighted by our planogram (see below).
To maximise the category opportunity, confectionery also needs to be sited in a secondary location. Many shoppers need reminding or prompting to buy into the category when they are on a different mission and, by inspiring these purchases, you can increase basket spend. End of aisle, counter and front of store are the key locations.
Key numbers
No. 1
Mondelēz International is the number one chocolate and confectionery supplier to the convenience channel4
25%
of confectionery sales are from chocolate singles products5
No. 1
Mondelēz International is the number one supplier of multipacks
Key products
Trends to watch
● Growing importance of brands: In uncertain times consumers look for reassurance and brands they know and love, trusting them to deliver on familiarity and taste. Notably, younger, more valuable shoppers gravitate to brands9.
● Visibility and value: Consumers are looking for the value and reassurance price-marked packs (PMPs)* provide through clear pricing. However 63% of shoppers purchase on impulse because of visibility, even more so than those who are attracted by value10.
● Duos and multipacks: Sales of duos and multipacks are increasing, so be sure to stock up on the best-sellers. Duos are particularly important when it comes to the on-the-go mission.
● Mini-seasons and sharing occasions: As restrictions ease, there is growth in gifting and seasonal – and these sharing occasions are expected to become even more important. Prepare a strong range of sharing & gifting and seasonal products. Seasonal gifting is increasing at 18%11 in independents and symbols while sharing products are growing at 8.5%12.
● Delivery: Delivery services have become crucial for many convenience stores, so apply the same category management principles to your ordering process as you would in-store, whether that be via phone, website or app. Remind shoppers what you stock and what's new to help prompt orders. Younger shoppers are more likely to use an app for convenience shopping13.
Plan your shelf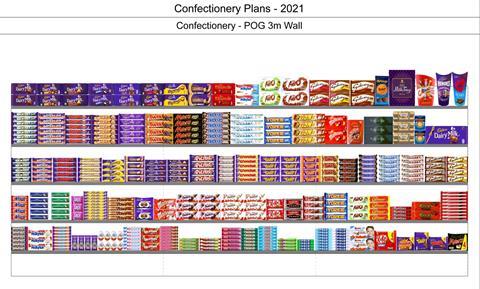 ● The fixture needs to be clean, tidy and ordered with clear pricing – don't forget price-marked packs (PMPs)*.
● The range should cover all need-states: singles, duos, tablets, bags & gifting and multipacks.
● Group product formats together and group brands together within formats.
● Place best-sellers in the most visible locations and double-face the very top products.
Takeaway tips
1. Companion sectors: Locate secondary sites near other relevant products, such as food on-the-go and magazines, or other 'big night in' categories.
2. Prioritise point-of-sale: Make the most of impactful POS from manufacturers.
3. Capitalise on marketing: Highlight products in-store when marketing and media investment is running.
4. Make the most of the seasons: For seasonal advice go to www.deliciousdisplay.co.uk.
Sources
1 Nielsen, I&S, 52 w/e 22.05.21
2 Nielsen, total coverage, MAT to 19.06.21
3 Lumina Intelligence Convenience tracking programme, w/c 11.11.20 to 26.08.21
4 Nielsen, total coverage, MAT to 19.06.21.
5 Nielsen, I&S, value sales MAT to 22.05.21
6-8 Nielsen, May 2021, value sales, I&S May 2021
9 + 11-13 Lumina Intelligence Convenience Tracking Programme, w/c 11.1..20 to 26.08.21
10 Lumina CTP 2020
*Non-PMP packs ara available, Retailers are free to set their own pricing