The chilled ready meals category holds a major presence in the chiller of convenience stores across the UK, meeting demand for hot, tasty and easy meal solutions for every occasion.
With 91% of shoppers buying chilled ready meals1 and one in three regularly buying branded options2, chilled ready meal brands such as Rustlers are helping retailers cater to demand for convenient solutions that cater to food to go (eat now), top-up and meal for tonight (eat later) missions.
The food to go (FTG) fixture is the No.1 shopped location for both breakfast and lunch occasions for convenience foods. Rustlers' Cook in Box range offers a compelling on-the-go hot eat solution, which can sit within the FTG fixture as part of a meal deal offering shoppers strong choice and value.
Leveraging the key consumption occasions of breakfast and lunch where forecourts and convenience overtrade, Rustlers' Core4 range of best-selling products is worth over £12m in the convenience channel3 and includes a range of proteins, catering to a broad mix of shoppers for take-home consumption.
Launched in 1999, the Quarter Pounder is Rustlers' No.1 product worth over £7.2m within the impulse channel4, and one of the brand's 'Core 4' products – alongside the All Day Breakfast Muffin, Southern Fried Chicken Sub and BBQ Rib.
In a category dominated by own label, and despite record sales in 2020, Rustlers continues to see 8% growth vs the same period in 20195 and is worth in excess of £108m6.
Top products
Key numbers
● 2 Rustlers sold every second in the UK7
● Rustlers are made with 100% British & Irish Beef
● The Core4 range is worth over £12m in the convenience channel3
Trends for 2022
● Convenience: While scratch cooking saw a revival during Covid-19 restrictions, as the work-life balance regresses, convenience once more plays a bigger part in mealtimes. Brands are critically important to help retailers unlock the true potential of chilled convenience, with well-crafted propositions and marketing investment ultimately driving footfall.
● Breakfast: Breakfast is a staple occasion seeing long-term growth8, with consumption dominated by a small number of core products. Performance of the category is in part driven by morning goods, including breakfast pastries, bagels and pancakes – which alone are experiencing 23% growth9 Rustlers has recently expanded its breakfast offering in the convenience channel with the introduction of an All Day Breakfast Pancake Stack. This latest innovation sees the brand enter the morning goods category, currently experiencing 11% YoY growth9.
● Value: At a time of low confidence in spending, the price sensitivity shown by shoppers is set to continue through 2022 and the convenience channel will continue to benefit by offering price marked packs. Products like Rustlers that are backed by sustained, heavyweight marketing support will have even stronger appeal. Made with 100% British and Irish beef, Rustlers offers value for money at accessible price points, helping to attract new customers and encouraging repeat purchase from brand loyalists and impulse shoppers.
Plan your shelf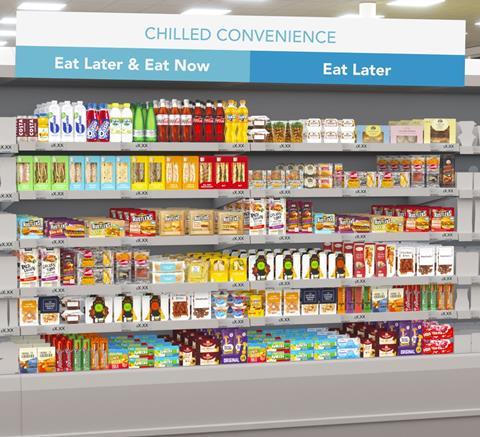 Top tips
● Availability: Optimise space for best-sellers with multiple facings to ensure products are in stock throughout the day – especially during peak consumption times.
● Ranging: Keep your offering fresh and relevant, bringing in the right product at the right time to reflect shoppers' needs and consumer trends.
● Merchandising: Make it as easy as possible for shoppers to find products by siting POS at fixture (order free POS from Kepaktrade.co.uk) and offer a range of products with prices to suit all budgets.
● Drive spend: Upweight basket spend by offering cross-category promotions at fixture and encouraging shoppers to trade up with 'good, better, best' options.
Sources
1 Kantar WPO, Category Gold Tracking, 52 w/e 20.03.22
2 Kantar Usage, 52 w/e 29.12.19
3 Kantar WPO, Category Gold Tracking, 52 w/e 17.04.22
4 Nielsen, Micro Snacking, 52 w/e 19.03.22
5 Nielsen, Micro Snacking, Total Market, 52 w/e 17.04.22
6 Nielsen, Micro Snacking, Impulse, 52 w/e 17.04.22
7 Nielsen, Micro Snacking, Total Market, 52 w/e 17.04.22
8 Kantar Usage Panel Data, Total IH+CO, 52 w/e May 2021
9 Kantar Usage Panel Data, Total IH+CO, Breakfast, Morning Goods Sub Categories at Breakfast, 52 w/e May 2021