Worth over £1.9bn [1], the chilled ready meals category holds a major presence in the chiller of convenience stores across the UK, meeting demand for hot, tasty and easy meal solutions for every occasion.
Dominated by own label, and in spite of lockdown, branded chilled ready meals grew 7.6% [1] last year, as brands continued to innovate and offer shoppers a variety of new dishes to accompany the category staples – Indian, Chinese and Italian.
With convenience meals 82% more likely to be eaten as an evening meal [2], chilled ready meal brands such as Rustlers are helping retailers cater to demand for high quality, time-saving and easy to prepare solutions to deliver big night in and meal for tonight profits.
Launching in 1999, the Quarter Pounder is Rustlers' number one product worth over £7m within the impulse channel [4], and one of the brand's 'Core 4' products – alongside the All Day Breakfast Muffin, Southern Fried Chicken Sub and BBQ Rib. After 21 years of sustained growth, Rustlers holds 79% share of the micro-snacking category and retains its title as the UK's number one chilled ready meals brand, worth in excess of £113.5m [3].
Despite record sales in 2020, the brand continues to grow 12.2% YoY [3].
The top products that really should fill your shelves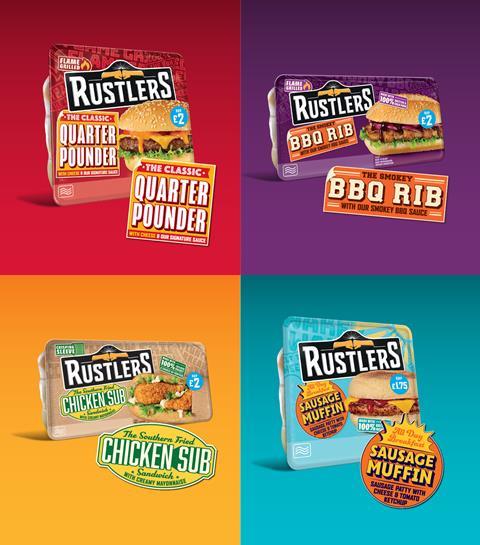 Rustlers Quarter Pounder - seven sold every minute in impulse [4]
Rustlers All Day Breakfast Sausage Muffin - worth almost £2m in impulse [4]
Rustlers Southern Fried Chicken Sub - ideal as a lunchtime option
Rustlers BBQ Rib - worth £2.4m in impulse in +8.1% growth [4]
Key numbers you need to know
£113.5m brand and in double-digit growth [3]
Number one chilled ready meals brand in the UK [1]
Rustlers are made with 100% British & Irish Beef
Trends for 2021
Importance of brands. Brands are critically important to help retailers unlock the true potential of chilled, with well-crafted propositions and marketing investment ultimately driving footfall. The value of brands came to the fore during lockdown periods, as shoppers sought meal options from trusted brands, prioritising familiarity, quality and value for money. These qualities are synonymous with our products. Made with 100% British and Irish Beef, Rustlers offers value for money at accessible price points, helping to attract new customers and encouraging repeat purchase from brand loyalists and impulse shoppers.
World cuisine. With consumers unable to travel and experience exotic world cuisine first-hand, we predict shoppers will be looking for something a bit different at mealtimes and turning to their trusted ready meal brands to provide delicious, experiential meals with flavours they can't easily replicate in their own homes.
Convenience. While scratch cooking has seen a recent revival, as the work-life balance regresses, convenience will once more play a bigger part in mealtimes. We do not foresee consumers newly-discovered passion for scratch cooking abandoned completely, with many perhaps reserving their home-cooked efforts for the weekend or combining pre-prepared meals with freshly made side dishes.
Plan your shelf the right way to increase sales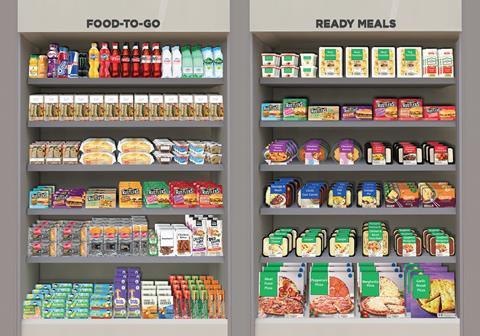 "Rustlers products have always sold really well and being such a well-known brand, it acts as a bit of a beacon in the chiller. The range certainly delivers against expectations and it's no wonder they're one of my most popular chilled lines" - Vinay Mistry – Nisa Local Moor Lane, Preston.
Vinay currently stocks eight Rustlers SKUs including the best-selling Quarter Pounder and All Day Breakfast Sausage Muffin. He merchandises Rustlers in the chilled ready meals section with branded POS and dual sites them when they are on promotion.
Your top tips and takeaways from Rustlers
1. Availability: Optimise space for bestsellers with multiple facings to ensure products are in stock throughout the day – especially during peak consumption times.
2. Ranging: Make it as easy as possible for shoppers to find products by siting POS at fixture (order free POS from Kepaktrade.co.uk) and offer a range of products with prices to suit all budgets.
3. Drive Spend: Up weight basket spend by offering cross-category promotions at fixture and encouraging shoppers to trade up with 'good, better, best' options.
SOURCES
[1] The Grocer Top Products Survey 2020 Nielsen 52 WE 5th September 2020
[2] Kantar Usage, 52 W/E 29th December 2019
[3] Nielsen Micro-snacking, Total Market by Channel, 52 W/E 26th December 2020
[4] Nielsen Micro-Snacking, Impulse, 52 W/E 26th December 2020