The world will never be the same again, nor will the shopping habits that were setting trends only a few months ago. The global pandemic has forced the whole industry to take a step back and a closer look at business models, customers and products during this unprecedented year, whilst consumers have become savvier in terms of choices, putting health at the forefront of their shopping mission [1].
Social distancing, local lockdowns and other disruptions are leading to daily lives being heavily impacted and consumers are now seeking to shop closer to home, little and often [2]. The convenience sector, managing extraordinary levels of shopper demand, has thus grown by 9.3% in sales volume [3] and is set to record further growth, and so is the packaged water, as consumers and retailers rely on single-packed items, perceived as a protective measure against viral contamination, and see water as the healthiest available drink.
Forthcoming in terms of ingredients, design and functionality, AQUA Carpatica boasts a unique portfolio, offering both still and sparkling, in glass, PET (BPA free) and the newly launched 100% rPET bottles. The award-winning range is virtually nitrate-free and has one of the lowest sodium levels of bottled natural mineral waters. Fourteen different formats suit all consumption occasions: from on-the-go to big volumes for home occasions (1.5L and 2L), as dictated by the latest market trends which see bigger and heavier formats driving the bottled water category.
The top products that really should fill your shelves

AQUA Carpatica Natural Mineral Water Still 500 ml

AQUA Carpatica Natural Mineral Water Sportscap 750 ml

AQUA Carpatica Natural Mineral Water Still 1L

AQUA Carpatica Natural Mineral Water Still 1.5L

AQUA Carpatica Natural Mineral Water Sparkling 1.5L
Key numbers you need to know
54% of people use c-stores every week [Lumina Intelligence Channel Pulse]
64% of UK consumers are looking for traceability: waters sourced from a specific location [Global Data Consumer Preferences Survey UK]
40% of plain water sales are attributed to sparkling water [Zenith]
Trends for 2020/21
Bigger formats - The Covid-19 crisis, as well as other health issues high on the government agenda, has affected how consumers approach the soft drinks aisle [4], and water is now likely to be picked up in greater quantities and bigger formats. Since the outbreak, growth forecasts have shifted significantly, revealing consumer behaviours that are here to stay: water is set to be the standout performer in the next three years [5].
Health and wellness trends are at the core of this change, currently being boosted due to the global health crisis. This is leading people to be discerning of the impact that less healthy drink choices have on their health and actively seeking out healthier products, supporting new healthy habits that help them feel physically and emotionally nourished during this time. Thus, plain water [6] is set to steadily grow in volume. It now accounts for over 22% of the total soft drinks market in the UK, with sparkling taking a majority share of just over 40% [7].
rPET increases market share - Sustainability remains a key issue, with consumers choosing brands that support a circular economy. rPET now accounts for 11% of the packaged water category, reflecting the growing awareness for environmental action. AQUA Carpatica is driven by a promise to care for and protect the natural springs and environment that surrounds them. With sustainability at the core of the business, we have launched a range of 100% rPETs, 100% recycled and recyclable.
Plan your shelf the right way to increase sales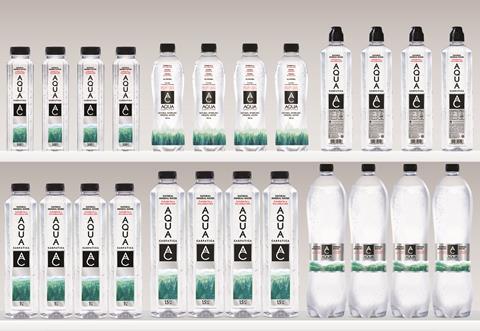 Know your customer. Ensure you have the right variety, stock up on best sellers and allow multiple facings for preferred formats, to cover all occasions and ensure availability at all times.
Remember most shoppers are on an on-the-go mission. Place smaller formats at eye-level and seize on the opportunity by positioning it near other on-the-go products, such as chilled food to go, coffee machines or bakery products. This will remind customers to stay hydrated but also drive cross-category purchases.
Care for all ages. Use in-store signage to call attention and communicate a healthier drink option for kids. AQUA Carpatica Kids was launched with this in mind - a unique spill-proof sippy-cap makes this the perfect lunch box essential.
Your top tips and takeaways from Aqua Carpatica
1. Tap into trends. Meeting the growing consumer demand for health and premiumisation is key when choosing stock.
2. Most shoppers will make their decision in store. Make sure you use POS to drive attention and encourage impulse sales.
3. Sparkling water is often under-represented. Provide additional options in terms of brand and pack format to make the most of the opportunity.
SOURCES:
1. Kantar Barometer ROI COVID
2. Lumina Intelligence Channel Pulse
3. Convenience Store
4. Public Health England
5. Global Data Covid 19 Impact Model Consumer Goods
6. Consumer Preferences Global Data Survey
7. Zenith 2019/20 UK market developments and 2020/21 outlook