With biscuits a key household staple, Mondelēz International offers some valuable advice on maximising their presence and sale in-store.
Biscuits form a key category for any convenience store, with the products a staple for practically every household in the country. The category splits into 'take home' and 'on-the-go', and divides into three segments: sweet, savoury and healthier1. Within take-home, sweet is the dominant sector, while for on-the-go the majority of packs are healthier1.
In the past year, shopper dynamics changed. Impulsive on-the-go purchases dropped as shoppers stocked up on bigger packs and looked for treats from sweeter biscuits, particularly from those brands they know and love. More recently, as the country has opened up again, the on-the-go occasion has begun to recover, which is helping to drive more sales in healthier1 biscuits.
There are two key questions to consider when reviewing the biscuits category in your store:
● Does your store make it easy for the shopper to find the biscuit they are looking when they visit for a main or top-up shop?
● Does your store inspire purchase? This is particularly important in driving impulse sales from on-the-go shoppers who are looking for a sweet snack, but haven't decided from what category.
Finally, to maximise the category opportunity consider placing biscuits in a secondary location. For example, 44% of customers on a breakfast mission purchased a hot drink2, so linking a deal between the two categories will help to drive incremental sales.
Key numbers
No. 1
Mondelēz is the No. 1 on-the-go biscuit supplier in the independent channel3
+6.3%
The growth rate of Mondelēz's on-the-go biscuits3
51%
of on-the-go biscuit sales are healthier1
Product spotlight
Trends to watch
● Growing importance of brands: In uncertain times, consumers look for reassurance and brands they know and love. Consumers can trust in brands to deliver on familiarity and taste.
● Value: Consumers are looking for the best value and they are less likely to take risks. Price-marked packs (PMPs)9 provide reassurance of value and help provide clear pricing, driving quicker purchasing decisions.
● Mini seasons and sharing & gifting occasions: Consumers have spent more time at home recently so those small sharing occasions are more important, even while they are beginning to see more friends and family again. Be prepared with sharing formats for nights in with the family. One in 108 consumers have also either gone for a picnic in a park or bought a bundle deal for a 'big night in'.
● Growth of delivery: Most retailers want to continue with delivery services, so do apply the category management principles to your shopper ordering process – whether that be via phone or on a website or app – to remind shoppers what you stock and what's new to help prompt orders. A permanent shift to increased use of delivery services is expected, with 54%8 of shoppers open to ordering from their local convenience store.
● Who's shopping in your store? The convenience channel is seeing a greater proportion of visits from younger shoppers. Now is an important time to build loyalty among this new target group, engaging with initiatives such as a reduction in packaging, to meet their increasing environmental expectations. These consumers are looking for more on-the-go products and tend to be more impulsive, so display is critical. Make sure you think about product pairings and opportunities for cross-merchandising.
Plan your shelf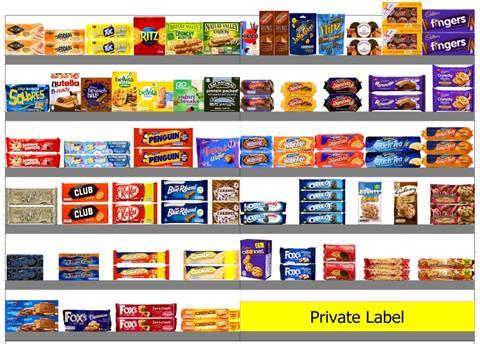 ● The fixture needs to be clean, tidy and ordered with clear pricing – consider PMPS9.
● Your range should cover sweet, savoury and healthier1 biscuits and these should be clearly segmented. Use POS to make segments clear on-shelf.
● Group product formats together and group brands together within formats.
● Place best-sellers in the most visible locations and dual-face only the very best.
Takeaway tips
1. Location, location: Ensure secondary sites of single-serve portion packs are located near to other relevant products – such as on-the-go, magazines and hot drinks – to help drive incremental sales.
2. Use suppliers' tools: Make the most of impactful POS from manufacturers.
3. Capitalise on marketing: Highlight products when you know that manufacturers' brand marketing and media investment is in place.
4. Make the most of the seasons: For seasonal advice go to www.deliciousdisplay.co.uk.
Sources
1 As defined by Nielsen
2 MCA HIM Food To Go Market Report 2020
3 Nielsen, Value YTD I&S, 22.05.21
4 Euromonitor International Limited: Sweet Biscuits Category definition, % brand sales, retail value sales, RSP, 2020 data
5 Nielsen, Value YTD I&S, 22.05.21.
6 Nielsen Scantrack, MAT value sales, total coverage total biscuits, w/e 26.06.21
7 Kantar, Healthier Biscuits, repeat % buyers, 52 w/e 13.06.21
8 HIM UK Convenience Market Report 2020
9 Note: Retailers are free to set their own prices. Non-price-marked packs are available