Our C-Store Champions have seen their share of challenges in 2018, but their tenacity and ability to adapt have kept them on track.
Alan Carr, owner of Nisa Newport in Saffron Walden, Essex
Alan has had a good year, with the launch of Co-op lines to Nisa retailers, but a ram-raid has set him back a bit.
Raj Aggarawal, owner of two Spar stores, one in Wigston and one in Sheffield
Tough competition and supply issues have forced Raj to come up with new ways to increase footfall and sales.
Sandeep Bains, owner of Simply Fresh in Faversham, Kent
The hot summer, World Cup and Co-op-Nisa merger helped Sandeep generate record sales in 2018.
Raj Chandegra, owner of six Londis stores in London
2018 has been a steady year for Raj as his stores compete against the multiples and changes in the sector.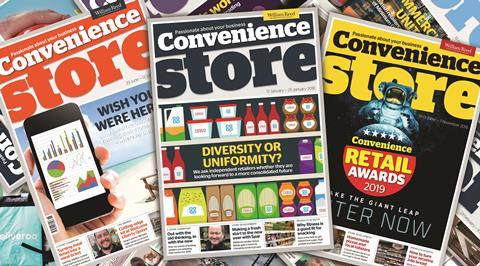 How has this year been for business?
Alan: We started strongly and for the most part it's been a good year. Unfortunately, we got ram-raided a few weeks ago so that has affected sales. The Co-op-Nisa merger has helped improve our chilled offer and we have been selling a lot of the Co-op own brand. Chilled food now makes up about 25% of our sales and it keeps getting stronger and stronger. Before the attack, we were tracking 20% up on last year. Now our sales are up about 5%. Overall, it's been an exciting year though, with lots of change – it's motivational.
Raj A: It's been tough, but positive on the whole. The climate and convenience market itself have been changeable, which has made things difficult. We had a fantastic summer, but the CO2 shortages didn't help. Availability was an issue for us during the summer.
Sandeep: After a slow start in the first part of this year, things have been really good. From March onwards, we started to notice sales increasing and overall 2018 has been our best year by some distance. We've had lots of good weather and the World Cup was a great help. The improvements in our supply chain and access to Co-op lines have certainly helped our chilled and grocery sales. The Co-op's brand presence is a benefit, but the biggest positive has been the improvements in availability and supply of all products.
Raj C: I would say it's been mediocre – nothing fantastic, but it hasn't been bad either. I haven't felt the effects of the merger between Tesco and Booker yet, but I think it's still too early. I know that since Booker took over Londis my bottom line has improved by 1% to 2%. The cost price savings delivered by Booker have improved dramatically and I spend less time looking round for the cheapest prices. I order most of my stock from Booker directly. If you can save money and improve margins on products it's an easy win. The difference could be thousands of pounds.
What have been the biggest challenges?
Alan: The reduction in the post office has not been good for us. As a Post office Local customer, I feel like we don't get the same treatment. We have to pay for hardware faults and don't get the right support for our business. The post office is something we run as a footfall driver, but it's been the biggest challenge of this year. Their customer service is poor and I can't get through to anyone to complain about the problems. The damage from the recent ram-raid has also put a dampener on things.
Raj A: The hardest time was when one of our long-standing members of staff passed away. Teresa, our senior supervisor at Hackenthorpe, had worked in the store for 26 years and was like family and such a big presence in the shop. Her funeral was held a few weeks ago and we closed the store for a couple of hours as a mark of respect. Now it's up to us to bring the team together and move on, because that's what she would have wanted.
Sandeep: Loss of margin with the sugar tax has not been ideal, especially when we sold so many soft drinks in the summer. Obviously, the National Living Wage is always tough. Next year's rise could be offset a little by the changes to business rates, but it is still a challenge. Another issue has been the lack of police response to crime incidents. We get the odd incident like everyone does, but when we have had to call the authorities the response has been poor. There have been times when the police haven't got back to us.
Raj C: Competition is the biggest challenge, with the big boys investing more in their c-stores. Even though we are competitive on pricing, we don't have their branding. Consumers have a misconception that Tesco Express and Sainsbury's Local are cheaper than independents. Only last week, I read a report that said that the same basket of shopping would be £10 dearer in the multiple c-stores compared with their equivalent superstores. I think the consumer has got it wrong and there are some amazing retailers out there that are the same price or cheaper than the supermarkets. Our job in 2019 should be about re-educating shoppers on pricing.
What expectations did you have for the year and how has reality differed?
Alan: I was expecting 2018 to be a good year, but the effects of the ram-raid have been a disruption. I don't think people realise the effect these incidents have on a retailer's business, on staff and customers. It makes everyone feel unsafe.
Raj A: It's hard to say because there has been so much change in the industry, with lots of buyouts and economic uncertainty. Then we had another blow with the news Debbie Robinson will be leaving Spar. It's a real shame but we just have to get on with it.
Sandeep: At the end of last year, we saw 2018 as a tough year. The problems with supply from the collapse of Palmer & Harvey made things very difficult. This time last year I would have been running round looking for stock. Then the weather turned and supply improved and we've had strong sales ever since the first spring bank holiday. This year has exceeded my expectations in terms of sales and we are in a much stronger position.
Raj C: Before the year started, I decided if I held steady and stayed flat then I would be happy. Profits have increased which is the most important thing and is of some comfort for our business. Overall, I'm relatively happy – small smile rather than a big smile!
How have you developed your business in the last year?
Alan: We refitted the store at the end of 2017 and made more space for chilled products. The decision to extend the range was partly down to the Co-op products coming on tap. We now have about 10 to 12 metres of refrigeration and see chilled as a growing area. The changes mean we have increased basket spend by £1.20 in the past year to £8.10, helped by our work with local suppliers.
Raj A: New this year is our big vaping station and expanded vaping range. We've also installed new coffee-to-go stations and opened a new Insomnia coffee shop. It's our second in Leicestershire and we've had great feedback from customers. Sales have been really good.
Sandeep: The main thing has been to get our supply chain sorted with Nisa and Co-op, and we've managed to do that. We've got things up to a much better standard in the store. We've also tried to keep up with new trends by bringing in more healthy snacking products and food to go. We've noticed a difference in sales.
Raj C: We've not done any major work apart from upgrading the odd refrigerator and adding in new products here and there. We've made savings by changing some of our lighting to LEDs as the cost of those has come down a lot recently.
What has been the highlight of this year?
Alan: I'm really proud of our turnover figures. When you invest in a big refit you never know whether it is going to pay off, but it is really nice to know that all the hard work has led to good results.
Raj A: The NACS show was amazing and a really good trip. I'm proud of our new coffee shop, too.
Sandeep: The biggest success was the summer when we recorded great sales. At its peak we were up 25% to 30% year on year and even now we're tracking 15% to 20% up on last year.
Raj C: We've recovered sales that we've lost to our competitors in recent years, which is a really good thing. I think the performance of each of our six branches has been a real positive.
How do you plan to develop your business in 2019?
Alan: We are going to look at our costing and see what positives we can get out of 2019. I want to make more of our alcohol range, which is all chilled and sets us apart from the competition. Obviously, there is likely to be a lot of change with the Co-op so we might even look at the Co-op franchise model as a possible option for developing the store in the future. There are plenty of opportunities for us to look forward to.
Raj A: Our next area of focus is opening a new store. We used to have three, but we closed our Market Harborough site a few years ago. We're in talks to buy a new site in Leicestershire so hopefully that will be confirmed soon.
Sandeep: We are going to invest in the store with a big tidy up and a refit of sorts. It's been about five to six years since we last revamped the store.
Raj C: In 2019 we are planning to refit two stores: one in Barnes and one in Brentford. We are going to go heavier on food to go in the Brentford store, and the Barnes store hasn't been refitted in eight years so that's looking like a complete gutting and refresh. I'm also considering installing self-checkouts, but first I need to see how the Londis trial with HTEC works out.
How would you sum up this year in one sentence?
Alan: It's been an extremely good year for sales, with the weather, the World Cup success and the Co-op merger helping to make 2018 a positive year.
Raj A: Challenging, hard work and positive – on the whole, 2018 has been a good year.
Sandeep: It's been a challenging and good year and we've seen the results from working hard and putting in lots of effort.
Raj C: You have to work harder to make ends meet, but it's all about the effort or investment you put into your business – I should know, as this month I'm celebrating 40 years in the sector and 40 years as a Londis member.
What have you learnt over the past year?
Alan: My biggest learning has been with managing chilled products, because it is something we didn't used to do a lot of. We've had to bring a new system in for deliveries and plan how we manage our stock. For example, the Co-op ready meals come in larger packs so we have to make sure that we control our waste and don't over-order. We would rather sell them at a reduced price than sell them at full price and have to throw stock in the bin.
Raj A: I turned 50 this year so it's been great to party and celebrate that. Even though business has changed a lot over that time, I think I've learnt that you have to rise to the challenge. If you make mistakes, you have to learn from them. My visits to NACS in Las Vegas and study trips to New York were also a great learning from this year.
Sandeep: I think I've learnt to always keep working hard and learn from your mistakes. It's important to look at problems in a positive way and find the right solution. There are always going to be new challenges so it's best to embrace them.
Raj C: I haven't learnt one thing in particular, but it's more about us retailers diversifying our range and keeping moving on to the next thing. The same rules apply this year as they have in previous years with how we look at our range and make sure that we concentrate on growing areas.
How have your shoppers' habits changed?
Alan: Shoppers are looking for more local and chilled products, which are the areas we have tried to focus on. We now have to build on that success and make sure that we keep up with demand.
Raj A: You always have to be on top of shopper habits. Now more than ever, you have to keep things looking fresh and bring in lots of new products. Offering something different will hopefully stop customers in their tracks and make sure that you stand out from the crowd.
Sandeep: I think there is a move towards low-sugar, healthier lines. There has been a massive change across all the main categories. Confectionery is in decline across the board so the challenge for brands now is to come up healthy products that get customers excited about the category again.
Raj C: I think shoppers want more premium products now. We've seen growth in those lines. Basket spend has stayed at a similar level to previous years and we noticed that Easter 2018 wasn't as good as usual. Easter is usually a stronger period for us than Christmas, but this year even the multiples had lots of stock left over. Our Easter egg sales were down about 20% year on year. I'm not sure if people are tired of buying eggs, but they just didn't take off this year.