Our C-Store Champions are readying themselves for whatever 2019 may throw at them with plans to improve ranges and control costs
Chris Pollard, owner of Barlby Village Stores, Selby, North Yorkshire
Chris is looking forward to reaping the rewards of a revamp, which he believes will future proof his store
Daniall Nadeem, owner of Nisa Motherwell Road, Bellshill, North Lanarkshire
Rising costs are a challenge, says Daniall, but he still has plans to open more stores this year
Atul Sodha, owner of Londis Harefield, Uxbridge, Middlesex
With plans to increase footfall with a store refit, Atul is confident that 2019 will deliver for his business
Paul Stone, owner of seven Spar stores, Greater Manchester
Tapping into plastic-free trends and increasing and improving his stores' food to go are targets for Paul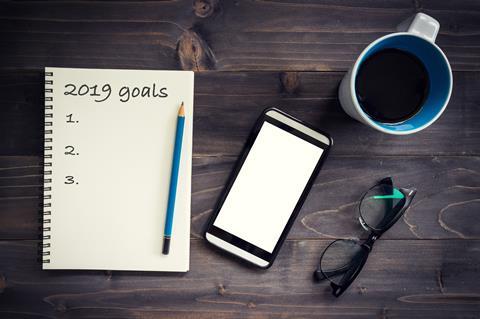 What are you most looking forward to this year?

Chris: I've just finished extending and revamping the store so I'm keen to see how all the thousands of pounds of investment is going to pay off! Our pound shop area has been incredibly popular since it was introduced just over a year ago and we recently expanded it to eight metres so it will be exciting to see how that will increase sales.

Daniall: The thing I'm looking forward to most is ramping up the benefits from the Co-op-Nisa merger. Having access to an even greater number of Co-op own-label products will be good for business.

Atul: I'm looking to take advantage of more of the seasonal events such as Valentine's Day and Easter. I'm also planning to do some kind of refit, which we haven't done for a number of years. The main areas to focus on will be food to go and fresh. Unlike most other retailers, I'm also going to look at adding more grocery lines.

Paul: We are going to change our food-to-go offer across all the stores and look to expand our menu to include more options for the evening, so that's one thing to look forward to. Another positive is the success of our Chinese grocery products, which we are going to expand. I'm keen to introduce more chilled and frozen Chinese lines, too. I'm also looking forward to changing the balance of our snacking range and bringing in more healthy products that seem to be growing in popularity all the time. The fresh orange juice machine at my Spar Princess Street site has done really well and we want to introduce similar machines in some of our other large stores.

What challenges do you expect to face in the coming months?

Chris: Prices may go up as a consequence of whatever happens with Brexit. The main thing is that we continue to do what we do best and maintain our margins and sales. Everyone else is in the same boat so if we have to put our prices up then sooner or later the competition will have to do the same. We have to find some way to increase our margins anyway, because staff wages are increasing again in April. The government doesn't seem to realise that when it says it is giving people a wage increase, the money is coming from retailers who have to pay it.

Daniall: The National Living Wage is always the biggest challenge. You try to keep costs low and sales high, but increasing wages doesn't make things any easier. Unfortunately, there isn't much we can do apart from look at our staffing and business structure again to see if we can make savings. Staff wages are hard to keep up with, but it is also a challenge to keep hold of good staff. We had three of our team leave over the past few weeks. Now we have to decide whether we can run the store with fewer people. Another challenge is predicting customers' spending habits. Every time a new trend comes along we have to adapt.

Atul: Increasing overheads is going to be the big issue. Staff pensions and the National Living Wage are going to have an effect and could mean changing staff hours. We've had to change the rotas a few times over the past few years. We get rates relief anyway so the change to business rates isn't something that can help ease the pressure for us.

Paul: There is a load of new legislation coming our way, with the deposit return scheme, National Living Wage rise and new Track and Trace rules all presenting their own challenges. Obviously, the possibility of a no-deal Brexit is a big overarching issue. One bit of good news is the business rates relief, which affects four of our stores and offers some way for us to counteract rising staff costs.

Who are your biggest competitors going to be?

Chris: I'm lucky that I'm three to four miles away from the centre of Selby where all the supermarket competition is - locals would rather come to me than drive into town. The biggest issue could come from more people ordering Tesco deliveries, for example, but so far that hasn't really affected me. I don't think the discounters and the new Jack's chain are a big threat either. They aren't trading in enough locations around me for it to hamper things too much.

Daniall: Our store sits half-way between a Tesco and a Sainsbury's and we have a few independent c-stores around as well. We have been successful in taking a big part of the market after opening last year and our challenge now is to eliminate the competition from the shop across the road. We have to be more aggressive in changing our range, pricing and opening hours. For example, we close at 9pm and the shop across the way is open until 10pm, so we have to change that this year.

Atul: We're lucky because we are in a semi-rural area so have fewer competitors and lots of local and passing trade. The discounters and Jack's haven't made a big impact; the main competition comes from two nearby Co-ops, which are killing it at the moment. They are investing in self-checkouts, which is something that wouldn't fit in our store, but we have to find other ways to compete.

Paul: We have a new Lidl opening nearby and an Aldi is already trading successfully in the city centre. We view the Lidl opening as a positive opportunity, because when the Aldi opened it drove footfall increases of 25% in one of our sites. The main thing for us to do when the Lidl opens is offer lots of branded products for £1, something the discounters don't do. The thing that would really hurt us is if Greggs started opening later. C-stores are now competing in the same market as the foodservice chains.
How are you going to manage costs in the coming year?

Chris: We've just managed to cut our annual energy bill by £1,100 for the next year. The installation of lithium-controlled refrigeration, energy-efficient fridge doors and LED throughout has really helped.

Daniall: I'm a bit gutted that when we opened last year we didn't invest in fridge doors. At the time it seemed like they would stop customers from browsing, but now we are starting to feel the pinch. Running them takes a lot more energy so installing new units is something we will look at.

Atul: I think our business is as efficient as it can be. If we can increase sales and footfall with all our plans then costs will be less of a worry.

Paul: We're looking at introducing self-checkouts at a second store after putting them in Princess Street last year. They have saved us money so it makes sense to look at expanding. We are also focusing on getting in more products with shelf-ready packaging so we reduce waste and work more efficiently.

Do you have any big investment/expansion plans for 2019?

Chris: We've spent a lot of money in recent months so this year will be all about making the most of the areas we have invested in.

Daniall: My plan is to have at least three stores by the end of the year. It's important to learn to walk before you run so we obviously need to get everything right in Bellshill before looking for more sites. Once we have all the experience we need and are well established we will be all set to open three to five stores before 2019 is out.

Atul: Apart from planning for this year's refit, I don't think I'm going to be opening any more stores. I'm happy where I am with this store.

Paul: We are always looking for new sites but good stores are getting harder to find, especially in a city like Manchester. I think if we do open a new store this year then we will either build the site ourselves or buy the property outright.
What are the biggest strengths of your business?
Chris: Despite everything that the supermarkets throw at us, I think we have maintained our high standards and offer better customer service. We are a community store and people know that they get a warm welcome. We have a conversation with our customers, which is something that just doesn't happen in Tesco.

Daniall: Our offer is better than those around us and we give shoppers a big choice of products at a good price. We even price-match with other independent c-stores.

Atul: I think our biggest strength comes from being a community retailer. We can put on events and create our own product mix. It takes a lot of hard work and energy, but when you have a strong relationship with shoppers and suppliers it makes things easier.

Paul: I think our fresh offer is consistently above the competition, and the Spar own label is a great asset. People know what to expect when they come to any one of my sites and they can always find a strong fresh and chilled range.
Which areas are you going to develop this year?
Chris: The only thing I've really got left to improve in the store is the counter. We've had it since 2003 so ideally I'd like to change that to a more modern arrangement that takes up less room.

Daniall: I want to really look at pushing our desserts and focusing on the Big Night In occasion. I've got a vision to make the store a destination for sweet desserts so that people will come to us rather than going to a nearby parlour.

Atul: I think going local is a good way to go. We've got a range of local eggs, alongside our usual offer from Londis, and they have been selling so well. It makes sense for independent retailers to work more with small suppliers.

Paul: The food that we produce ourselves could be improved. We want to make sure we offer plenty of quality hot and cold options that match up to the competition. We are in a competitive market place and it takes time to perfect the range.
Outlook
Are you feeling positive about the trading environment?
Chris: It's business as usual for us really. I feel like we have future-proofed the store for most events so I don't see anything to do with the economy having a dramatic effect on our trade.
Daniall: Trading at the moment seems to be going very well. Alcohol sales have taken a bit of a hit with people doing Dry January, but sales of soft drinks and chilled have more than made up for it - they are generally higher-margin products anyway. We are holding the fort quite well, but February and March might be more of a challenge after having such a good start.
Atul: It's very unsteady at the moment, which means that most retailers are having to reassess how they do business. This year feels like a good time to add more Free-from lines to attract more customers. New products are the best way to appeal to new shoppers so I think it pays to be bold and try something new.
Paul: We are still in the convenience market and people still want convenience stores, but I'm not very optimistic about what will happen to the economy in the next 12 months. I think it is always a worry when things are uncertain. We get a lot of European visitors coming to Manchester so any fall in demand from that group, as a result of what is going on in UK politics, will have a negative effect on the city as a whole and on our business.
Trends
What do you think will be the next big trends?
Chris: Healthy eating is definitely a big trend and I've noticed that sales of crisps and cakes have started to decline over time. Chilled is another growth area.
Daniall: The trends we are seeing with health and veganism are very time- and location-dependent. More people are looking to be healthy now, but because we trade in quite a deprived area people are less open to change and usually go back to their normal diets after the new year. Our customers aren't as open to change and are comfortable in buying alcohol and cigarettes and whatever else they fancy.
Atul: The market is definitely moving towards healthier food and lower-sugar drinks. One other emerging category that has done well for us is Cannabidiol oils (CBD). This kind of product isn't for everyone, but it is a good thing to give people choice and get them talking about our offer.
Paul: I think anything with less packaging is going to be good because consumers are much more aware about plastic waste. Our job is to try to look for more products that use plastic alternatives and build up a strong offer. Obviously, the trend for healthy eating and drinking will continue to get bigger so it makes sense to try to do both together.