Our Champions know how to create hot sales in the freezer and make the most of all parts of the frozen category. Here's how they do it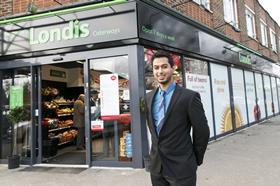 Amish Shingadia, owner of Londis Caterways, Horsham, West Sussex
Amish says frozen is a good complementary category and one of the easiest to manage.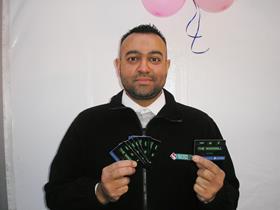 Harj Gill, owner of Windmill Select & Save, Rubery, Birmingham
Recent investment in new upright chillers has led to a strong uplift in frozen sales at Harj's store.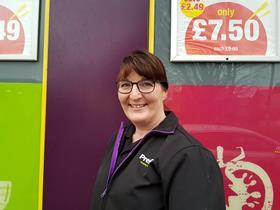 Sam Coldbeck, owner of Premier Wharfedale, Hull
Sam focuses on price-marked packs and meal promotions to offer her customers the most amount of value in the frozen aisle.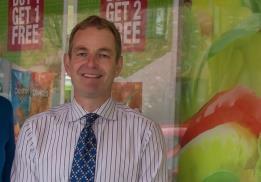 Richard Dance, seven Welcome Co-op stores in the South of England
Access to the Co-op own label means Richard can cater for different customer needs across all of his sites.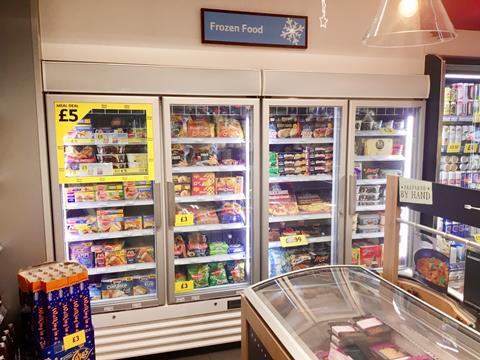 How important is the frozen category in your store/s?
Amish: The frozen category is an important part of our business. It's good in its own right, but it also works well as a supporting category for other areas of the store such as chilled. If people buy fresh food like chicken then they are going to want chips and frozen sides as well. We tend to merchandise everything depending on the season so we have lots of roasts and chips in the winter and stock more ice cream during the summer months. We also incorporate our frozen meal deal into the range, which is important and good for families.
Harj: It's a very important category. I know some retailers think the category is in decline and believe that in the past year people have moved over to fresh, but frozen is just as important as it used to be.
Sam: I think the category is critical to a c-store. Offering frozen products is something that customers expect and we tend to go for price-marked packs (PMPs) where we can. Premier does a great range of meal deals priced at £5 which is on par with all the multiples. The deal also offers customers a range of different products to choose from.
Richard: It's a fundamental part of our business. Even though frozen doesn't make up a huge percentage of our sales it is still an important category to have in all of our sites. It's a good thing to have as a back-up that works well if you can't get something in fresh.
What freezers do you use and how do they benefit your business?
Amish: All freezers are energy efficient and we have about four metres in total alongside our chest freezers from Cook. It has become an integral part of the store and gives us a solid range of products.
Harj: We had a refit at the store about five months ago and replaced all our chest freezers with upright ones. It has allowed us to create better displays of products and makes it easier for older customers to take them off the shelves. We've also increased our range of desserts, putting them in a separate freezer, and all the changes have resulted in a 12–13% uplift in sales. The upright freezers allow us to better manage our stock, too.
Sam: We have a good mix of upright and chest freezers which take up about four to five metres of space. The last time we changed them was during our last big refit about 11 or 12 years ago. We might look to upgrade them over the next few years but, with overheads and staff wages going up, it is a bit of a balancing act to decide when to invest in new equipment.
Richard: All our freezers are upright wall units rather than chest ones and we also have a few of the impulse ice cream freezers. We have a separate freezer for ice as well, which is a growing area for us. It makes sense to have a separate space for ice bags because it helps to signpost the category and this has worked particularly well in our Ashurst store. The store is located close to a campsite where people like to use ice to keep things cool.
Are you well supported by suppliers/ manufacturers in this category?
Amish: There are a lot of products available to us, mostly through Booker, and we get a great deal of support from ice cream suppliers and frozen food brands in terms of merchandising advice. Cook also offers its own support so it is easy for us to ask for help and manage what we stock. There are lots of large brands in the frozen category who can support us. For example, Birds Eye has its own team of reps.
Harj: I don't feel that supported. We don't get many reps from the frozen brands visiting our store – I think the last time was a couple of years ago. We wanted to work with some of the big brands to put POS and images of frozen products above our new freezers to make them look even better and attract people to the category. However, we haven't been able to work with anyone to achieve this. We do a range review two or three times a year so it would be good to update the POS then.
Sam: I think the seasonal activity from Wall's is really good and they are always there to support us ahead of the peak in summer sales. However, quite a few retailers have been having problems with the triple stacked freezers for impulse ice creams. They work for a time but then they can't stand the pressure after a few seasons and pack up. We've gone back to the standard double freezers to avoid any problems. We always get a good price for frozen products from Booker, but I think brands could do more to support retailers with promotional signage and POS that helps products to stand out in the freezer.
Richard: We are generally well supported in the frozen category. The Co-op range provides a backbone for our offer and has been particularly good with its npd over the last few months. They have recently launched lots of new ice creams. They offer customers plenty of choice and also provide us with a more premium option.
What are the biggest challenges for a retailer in the frozen category?
Amish: The only issue that I can potentially see is to do with keeping a core frozen range in store. Space can be a problem, which is why we change our range to match the season. Frozen is probably the easiest category for me to manage and we do have a lot of support available to us.
Harj: I think the main challenge for the category comes from fresh, because you are often competing against similar fresh products. The rise in chilled has to cut into sales somewhere, but I still think frozen is a very good option because you don't have to worry about dates.
Sam: Space can be difficult for lots of smaller stores. We are fortunate in the way we have separated all the product categories in our store and have enough space for our range. I think even if small stores just have a pair of freezers then they can still offer customers the best sellers. You only have to have five to 10 lines and I think this is where suppliers could do more to help those retailers with 400–500sq ft stores to enter the frozen category.
Richard: The biggest challenge can be with promotions and having excess stock that you need to sell off. This is particularly hard when you have slow selling lines or those that are part of our £5 meal deal. Usually, you have to take a hit on your margins to get rid of them which can be frustrating. Either that or you keep the products in storage hoping they will come on offer again soon. We usually get told a month in advance what will be included in our Co-op meal deal so we have time to prepare. It's really important to have all the elements of the deal in stock at the same time, which can be difficult to do at times.
How has the way customers respond to frozen products changed over time?
Amish: Sales can vary across the year but I wouldn't say that the way customers see frozen foods has changed dramatically in recent times. Some customers see it as healthy and others see it as unhealthy. For example, frozen fish and vegetables are very healthy because all the nutrients are locked in, but some customers aren't aware of that. Cook makes it clear how healthy its products are with on-pack descriptions. However, not enough brands are doing this and they need to help educate consumers further in the future.
Harj: I think customers still see the frozen category as good value and can pick up large volumes of products at the same time. The value is great and you can use products as and when you need to without having to worry about dates. It's a good back-up option for people.
Sam: We've seen more people buying frozen fruit and vegetables. There was a time when frozen fruit and veg was seen negatively and not as healthy as fresh, but that's changed. People can use their Healthy Start vouchers in the freezer which has also helped and shoppers know that the products are just as good for them or an even better alternative for convenience. It also reflects the way people have moved to shopping on a daily basis rather than doing a big weekly shop in the supermarkets. Most people want to be able to pick up their fruit and veg to cook on the same night.
Richard: I think certainly in terms of ice cream people have become more switched on and will buy the multipacks of four rather than paying the same price for a single. Frozen on the whole offers people better value because they can buy it in advance. People are now used to seeing meal deals and expect to see promotions and innovation. With the growth in ice continuing, the new thing for this summer seems to be crushed ice, which adds additional value to the category.
What advice would you give to stores looking to improve their frozen offer?
Amish: Look at niches in the market and areas that can be exploited. It is also important to make changes to your range to make them seasonal. Margins for frozen products are usually pretty healthy and the category is a footfall driver. PMPs do hit your margins, but sales volumes increase so these are a good option if they match demand in your area.
Harj: Frozen doesn't seem to get the same kind of focus as other categories but it is an area you can grow by accessing your promotions, range and displays. People need to invest more time in the category.
Sam: Go for PMPs where you can. Not only do they offer value, but it can be almost impossible to price products correctly with POS in the freezer, so PMPs really help with that. It is also important to have plenty of promotions – and make sure you have the basics such as ice, pizza and chips in stock at all times.
Richard: Definitely tailor your range to your customer base. It's no good having premium lines in stock when shoppers only want value and vice versa. Another good thing to do is keep in touch with all the new product launches and ensure you know which innovative areas you should invest in. Going local is also a good option – all our stores are located near the New Forest so we have New Forest ice cream stocked in our singles range.
What frozen products are most popular in your store/s?
Amish: In the winter, it is our Cook range along with other dinner lines like chips and Yorkshire puddings. In the summer demand changes to ice cream and our frozen slush. These are very good footfall drivers, as are bags of ice. Both the impulse and multipacks of ice cream do well as we get school kids coming in for the singles in the afternoon and then mums come to us in the evening for the bigger packs.
Harj: The core lines like chips, peas and pizza sell the best. We have about nine different types of frozen pizzas within our range. Another good seller is ice bags.
Sam: Pizza and chips are our best-sellers. Bags of ice always seem to do well, too. We try not to sell products beyond £1 because then our customers start to lose interest.
Richard: Pizzas sell well even though we do quite a few different lines in the chiller as well. The frozen ones tend to keep longer so you don't have to worry about dates and they are also competitively priced. Birds Eye chicken is another range that is doing well and we have different variants of those in stock at the moment.