No one is expecting 2018 to be an easy journey, but our Champions are prepared to ride out any bumps the next 12 months may provide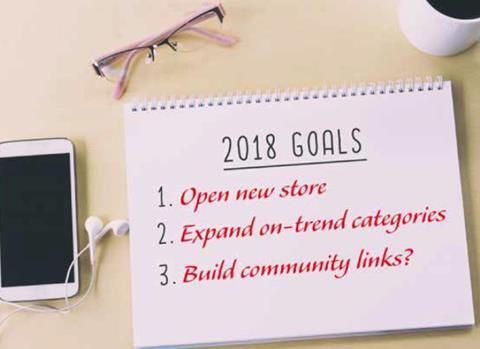 Joe Baker, sales development manager for NJB Services, a chain of five Jet Spar forecourts in Yorkshire
Joe is looking forward to the family potentially acquiring a new store
Mandi Duncan, co-owner of two Day Today stores around Ayr, Scotland
Last year was a huge success for Mandi and she is positive 2018 will bring more of the same for her
Vic Grewal, Budgens, Thames Ditton
Vic has big investment plans for this year, but will be keeping a close eye on his retail business, too, given uncertainty in the market
Dee Sedani, One Stop, Main Street, Etwall, Derby
Dee says last year has been tough but 2018 is set to be harder still with rising costs set to take their toll
How was 2017 for your business?
Dee: 2017 was challenging – a volatile market with a lot going on – so I think that this year is going to be harder and tougher again. No one knows where the Booker merger will go or the Nisa Co-op deal will go. When we know what is happening later this year it will be a case of reacting to those changes. I think the mergers are definitely good news for consumers because they will lead to lower prices as a result of better buying power, but I've got mixed thoughts about the retail side because no one's showed their hand yet.
Vic: It wasn't bad. We were struggling with deliveries and availability through Costcutter, and obviously Palmer & Harvey were having a lot of problems. I've been with Budgens since February this year. As soon as we switched over we noticed savings of about £4,000 a week!
Mandi: It was a fantastic year for the business. The first store in Barassie continued to see a year-on-year increase in sales each week, and we bought a second store and doubled sales in just three months. We also did so much work in the community and that's helped us massively in terms of sales, plus it was a lot of fun for everyone. We hosted a bbq at the store and raffle to raise money for the local hospice. We wholeheartedly get involved in every seasonal event. We invited kids to show us their Halloween costumes and get free sweets, and we all dressed up ourselves.
Joe: It was a challenging year, and a busy one. We had the Selby store shut from October to April for a full refurbishment, which meant a fifth of our business was gone. But being a family business we like to help those that work for us and make sure they're not left out of work so we ferried them all to our other branches and made sure they were kept in work throughout those seven months. That was a challenging start to the year, but as soon as the store re-opened we went from strength to strength. We've been with Spar now for two- and-a-half years and I think what Spar's doing is fantastic. We are moving more into the convenience sector because we can see that market is growing all the time.
What challenges do you expect to face in 2018?
Dee: The living wage will cause uncomfortable times, and rates going up including everything from gas and electric, to business rates. All the variables are going up and this will cause a problem because retail is staying the same or going down.
Vic: Competition is a big challenge. I think that opening big stores can be dangerous territory. I know big Budgens stores have had Tesco or Sainsbury's open next door. I think it's safer, in this environment, to open smaller stores which make less money, but which aren't next door to units that could be taken over by big competition. Online competition will be the other big challenge. I think if you are in an affluent area then you are more likely to be affected by online shopping, because affluent people are more likely to choose this option. Thames Ditton is an affluent area so it's something I may have to react to.
Mandi: We want to continue growing sales, which is going to get tougher as time goes on, but as long as we keep doing community work and keep front of mind for shoppers, I think this is going to help. We want to have a breakfast club at the two primary schools. We'll go to the school with healthy breakfast options and we'll invite the kids to the store for a healthy-eating sample day. A lady from the Department of Health is helping set that up.
Joe: Nick (the owner) is looking to open a new store, but it's very challenging for a small independent retailer to snap up the good sites in time.
Are you feeling positive about the trading environment in 2018?
Dee: As I said, the market is extremely tough and it's getting tougher. We had an Aldi open this year and it caused us a bit of pain. We don't have the ability to change our pricing tactics as we are bound by One-Stop's pricing strategy so all we can do is ensure we keep our store clean and tidy and provide excellent customer service. That's got to be our USP.
Vic: I'd say it's a scary trading environment as it's so unpredictable. Competition is getting more and more of a challenge. At the same time, though, the trend is for shoppers to do more smaller and more frequent shops and this is good for convenience stores and we may even see some of the big out-of-town supermarkets closing next year if this trend continues. With all the take-overs and with Brexit there is a lot of uncertainty and we have to wait and see what happens before we can decide how to react.
Mandi: I'm feeling positive. I know there's a lot of difficulties in the market at the moment, but things are going so well for us that I really feel positive about the future!
Joe: It's going to be an interesting year with Brexit pushing up prices. The sugar tax will push up prices, but the multiples are going to have to increase prices as well and I think people are more accepting of paying higher prices in c-stores as they know that's the price they pay for the convenience. People are more often than not really pleasantly surprised with our prices, with us being a forecourt store.
Do you have any big investment/expansion plans for 2018?
Dee: No, definitely not. It's not a good time to be investing with the market as it is.
Vic: We have big plans to create flats at our old Chorleywood Budgens site, which is now leased out to the Co-op. The Co-op wanted to do a refit so we decided it was a good time to do our development of flats on top of the building. In terms of retail investment, we are also looking for more sites, but I am being careful about the sites I choose as I don't want sites which are vulnerable to new competition.
Mandi: We have a lot of plans. I'm always looking to improve the store. I want to get more economical fridges and replace one of our freezer units. But the main investment next year is hopefully going to be buying store number three. We are really interested in opening another if we can find the right site.
Joe: The new store will be the main investment if the right site can be found.
Is there anyone you want to work with in 2018 (suppliers or retailers)?
Dee: With the sugar tax coming into place I think the soft drinks category is an important one to look at. It will be important to get the messaging right for the consumer. I've worked with Britvic in the past and they have been very good.
Vic: I'm quite happy with Budgens. I think they are probably in the best position with the Tesco Booker merger. I think it will be very good for us retailers as we should get better rates and better cost prices.
Mandi: We work closely with our suppliers and encourage them to help us with merchandising our ranges. Irn-Bru, Cadbury and Mars have been very helpful in the past and set up displays, and all the local suppliers are very keen to help us.
Joe: Spar is a big inspiration for us. They are doing some great things. They send their staff on trips abroad to see what their stores are doing in other countries and we were sent to Austria; what they're achieving over there is incredible.
What are you most looking forward to?
Dee: To be honest, I always most look forward to Christmas when I can spend time with the family, and enjoy that break.
Vic: The development at the Chorleywood site is what I'm most excited about as this will have a huge impact on us once it's up and running.
Mandi: I'm just looking forward to seeing if we can find a third store and moving onwards and upwards!
Joe: I love Christmas. Nick put on a Christmas party for staff and we decorated the stores. I also like the run-up to Christmas with Halloween and Bonfire Night. It's always a fun time of year and staff morale is always high, because Nick looks after his staff well and makes them aware that all their hard work is appreciated. We also plan to host an anniversary event for our Selby store.
What was your biggest achievement in 2018?
Dee: Just keeping my margins where they are and my head above water have been my biggest achievements. I know it sounds like an overstatement, but that really is the best thing we can do in these times.
Vic: We opened the ice cream and desserts parlour down the road from the store in October. Locals have responded really positively to the addition and are saying it's great that youngsters have a place to go rather than loitering around the streets. In terms of sales it has ticked over nicely; it obviously hasn't made huge amounts of money because it's the winter. We bought the site two or three years ago as a defence mechanism rather than for profit. We knew a lot of potential competitors were thinking of buying the site so we bought it as a defence. We turned it into a coffee shop to start with, but we were losing £6,000-£7,000 a month. The idea with the dessert parlour is just to get it going and then sell it.
Amanda: Winning an industry award and opening the second store have been a huge achievements. To manage to double sales so quickly, in just three months, has been amazing.
Joe: Opening the Selby store has been the biggest achievement. It was only 800sq ft before and now it's 2,000 with a full café upstairs. It was all a bit of a guessing game when we were merchandising the store as we had no idea what people would want to buy, for example we never had a frozen category so didn't know how big to make that section. However, in eight months it's got stronger and stronger.
What do you think will be the big shopping trends and which categories are you going to develop?
Dee: Most people are saying that food to go and healthy snacking are big trends, but I'm not seeing that in my store. I have a village store which is in a very different space with a different demographic to those in the city or other towns, so these trends aren't apparent here.
Vic: Alcohol is quite a big section for us; it is about 25-30%. Fresh and chilled is a big part of our store, too, as it takes up about a third of the floor space.
Mandi: We'll continue to expand the gin range as that's hugely popular. I will find the space somewhere! I can't eat into the other spirits as they are going well, too. We are always on the lookout for new ideas and products on the market. We plan to develop the food-to-go offering. We'll reconfigure the space to make more room somehow!
Joe: USN is a big protein brand. We decided to devote a whole bay to these products when we re-opened as there's a big gym just next door, and they have been popular. Younger people are far more health conscious these days. More people are vegetarian and vegan; Wetherspoons has just brought out a whole menu devoted to vegetarian and vegan meals. I think this is going to carry on getting bigger.