Our C-Store Champions report that this year they've had to work smart to stay stay profitable against tough legislation and competition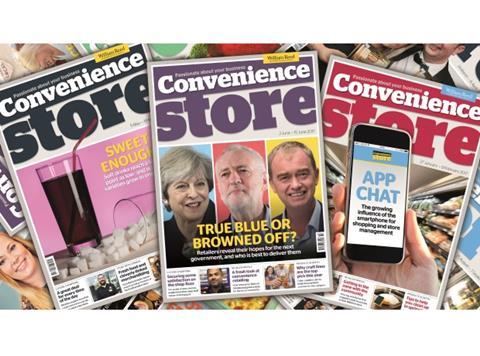 Jai Singh, MJ's Go Local Extra, Sheffield
Jai says competition is strong and he is having to work harder to give shoppers reasons to keep coming back to his store
Scott Graham, McLeish Inverurie, Aberdeenshire
Rising wage costs have meant Scott has had to look for ways to get more from his staff
Barrie Seymour, Londis Littletown, West Yorkshire
Increased competition has made it a challenging year for Barrie, and he has been concentrating on keeping costs down
Mark Canniford, two Spar stores, Weston-super-Mare, Somerset
Remerchandising and a hot food offer are among initiatives that have helped keep sales buoyant for Mark
How has this year been for business?
Jai: It's been good but challenging, not just because of the market but I think as a result of a lot of change in people's shopping habits. This year we've tried to increase the number of locally-sourced products, which has been a bit tougher as in this area people haven't already bought into local brands. We started off simple and brought in some local bakery products from a company that's well-known by local residents. That got a great response. We have reduced the amount of pound lines we have. We used to have a large section devoted to products priced at £1, but we realised we weren't getting high enough margins on these products to make it a worthwhile proposition.
Scott: We had a strong start to the year with a slight downturn half-way through the year when a Greggs opened and affected our sales; they were down about 5-6%. However, in the past couple of months one main competitor closed down so sales have been well up since then. Year on year we are still tracking slightly behind, but I think by the end of the year we will be showing growth. There are so many unknowns that we could see huge opportunities arise, or we could see huge impacts on our business, but we have to just wait and see. Digital will continue to grow and I'm sure there'll be a lot of opportunities there.
Barrie: It's not been a good year. We've got a lot of competition. Within the past two years we've had lots of new stores open within a one-mile radius. We have nearly every competition possible now with Tesco, B+M, Lidl, Asda, Wilkos. The other problem is I've had two hairdressers open on either side of me and so all the parking bays are being taken up by people getting their hair cut!
Mark: Considering the amount of difficulties that have been put in our way by the government it's actually not been a bad year overall. The problem we've had is finding the balance of trying to keep up with costs rising and sales falling – by which I refer to cigarette sales falling, because the rest of the market is doing quite well. People are giving up smoking, definitely, but I think the government has created another problem because my confectionery sales are very strong and I think people are moving onto sugar fixes when they can't get their tobacco fix.
What have been the biggest challenges?
Jai: As a convenience store we have to be the most convenient store and provide everything our customers need and make sure we are constantly changing our range to keep up with what our customers want. The competition has increased for all c-store retailers and there are so many other avenues for customers to choose from.
Scott: The challenges have been the ongoing legislation changes with tobacco and minimum wage and rate increases. We've had to look at our staffing and how to work smarter to get more out of our staff.
Barrie: The main challenges are the competition and lack of parking for customers. No one wants to leave their home when it's cold and dark so they definitely don't want to have to walk far to get to the shop.
Mark: I think the government is making it difficult for c-store retailers to run their businesses. The new laws they're bringing in are leading to a situation where only the multiples can survive with their huge savings of size.
What have you learnt over the past year?
Jai: Customers are more knowledgeable and price-savvy than ever before, but price definitely isn't the most dominant factor. A friendly and helpful service as well as good merchandising and having a good mix of products and a variety of products are just as important as price.
Scott: We are looking to get more out of our staff by working a bit smarter. There are smarter ways of doing business.
Barrie: Retailers have to work a lot harder and smarter in order to keep up with shoppers' needs and make up for all the extra costs. We've invested in new doors for the fridges, which helps to keep electricity costs down. It's that sort of thing that's essential now.
Mark: Convenience store retailers have to invest and evolve if they don't want to exit the market. I've just invested in LED lighting and reduced my electricity costs. You have to make these changes in order to survive in the future.
What expectations did you have for the year and how has reality differed?
Jai: I thought this year would be a tough year off the back of last year with the tobacco changes and Brexit. It's definitely been better than I expected.
Scott: The industry as a whole has been very flat this year, which has been a bit disappointing. Every year there's usually something new on the market, whether it's food to go, coffee machines, slush or ice cream. This year I can't think of anything radical that's come on the market. Once you've got your food-to-go offer up to scratch, where do you go from there? There are some good new products, such as the protein products which are doing well and the free-from products, but there's no major new store concepts. With the tobacco legislation I was under the impression that my sales would go down, but I actually got a slight increase in sales and think this must be because my competitors had to stop selling PMPs – whereas I never sold PMPs anyway. This seems to have led shoppers to feel they get the same value for money wherever they buy their cigarettes and so some who would have gone to another shop have decided to buy from me instead.
Barrie: We've been surprised to make 12% or 15% on cigarettes. We were only making a 3% margin before and even though I've lost a bit of turnover from a reduction in tobacco shoppers my turnover has stayed about the same.
Mark: This year hasn't been quite as bad as I thought it would be. I thought turnover would be down, but I've managed to keep sales coming. I think next year could be where we see problems as I'm not feeling too confident about the market next year.
How has the Brexit vote influenced business, if at all?
Jai: Brexit has been well documented and our customers are well schooled, so if they are told the prices are going to rise they have been pre-warned and so they expect it. So it's turned out not to be as big a problem as expected. The Brexit vote has made people a bit more patriotic in terms of being interested in locally-sourced products, which has been good. I expected we would have to tighten our belts quite a lot, but in reality it's not been as tough as I expected and it's made me optimistic for 2018.
Scott: We saw a lot of price rises when the vote first was made and it was up to us whether we wanted to take the hit on margins, or pass it on by pushing up the retail price. We did a bit of both. Apart from that it's not had much affect at all.
Barrie: I don't think it has affected us. I wish they would get on with their deal and get out. It doesn't worry me.
Mark: Brexit has allowed us to push up costs. Going dark on cigarette gantries left the public mighty confused about the price of their cigarettes so retailers are able to effectively charge what they want. The Brexit vote has allowed the retail sector to blame everything on Brexit.
How have you developed the business this year?
Jai: We've remerchandised our bread and bakery category with the help of Warburtons and we've dropped the margin on our two core lines so we can sell them at £1.25 instead of £1.50. We chose to do this because supermarkets near us sell the lines at £1 and we decided 50p was too much more to charge. Since we did that we've had an 80% uplift in bread sales. We also introduced more fresh meat from the local butchery as we've found that when people buy a joint of meat they will also buy the other groceries to go with it and so it makes a good basket spend.
Scott: We've kept up with the changing shopper expectations by remerchandising and providing them with ideas and inspiration, whether that be for food to go or a meal for tonight.
Barrie: This year I've been concentrating on keeping costs down. I'll look into food-to-go opportunities in the new year. There are four sandwich shops within 100 yards of the shop so I need to offer something different to them. I will think about what opportunities there are with Subway. Food to go is definitely where the future is.
Mark: We've done some refitting, like we do every year, and we've developed our hot food offer so we have the Tuk Tuk offer in the high street store which creates good theatre. We've re-merchandised both stores completely with the help of Spar, which has helped with sales.
How would you sum up the year in one sentence?
Jai: The expectations started low for this year, but we've ended up very optimistic going into next year.
Scott: It's been a challenging year and we've had to work a lot harder and smarter.
Barrie: I'm hopeful that the Tesco Booker merger will bring a bit more optimism to the table for next year.
Mark: It's been tough, but it's not been the toughest yet and the government still sees c-stores as the bad boys of the retailer sector.
Trends
How have your shoppers' habits changed?
Jai: Nowadays, people want to shop but don't have time to shop and that's why convenience stores are so well positioned to provide what they need. Customers expect a lot more from a convenience store now than they used to and are well schooled in what they want and where they can get it. We have to be constantly thinking how we can offer something to keep them coming back to us.
Scott: We need to almost shop for the consumers and do the thinking for them. We have to provide them with ideas and suggest full meal plans and merchandise everything so it's easy for them to pick up without having to put too much thought into it. Customers also want much more fresh and chilled food and that includes everything from milk to fresh meat, sandwiches, bakery and fruit and veg.
Barrie: People aren't sitting down around the table with family for dinner. I think people are eating out a lot more frequently. Plus, everybody wants a bargain or a deal.
Mark: We've seen growth in food sales. People expect to pay more in a convenience store, but a lot of shoppers don't realise that a Tesco Express will charge more than an ordinary Tesco. I've had people come in and say they won't shop at Tesco any more because their prices are so high. I know they're referring to the Tesco Express, but I'm not going to point out to them that prices are lower in the main Tesco store. I think some of these multiple-owned c-stores have pushed shoppers away from their brand.
Positives
What has been the highlight of the year?
Jai: Summer and Halloween. Halloween has grown massively over the years. In 2013, for some reason we ended up spending about £300-£400 on Halloween decorations. Our customers loved it and the kids loved it, so we've done it every year since and always bought something new to add to the mix. Last year we bought a smoke machine and filled the store with smoke, which was really cool. People know that we're into it and they'll come in to show us their costumes on the night. We always invite trick or treaters in for free sweets. Kids spend so much in our store we're happy to give them some free sweets for the one night. We share the pictures we take on our Facebook page and the whole community loves it. It's well worth it for the atmosphere it creates.
Scott: The summer months are always the highlight. That's when footfall on the high street is at its peak and that's when we get the good sales of the high-margin products such as soft drinks and ice cream. We tend to get an uplift in turnover of 10-15% on the good summer days.
Barrie: The highlight was the Tesco Booker result. I look forward to finding out what happens with that and what opportunities come from it.
Mark: Positives this year have been the growth of protein and gluten-free products. NPD in this category has been really quite interesting and it's meant we've been encouraged into parts of the market that we've never done before.